15 best alarm clocks for kids of all ages 2023
The best alarm clocks for kids of all ages from toddlers to teens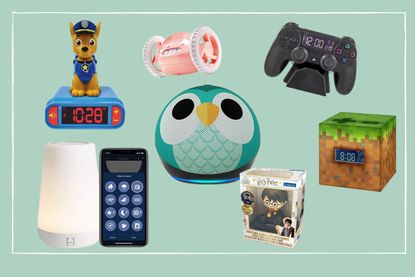 (Image credit: Future)
The best alarm clocks for kids are fun as well as functional, making getting up in the morning just that little bit easier. Here's our pick of the best alarm clocks for kids, from sleep trainers for babies and toddlers to analog and digital alarm clocks for tweens and teens.
Waking up in the morning isn't easy for most of us and kids are no exception. Whether you're dealing with a wakeful toddler who wants to get up at 4am or a tired teen who'd rather stay beneath the duvet when it's time for school, a decent alarm clock for kids can help make mornings easier.
To help you choose the right alarm clock for your youngster - and avoid wasting money on one that doesn't get the job done - we've rounded up our pick of the best alarm clocks for kids.
In this article, you can shop our edit of the best alarm clocks for kids based on our Consumer Editor's considered view along with online reviews we've scrutinised to find out which kids' alarm clocks other parents really rate. All the kids' alarm clocks in our roundup have child-friendly features to help little ones get out of bed bang on time.
From sleep trainers and night lights with built-in alarm clock functionality to cool clocks for kids of all ages, and from classic clocks that teach time-telling to quirky ones that roll away beeping when you hit the snooze button, here's our pick of the best kids' alarm clocks for 2023.
What age should a child have an alarm clock?
It's a good idea to place a child-friendly alarm clock in your child's room once they make the move from a cot to a first bed of their own. As well as helping them learn how to tell the time, alarm clocks often double as nightlights and some can help teach your child when it's time to get up and when it's time to roll over and go back to sleep.
What is the best alarm clock for kids?
This depends on the age of the child. If you're looking for a clock to help a baby or toddler decipher day from night and understand when it's time to get up or go back to sleep, go for a sleep trainer that you can programme. For older tots and tweens, choose something fun that they'll enjoy falling asleep beside. And for teens, go for a cool design, quirky features and a loud alarm that can't be dismissed with a tap!
Above, we've picked out our top kids' alarm clock for kids of different ages so you can choose something suitable for your child's age and stage of development.
Best kids alarm clock at-a-glance
Best kids alarm clock 2023
---
---
---
---
---
---
---
---
---
---
---
---
---
---
---
Related features:
Video of the week:
As a parenting specialist for more than 15 years, Heidi has written for most national newspapers and for a wide range of consumer magazines, including Mother & Baby where she was the Shopping Editor for six years, looking after regular consumer features including buying guides and gift roundups.