How to turn your iPhone into a white noise machine for babies
This new iPhone feature could help your baby sleep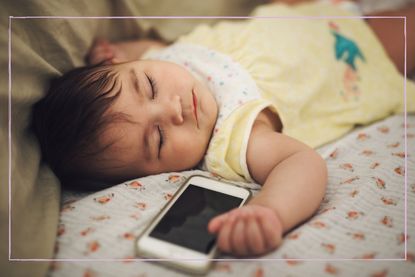 (Image credit: Getty Images)
If you're a new parent then chances are you've considered investing in a white noise machine for babies - but did you know you could use your iPhone?
How to get a baby to sleep (opens in new tab) is perhaps the most common questions asked by parents of newborns. Not only is it essential that babies get enough sleep for their own development, as a parent those moments when your baby is snoozing are a chance to get some precious rest yourself.
So, if you've already tried baby sleep training (opens in new tab) and are thinking of getting yourself one of the best baby sleep aids (opens in new tab), you might want to read this article first, because it turns out your iPhone might have the solution to the problem. Here, we explain how to turn your iPhone into a white noise machine for babies, as well as everything else you need to know about using white noise to help your baby sleep.
What is a white noise machine?
A white noise machine is a device that produces a steady, continuous sound that blocks out other noises such as traffic or TV, and often sounds like a hissing, whooshing or static sound.
Molly Szkotak (opens in new tab), community manager at Yogasleep, told Healthline (opens in new tab): "Sonically, white noise is a collection of sounds that has the same intensity through the audible range, creating a uniform sound perfect for masking loud disruptions."
It is for this reason that you might hear white noise being used in doctor's offices, to keep sessions private, and research (opens in new tab) suggests that the ability of white noise to mask disruptive sounds helps people sleep.
If you're a parent with a new born baby, white noise could be they key to getting some precious shut-eye while your baby sleeps. You might find that your baby falls asleep faster with white noise playing, or that it helps to block out other sounds - such as older siblings who no longer nap in the day.
And while white noise machines for babies can retail from anywhere between £15 to £60, you might already have what you need on your iPhone.
Do white noise machines work? The science
There is some research to suggest that white noise is effective in inducing sleep. For example, one early study (opens in new tab) found that white noise was helpful in assisting babies aged between two and seven days fall asleep.
However, since then there have been a number of other studies which are less positive about the effects of white noise. A 2014 study (opens in new tab) tested 14 different white noise machines designed for babies and found that all exceeded recommended noise limits for infants in hospital nurseries (50dB).
Prolonged exposure to these sound levels could damage auditory development, and the researchers therefore recommended that white noise machines should be placed at least 7 feet away (200 cm) from your baby and the volume should not be set to maximum.
In addition, it's worth bearing in mind that babies could become reliant on white noise and therefore will be unable to sleep if they are in a situation where a white noise machine is not available.
How to use white noise safely
Use white noise only as a background sound, never in the foreground
Never put a white noise device inside you baby's cot
Turn the white noise off once your baby is asleep
Try not to use a white noise machine for every sleep
How to turn your iPhone into a white noise machine for babies
On your iPhone, go to Settings > Accessibility > Audio/Visual > Background Sounds
Toggle on background sounds to switch on the white noise
Blow this, you can choose from a range of background sounds: stream, rain, ocean, dark noise, bright noise, and balanced noise
Set the volume using the slider below
Further down the page, you can also choose to stop sounds when your phone is locked (bear in mind that you can't set a timer for this background sound to turn off.)
iPhones running on iOS 15 or later all have this white noise feature built-in, so if you have an iPhone 6S or a newer model and the software is up to date, you will be able to play white noise from your iPhone.
White noise machines for babies: Tried-and-tested picks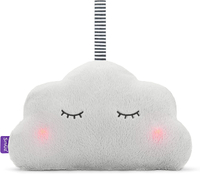 (opens in new tab)
1. SnuzCloud Baby Sleep Aid - £29.95 | Amazon (opens in new tab)
The SnuzCloud Baby Sleep Aid isn't just an adorable addition to your baby's nursery: it also offers four different soothing sounds (pink noise, lullaby, waterfall and heartbeat), and two light options (pink glow or white night light).
---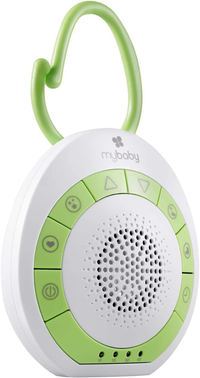 (opens in new tab)
2. MyBaby SoundSpa On-The-Go Portable Baby White Noise Machine - £14.99 | Amazon (opens in new tab)
Fuss-free, lightweight, and functional, the affordable MyBaby SoundSpa On-The-Go Portable Baby White Noise Machine offers four different sounds to help soothe your baby, with a volume control that you can easily adjust.
---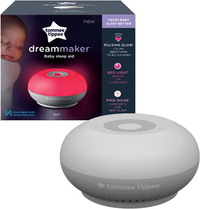 (opens in new tab)
3. Tommee Tippee Dreammaker Light and Sound Baby Sleep Aid - £29.99 | Amazon (opens in new tab)
The Tommee Tippee Dreammaker Light and Sound Baby Sleep Aid has plenty of tricks to help babies to nod off faster and stay asleep for longer. It offers pink noise, a red light, a pulsing glow, and a CrySensor, which - according to the sleep scientists with whom it was developed - helps babies to stay in a deeper sleep for longer.
---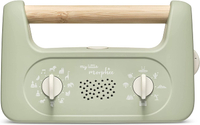 (opens in new tab)
4. My Little Morphée - Selfridges | £89.99 (opens in new tab)
My Little Morphée is a non-digital, screen-free sleeping aid aimed at children aged between three and eight years old. It has 192 different 'meditative journeys' to help children relax, unwind, calm down and fall asleep. Children can choose from soothing animal-themed stories, gentle musical tracks, solo or group meditations, and nature sounds recorded in different locations around the planet.
---
(opens in new tab)
5. Ewan Deluxe Baby Shushing Sleep Sheep - £39.99 | Amazon (opens in new tab)
Ewan Deluxe offers five different sounds: a vacuum cleaner and heartbeat sound, a rainfall and heartbeat sound, a harp melody and heartbeat sound, a womb and heartbeat sound, and a shush and heartbeat sound - so you can find the perfect noise to make your baby sleepy.
---
Video of the Week
Ellie joined Goodto as a Junior Features Writer in 2022 after finishing her Master's in Magazine Journalism at Nottingham Trent University. Previously, she completed successful work experience placements with BBC Good Food, The Big Issue and the Nottingham Post, and freelanced as an arts and entertainment writer alongside her studies. In 2021, Ellie graduated from Cardiff University with a first-class degree in Journalism.