Best Halloween decorations 2022
From cute to gruesome, these are the best Halloween decorations around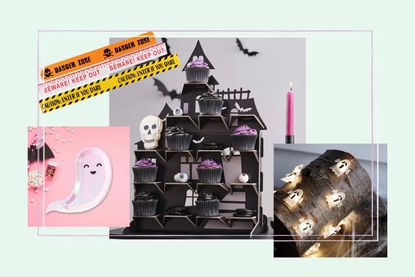 (Image credit: Future)
The best Halloween decorations for kids are more fun than frightening. Whether you go for a glam Halloween look or decide to ham up the horror with something truly ghoulish will largely depend on the age of your kids, but there's something here to suit everyone.
On the one hand, kids are excited by the idea of dressing up in spooky costumes and eating lots of sweets and Halloween treats (opens in new tab), but some of the ghoulish stuff they see in the shops and on TV can also give youngsters the creeps. One way around this is to indulge in simple fun stuff like Halloween crafts (opens in new tab) and home-made Halloween food (opens in new tab) plus decorating your house in ways that little ones won't find too scary.
If you want to have some fun with spooky decor for kids, it goes without saying that you'll need to go easy on the gore. Here's our pick of 12 of the best Halloween decorations for a family-friendly fright night at home.
1. Halloween Pumpkin Leaf Bags
How about a quick garden tidy-up while you prep your house for Halloween? Fill these pumpkin bags full of garden leaves and pop them at your front door or in the garden to set a spooky - yet practical - scene for visitors.
VIEW AT AMAZON | £3.99 (opens in new tab)
2. Giant Spider
This is definitely one for older kids and even then, probably best if they've never seen the classic Halloween movie (opens in new tab) Arachnophobia. The perfect prop for turning your home into a spooky setting for Halloween, it's likely to ward off a few unwanted guests too. Only the bravest trick-or-treaters will surely set foot past this hairy monster.
VIEW AT AMAZON | £10.99 (opens in new tab)
3. Create your own terror train
Little ones who aren't big fans of Halloween might enjoy colouring in this terror train decoration. (Just perhaps don't call it that.) Reminiscent of a Haunted House ride at the funfair, this has lots of space to colour the spooky designs so it's a good choice for siblings or friends to decorate together - and play in afterwards!
VIEW AT THE RANGE | £14.99 (opens in new tab)
4. Vampire face Halloween door stickers
Door decor is all the rage these days but if that's a bit much for your budget - or energy levels - how about some spooky door decals instead? We love these ones from Not On The High Street and reckon even the postie will approve.
VIEW AT NOT ON THE HIGH STREET | £8 (opens in new tab)
5. Ghost inflatable
If you're going all-out with a Halloween lawn display, this friendly inflatable ghost definitely won't terrify the toddlers. It's ultra-durable and weather-resistant so you can use it again year after year, with glowing internal LED lights. It self-inflates in minutes and plugs into any standard outlet. Definitely one of the best Halloween decorations we've found if you want to go large without breaking the bank.
VIEW AT WAYFAIR | £25.99 (opens in new tab)
6. Cute Halloween paper plates
What better way to take the fright out of fright night than with a pink iridescent ghost-shaped paper plate for your Halloween party food?! Happy customers are raving about them, with one mum writing: "Adorable, shipped quickly - using for a cute ghostie-themed birthday party for my daughter".
VIEW AT ETSY | £7.65 (opens in new tab)
7. Halloween Party Draping Gauze Decoration & Glitter Bats Kit
If you want to ramp up the spook factor for older kids, this bat gauze decoration is brilliantly effective. Add a toy spider or two and get the kids to cut out bats from black paper and voila - a frightfully spooky fireplace or staircase. It comes with 8 glitter bats included.
VIEW AT AMAZON | £9.30 (opens in new tab)
8. Felt Happy Halloween Banner
The best Halloween decorations are ones that you can reuse again and again every year. But no one wants to buy more plastic which is why we love this felt Happy Halloween banner - perfect for hanging in your hallway or window to welcome your Halloween visitors and trick-or-treaters.
VIEW AT JOHN LEWIS | £5 (opens in new tab)
9. Black wood bat happy Halloween wreath
Put the happy into Halloween with this spooky sign for your front door. You get the door wreath which is a decent size at 40 cm wide as well as four hanging wooden bats in two different sizes. Bargain for little more than a tenner!
VIEW NOW £7.79 (opens in new tab)
10. Ghost Micro Fairy Lights
If you want to invest in some Halloween decorations but don't want to risk frightening the kids, fairy lights are a good compromise. These cute ghost fairy lights cast a ghostly glow without being scary.
You get 20 mini white LED ghosts along the 2-metre bendy wire, so you can style and shape them to suit your Halloween decor. Just don't forget the batteries - you'll need 3 x AA batteries.
VIEW AT NOT ON THE HIGH STREET | £11.99 (opens in new tab)
11. Halloween Tape
If decorating for Halloween really isn't your thing but the kids are desperate to bring a touch of trickery to the house, this pack of Halloween tape is just the ticket. it's easy to attach the doors or windows and just as easy to remove. Perfect for creating a spooky atmosphere without going to town on tacky decor!
VIEW AT THE RANGE | 99p (opens in new tab)
12. Coffin & Zombie Arms Donut Stand
We just love this creepy Coffin & Zombie Arms Donut Stand - the best Halloween decoration for showing off some spooky Halloween party snacks. Pop this coffin in the middle of your party table and see who dares to take a donut from the zombie hands! A spectacular way to serve up your Halloween treats and snacks.
VIEW AT PARTY PIECES | £10.49 (opens in new tab)
Halloween decorations: how to transform your home
"If you're getting into the Halloween festivities this year, dressing your windows is a really easy way to achieve all the spooky season vibes," says Jess Martin, decoration expert at party supply store Ginger Ray (opens in new tab). "Simply grab some candles (ideally battery-powered) and place a few at each end of your windowsill - the flickering lights will create a spooky ambience in the evenings."
Jess also recommends adding some novelty stickers to your window to tie in with your theme. "Try to build up a scene with your chosen stickers - for example, create a colony of black bats by arranging them in an arch that gradually gets bigger from one corner of your window to the other - or just get sticker-happy and place them anywhere," she says.
Adam Pawson, Head of Digital at windows and door company Safestyle UK (opens in new tab) recommends giving your windows a once-over before you adorn them with Halloween decorations. "Before using any window-safe stickers, you'll want to give your windows a quick clean in preparation," he says.
"Choose a dry, overcast day and use some soft cloths and warm water with some washing-up liquid, and gently wipe down your windows. Once they are completely dry and you've applied your stickers, you can even add some decorative aerosol glass frosting to imitate mist and fog - this is easily available online or in your local DIY shop - and wipes away easily once the Halloween festivities are over."
You could also take inspiration from cinema and Halloween movies for kids and adults (opens in new tab)! Go for a homage to Scooby Doo or classic film, Gremlins with your decor.
Video of the week
As a parenting specialist, Heidi has written for Prima Baby, Gurgle and Practical Parenting and was baby gear editor of Mother & Baby magazine for six years, looking after regular consumer features for the shopping pages as well as specialist consumer content such as buying guides and gift guides.