60 best Mother's Day gifts to suit all budgets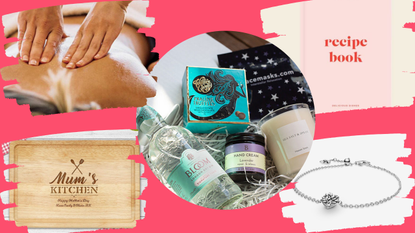 The best Mother's day gifts are thoughtful tokens that make mums smile - or even shed a tear. They don't have to cost a fortune. Here's our pick of 60 of the best gifts for Mother's Day 2022.
Make a mark in your calendars - Mother's Day (opens in new tab) falls on Sunday 27th March this year. Not that you should ever need an excuse to spoil your mum (or be spoiled if you are one!) but Mother's Day is the one day of the year when we can take some time out to appreciate everything that mums do for us.
When it comes to Mother's Day gifts, there's so much to choose from: with chocolates, cookbooks (opens in new tab), perfumes (opens in new tab) or - that mainstay of Mother's Day gifts - a bouquet of flowers (opens in new tab), all high up on the list. The classic gifts are always a winner but there's so much else out there too, from personalised gifts and luxury experiences to gadgets that will make her life a bit easier and, of course, stylish clothes and jewellery.
Best Mother's Day Gifts 2022
Why you can trust GoodTo Our expert reviewers spend hours testing and comparing products and services so you can choose the best for you. Find out more about how we test.
Sometimes it's hard finding the right Mother's Day gifts to make your mum feel special so, to make your life a little easier, the Goodto team have collated 60 of the absolute best Mother's Day gifts. These have been tried and tested by our team or recommended to us so you know you can't go wrong.
1. Baked In Cookie Heart Baking Bundle
Why not bake (as well as buy) your mum something special. This baking bundle includes everything you need to make her a delicious cookie, including a heart-shaped baking tin, cookie mix and a swirled icing tube.
VIEW AT BAKED IN | £19.99 (opens in new tab)
2. Lucent Studios Personalised Pressed Flower Necklace
This lovely glass pendant comes with tiny, real pressed blooms and is finished with her initial in gold plate for a personal touch.
VIEW AT NOTHS | £27.00 (opens in new tab)
3. Cath Kidston Mum Mug
Make her morning tea break that extra bit special this Mother's Day with this gorgeous painted bluebell mug and coaster. As well as a pretty floral design, the gold details are actually real! Easily one of this year's best Mother's Day gifts for a mum who loves a cuppa.
VIEW AT CATH KIDSTON | £15.00 (opens in new tab)
4. Pandora Heart Family Tree Bracelet
Show her you care this Mother's Day with this beautiful sterling silver chain bracelet featuring a heart-shaped disc decorated with clear stones and the iconic Pandora family tree motif with polished leaf details. It has a slider clasp for an adjustable fit and an elegant sparkling leaf branch detail attached to the end of the chain. Definitely one of the best Mother's Day gifts if you're looking for something she'll cherish.
VIEW AT PANDORA | £55.00 (opens in new tab)
5. Air Up Starter Set
We could all do with drinking more water so help your mum stay hydrated with this Starter Set from Airup. It's such a clever idea. The scent-based Aroma Pods give your water the taste of your favourite flavour from coffee to cherry and everything in between. No more plain old water in her water bottle!
VIEW AT AMAZON | £29.95 (opens in new tab)
6. No7 Protect & Perfect Intense Advanced Collection Gift Set
Suitable for even the most sensitive of skins, this iconic No7 Protect & Perfect set includes everything your mum could possibly want from her skincare, including a day and night cream, serum, eye cream and night concentrate. And she'll only have to wait two weeks to see the results.
VIEW AT BOOTS | £34.95 (opens in new tab)
7. John Lewis Cashmere Crew Neck Jumper
There's a reason cashmere jumpers never go out of fashion. Versatile and warm, this one has a crew neck and is machine washable as an added bonus. It's a hit with John Lewis customers who have rated it almost 4 out of 5 stars. One happy owner wrote: 'Beautifully soft jumper that provides both comfort and style. The fit is perfect and the design allows for either a colourful scarf or sleeveless white blouse. Thank you JL.'
VIEW AT JOHN LEWIS | £79.00 (opens in new tab)
8. Hush Sunglasses
Summer's just around the corner so make sure she's ready to go with these tortoiseshell, cat-eye-frame sunglasses from Hush.
VIEW AT HUSH | £40.00 (opens in new tab)
9. The Mother's Day Package
If you can't be with your mum in person, surprise her with this delightful care package. You can choose the exact contents from a selection when you order but we received a sample containing a mini bottle of Prosecco along with a lime, basil and mandarin candle, some B Skincare lavender hand cream and a box of praline milk truffles with sea salt. Our favourite item, however, is the Spacemasks self-heating eye mask - literally amazing and utterly effective at sending us off on a night of blissfully restful sleep.
VIEW AT DON'T BUY HER FLOWERS | £44.25 (opens in new tab)
10. Cath Kidston Strawberry Garden Gardening Gloves & Hand Cream Set
If your mum's happy place is among her roses or in her allotment, these pretty Cath Kidston gardening gloves make the perfect present. The hard-wearing 100% cotton keeps hands safe from brambles, while the vitamin E hand cream is a treat for afterwards, when all the work is done.
VIEW AT CATH KIDSTON | (opens in new tab) £20.00 (opens in new tab)
11. M&S Tea In Mayfair Hamper
There is nothing quite as elegant as an afternoon tea and you can treat your mum in the comfort of her own home. This M&S stunning hamper includes Devon scones, luxury gold teabags and British strawberry jam. To really add some sparkle to her day, there's also a bottle of Conte Priuli Prosecco Rosé thrown in.
VIEW AT M&S | £50.00 (opens in new tab)
12. This Mummy Belongs To… Personalised T-Shirt
You can't go wrong with a slogan T-shirt and this one comes in four different colours and can be personalised with your name so everyone knows whose mum she is!
VIEW AT ETSY | £13.99 (opens in new tab)
13. Oliver Bonas Mama Mug
Each of these 'Mama' mugs from Oliver Bonas reacts differently when glazed so they're all unique - just like your mum. That said, they all have a rounded shape, 'Mama' written on them and make for a great cuppa.
VIEW AT OLIVER BONAS | £12.00 (opens in new tab)
14. Rainbow chevron blanket scarf
The next best thing to a hug, wrap her up in this chic and cosy chevron blanket scarf. It looks great whether she dresses it up for special occasions or wears it every day with jeans - and it's great value for money.
VIEW AT ACCESSORIZE | £20 (opens in new tab)
15. Papier Recipe Journal
Is your mum a whizz in the kitchen? Well, now she can record her culinary delights with this recipe journal. As well as being a great way to note down her secret recipes, there are also pages for her favourite food stores, restaurants and markets.
VIEW AT PAPIER | £24.99 (opens in new tab)
16. Penhaligons Scent Library
Choosing just one scent for your mum on Mother's Day can be difficult so what about giving her ten mini samples to choose from? Each 2ml bottle contains one of Penhaligon's legendary perfumes and all presented in a smart gift box.
VIEW AT PENHALIGONS | £25.00 (opens in new tab)
17. Babyliss Hair Straightener
The fast-track way to smooth hair, the Babyliss Pearl Shimmer Hair Straightener heats up to 235°C in 15 seconds and eliminates kinks for salon-style, frizz-free hair.
VIEW AT BOOTS | £42.50 (opens in new tab)
18. Arran After the Rain Hand Care Gift Set
This hand cream and wash set has been infused with the scent of rose petals, musk and citrus to capture the fresh scent of an Arran garden following a rainstorm. It comes in a lovely gift box and is a lovely, little present that she'll appreciate in quieter moments.
VIEW AT ARRAN | £30.00 (opens in new tab)
19. Mini Massage Cushion
Treat her to an at-home massage whenever she likes. This mini massage cushion soothes away aches and pains with a rotational massage at four pressure points. There's also an optional 'heat' mode for especially tense and sore muscles.
Selina Maycock, tested out the product for Goodto.com and was impressed. She said, "The mini massage certainly packs a punch when it comes to undoing the knots in your lower back area. Sitting down at a desk working most of the day is when the aches and cold starts to creep in. I plugged in the cushion and placed it on my chair in the lower back position and using the hand control I set the speed and heat setting. The infra-red will warm the skin area, while the cushioned mechanics get to work while you work. Not only is the device relaxing and time-saving, but it's also an instant mood booster. After 15 minutes, my tight muscles felt eased. And I popped it on again at the end of the working day for relief before making a start on dinner. There's no need to wait for your other half to get home or to shell out £60 an hour on a back massage. Perfect for pampering on a budget.
VIEW AT MOONPIG | £32.00 (opens in new tab)