Best toys for 3 year olds in 2023: the top 20 tried and tested toys
Fun, educational and robust — these are the best toys for 3 year olds, according to our little testers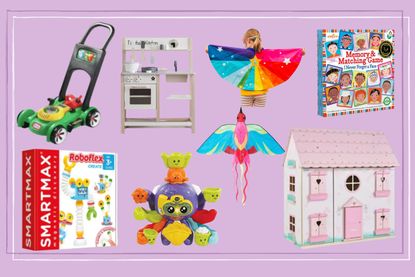 (Image credit: Future)
The best toys for 3 year olds help them grow, develop and encourage learning through numbers, colors, shapes and words.
At this age, most 3 year olds are just a year or two away from starting school. So the best toys for 3 year olds are additions that develop your little learner's fine and gross motor skills, along with ticking off other key child developmental stages, like practicing their language skills.
Some 3 year olds probably already have a bank of words they can say. Or perhaps they are counting to 10 and recognising colours. They might even be able to remember the words and tunes of their favourite songs or nursery rhymes.
So any games and activities for toddlers that help practice these skills are a great idea. 'When your child reaches the age of three, they are likely to know exactly what toys they want and like to interact with based on their favorite TV shows and characters,' parenting experts at yourbabyclub.com told us. Therefore, toys at this age should continue to encourage problem-solving and improve logical thinking and creativity.
While Interactive toys that encourage imaginative play and role play are also 'incredibly valuable for children,' the experts added. 'Especially at this age, as they offer an opportunity to practice new life skills and prepare for everyday situations, like meeting other people and visiting new places.'
Whether you're buying a present or searching for some games for your own little one, keep scrolling to discover the best toys for 3 year olds. In our guide, each toy below has been tried and tested by little hands to make sure they're suitable for this age.
Best toys for 3 year olds in 2023
---
---
---
---
---
---
---
---
---
---
---
---
---
---
---
---
---
---
---
---
How we chose and tested these toys
We shopped around for the best toys for 3 year olds and then gave them to our team of testers to make sure they are products that little ones truly love playing with. You can read more about how we test and review products but here's what we took into consideration when we shortlisted the best toys for 3 year olds.
So that you can easily find the best playtime buys to suit your 3-year-old, we have included sensory toys, toys to encourage physical development, and options that encourage role-play too.
We also picked products with a range of different aesthetics, from wooden toys that will look fantastic on the nursery shelf, to colourful toys with light and musical features that your child won't tire of - and which won't drive you mad!
How to choose the best toys for 3 year olds
Check toy safety regulations - Check that the item complies with toy safety regulations and safety standards such as the CE mark. You'll find this information on the packaging or on the website where you order the item from.
Make sure it's age appropriate - Make sure the item is suitable for use by 3 year olds and safe for use. Some toys are not approved for use by children of this age.
Easy to clean - Children of this age are less likely to pop play items into their mouths compared to younger babies but it's important to check that the item can be wiped down with anticbacterial spray or cleaned easily - especially if friends come round to play.
Buy from reputable retailers - Buy from brands and retailers that you know and trust. It's always worth reading reviews before you buy a toy. We've tried and tested all the toys in this list so you can be assured that we consider them good quality and worth buying.
Value for money - Everyone loves a bargain these days but cheap is not always good value - especially when it comes to toys. Consider the difference between a cheap plastic toy compared to an expensive wooden alternative - it will cost you more but save you money in the long run as it will last for generations and can be passed down to family members for years.
What sorts of toys are mentally stimulating at this age?
According to the parenting experts at yourbabyclub.com, toys that encourage counting and reading are mentally stimulating at this age, as they help to improve both cognitive and physical skills. While sorting through numbers can help better their fine motor skills and hand-eye coordination, also preparing them for early learning.
The experts said: 'Reading toys are not only helpful in encouraging communication skills but they also help the development of creativity and problem-solving in young children. This can be anything from audiobooks to word flashcards, and matching letter and word games.'
You might also like:
Grace Holliday is a freelance journalist specialising in pregnancy, parenting, and motherhood. She has written for a broad variety of newspapers and magazines, including the Guardian, the Independent, the Telegraph, Glamour, and Stylist. She is also a proud northerner and mum-of-one.