The Britain's Got Talent contestants: where are they now?
Remember these faces? Some of them look rather different these days...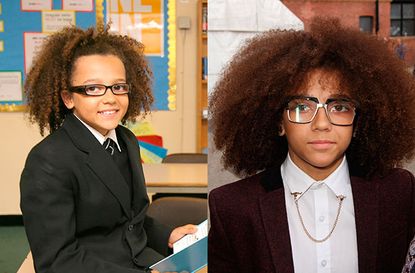 ITV's biggest talent show, Britain's Got Talent, has been running for almost a decade now! We can't believe it either...
With humble beginnings back in 2007, in the heyday of The X Factor, everyone wondered 'Why another talent show?'.
The start date for BGT 2022 (opens in new tab) has been announced, but since the show started, so many of our most-loved musical and talent acts today made their first public appearance on the BGT stage.
And with the hilarious judging panel, made up of so many famous faces over the years - including Piers Morgan, David Hasselhoff, Kelly Brook (yes we forgot Kelly too!) and David Walliams - we hope it never ends!
In honour of it (almost!) being BGT's 10th birthday, we decided to look back at all the best acts and see where they are now:
1. Perri Kiely from Diversity
Image: Instagram/Jordan Banjo (opens in new tab) How could anyone forget the loveable Perri, who was the star of the Diversity dance troope in the 2008 series of BGT? He's certainly looking different now, but he's still using his dance moves to bring him success.
Straight after the show, Perri went on to tour nationwide, then appeared in films such as the successful Streetdance franchise.
In 2014, Perri won the second series of Splash! and he has done lots of TV presenting and hosting, including Nickelodeon Kids Choice Awards. It was announced that he will be hosting the ceremony for 2016 as well.
2. Connie Talbot
Connie instantly won over both the judges and the public with her irresitable charm and fantastic voice. After BGT finished, Connie was expected to sign a contract with Sony but the label pulled out of the deal due to her age at the time. Piers Morgan later said that Connie's entry to the talent contest was why others such as Faryl and George Sampson went on to enter.
Since leaving the show Connie has gained most fame and notoriety in the Far East, becoming a YouTube singing sensation in Asia with over 380 million views on her videos. In 2010, at only 10 years old, she opened a concert to celebrate the G20 summit of world leaders in South Korea.
Connie later performed to her largest-ever audience on Chinese state TV during the 2011 Chinese New Year, and was described as an 'icon' in those countries. Connie is still making albums and releasing music.
3. Megan McKenna
You probably recognise Megan from reality shows Celebrity Big Brother and The Only Way is Essex, but if you cast your mind back to 2009, you'll recall that she actually started her career on BGT as one half of girl group Harmony, with schoolfriend Demi. Here's their first audition to refresh your memory...
http://www.youtube.com/watch?v=Gt9w1_w7TCE
The girls made it all the way to the live finals, but sadly didn't win a place at the Royal Variety. Nowadays, she's juggling her TV work with a relationship with TOWIE co-star Pete Wicks.
4. Aidan Davis
Image: Aidan Davis/Instagram (opens in new tab) Do you remember this little chap from the 2009 series of Britain's Got Talent?
Back then adorable Aidan wowed the judges, the audience and the viewers at home with his complicated dance moves to accompany Flo Rida's song Low. He finished fifth in the series that brought us Susan Boyle and Diversity.
Fast forward seven years and it looks like Aidan is all grown up, and, dare we say it... the 18-year-old is really quite good looking! On Aidan's Instagram the reality TV star reveals that he's now working on music so we suppose there's nothing left to do other than watch this space!
5. Ronan Parke
Image: Ronan Parke/Instagram (opens in new tab) Ronan was just a baby-faced 12-year-old when he auditioned for Britain's Got Talent in 2011. At the time he stunned the 2500 people in the audience with a near-perfect rendition of Feeling Good and even had a standing ovation from the judges!
He only just missed out on the winner's spot, if you remember, to Jai MCdowall.
Now he's 17 and doesn't he look great? He's certainly a stylish chap. Ronan has a huge social media following who call themselves 'Ronanators'. The young singer has been concentrating on his music since his time on the show.
6. Faryl Smith
Unlike many other finalists Faryl did not sign a deal with Simon Cowell's record label at the end of the show, and instead signed a £2.3 million deal with Universal Records - reportedly the largest ever for a schoolgirl!
Faryl released her first album in March 2009 and then another in November 2009 - saying that she was 'surprised but pleased' they wanted to do another so quickly. She is still performing publicly and even sang a concert at Wembley in 2015!
7. Shaheen Jafargholi
Shaheen is back on our screens after a seven year break, since he first appeared on the ITV talent show in 2009.
Now Shaheen is on BBC One appearing in EastEnders, as new character Shaki. The 19 year old will be in the soap for the near future, but producers have not confirmed exactly how many episodes viewers should expect.
Since BGT Shaheen also had the honour of performing at Michael Jackson's memorial service, after the pop legend invited him on his tour, but sadly he died before it could happen.
8. Hollie Steel
We barely recognised Hollie Steel seven years on from her first Britain's Got Talent audition - hasn't she grown up fast?! The then-10-year-old singer first took to the stage in 2009 dressed as most little girls - in her favourite ballerina outfit. However, her operatic voice was well beyond her years.
But Hollie prompted serious questions about having children in talent shows after she later broke down on stage, forgetting her words and having to be comforted by Amanda Holden.
It didn't hold her back though, as she made it to the final to finish third behind Diversity and Susan Boyle.
Since leaving the show Hollie has continued to sing and released an album in 2010 under the moniker 'Hollie Steel Music'. The teen now performs popular YouTube covers of pop songs including Justin Bieber and Whitney Houston.
9. Paul Potts
Paul Potts was the original star of Britain's Got Talent - the face that put the TV show on the map. As the winner of the first ever series, back in 2007, Paul was a classic case of underdog turned singing sensation.
You might remember that before auditioning for BGT Paul was a manager at The Carphone Warehouse shop in Bridgend, Wales. After his success he performed in front of Queen Elizabeth at the Royal Variety Show and went on to claim the number one spot in the UK Album Chart with his debut record One Chance.
Fast forward to 2016 and Paul's life has been adapted into a film, which stars comedian James Corden as the lead role. Not bad for a phone salesman!
10. George Sampson
Everyone remembers George Sampson - the cheeky chappy who won the second series of Britain's Got Talent in May 2008 at the tender age of 14. With his amazing dance moves to Mint Royale's 'Singin' in the Rain', which shot to number one in the UK in the subsequent weeks, the public were won over.
George is now 22 years old and has moved away from dancing and into acting - joining the cast of Waterloo Road in 2011 for a couple of series. We will be seeing much more of George on our screens as he has now made the move back to ITV to star in Emmerdale starting in January 2016.
11. Stavros Flatley
How could anyone forget about Stavros Flatley? The Greek father-son duo consisting of 45-year-old Demetrios and his son Michalakis 'Lagi' Andreas - who is now 16 years old! Before the show they owned a Greek restaurant where Demetrios would entertain guests with his impressive dancing.
While the pair did perform on the Royal Variety Show in 2012 and have kept up their dancing off-screen, they haven't really stayed in the spotlight and just dance for private events, weddings, festivals and charity functions.
12. Rosie O'Sullivan
Since her appearance on BGT in 2013 Rosie has made the biggest transformation out of all our BGT stars - shedding an impressive 16 STONE in weight after undergoing serious weight-loss surgery.
Rosie from the West Midlands, who worked in Co-op, was praised by the judges for her beautiful voice and went through to the semi-finals of the competition.
But doctors were worried about her unhealthy BMI and the effect on her health so Rosie made the decision to undergo a life-changing operation. She had a had a gastric sleeve fitted at Spire Little Aston hospital because she admitted diets had never worked for her. She now weighs 13 stone and has a healthy BMI.
Rosie is now studying part-time at the London College of Music.
13. Charlie Wernham
You may remember Charlie as the pint-sized comedian from the 2008 series of BGT? Although all the judges agreed his jokes were terrible - he got resounding 'yes' votes from everyone. Starting his comedy routine at the age of eight (with a little help from his dad) it was no surprise that Charlie went on to make a career out of it.
Since leaving BGT he has made frequent appearances in shows such as E4's Inbetweeners and School of Comedy. He is now 21 and stars in Jack Whitehall's Bad Education, as well as playing troublemaker Robbie Roscoe in Hollyoaks.
14. Susan Boyle
Susan Boyle is easily the most recognisable face from the decade-long series of Britain's Got Talent - the Scottish singer who silenced the crowds at her audition with her rendition of 'I dreamed a dream' from Les Miserables.
Towards the end of the show, Susan struggled to cope with her overnight fame and returned to her house in Blackburn to live with her two cats. In October 2014 she released her sixth album, Hope. The album spent 35 weeks at #1 on the Billboard Top Inspirational Albums chart.
Since the 2014 release she has not made any more music but Fox bought life rights to Susan Boyle along with rights to the musical I Dreamed a Dream. A biopic film (similar to Paul Potts) is also in the pipeline.
15. Molly Rainford
Molly Rainford (opens in new tab) was just 11 when she competed on Britain's Got Talent in 2009.
She wowed the judges with her rendition of One Night Only at the time, but was beaten to the winning spot by dancing duo Ashleigh and Pudsey.
Being knocked out of the finals didn't stop this little pop princess though, as she was snapped up by Sony who are currently funding her training at Sylvia Young Theatre School in London. She's in good company, a whole host of celebs have trained at the famous school, including Rita Ora and Billie Piper.
Despite the fact that she's still studying Molly has a busy professional life too. She currently presents CBBC show the Friday Download and releases songs on her social media channels during her 'spare time', with plans to launch her music career full time after she completes her GCSEs.
She has since been confirmed for Strictly Come Dancing 2022 (opens in new tab).
16. Michael Collings
Michael wowed everyone with his cover of Tracy Chapman's 'Fast Car' back in 2011. With his amazing acoustic guitar solo, he was an obvious talent and came fifth with 7.7% of the nation's votes. He went on the BGT nationwide tour after the show ended.
In 2013 he made an appeal for funds to record an album as he still had not been signed by a record label. He remarked that he entered the show to get a better life for his son, but after the show ended he said the pressure on his relationships meant he wouldn't do it again if offered the chance.
Michael has so far released one EP 'It's not you' and it's available for download on iTunes. His original audition has over 30 million views on YouTube.
17. Ashleigh and Pudsey
Ashleigh and Pudsey were the first animal act to win the ITV competition - winning over even Simon Cowell who said Pudsey was the 'best dancing dog' he had ever seen!
Since winning the show, the pair have performed at the Royal Variety Show in front of her majesty, and again at Diamond Jubilee celebrations. In September 2012, Ashleigh and Pudsey were guest judges on ITV2's Top Dog Model.
In January 2013, it was announced that Simon Cowell would produce Pudsey: The Movie with the role of Pudsey voiced by David Walliams. Top dog!
Who is your favourite Britain's Got Talent star? Leave us a comment in the box below!
Trusted, informative, and empathetic – GoodTo is the ultimate online destination for mums. Established in 2007, our 15-year-strong archive of content includes more than 18,000 articles, 1,500 how-to videos, and 7,000 recipes.