Carole Middleton shares adorable party photo of seven-year-old Kate
The royal was helping to promote her mum's business back in 1989!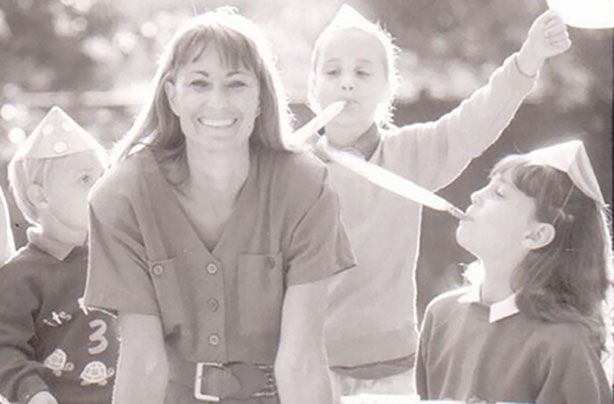 Before Kate Middleton was the Duchess of Cambridge and married to the future heir to the throne, she was happy to help her family with a bit of modelling!
Kate's mum, Carole Middleton has shared a picture of her children taken 30 years ago, as part of the anniversary celebrations for the family business 'Party Pieces'
In the special photo, taken in 1989, we get to see a seven-year-old Kate pose alongside her family to help promote the new business.
It was shared by her mum Carole, and we see Kate in the bottom right corner with a blower directed at her mum and wearing a party hat.
However, she's not the only Middleton sibling to make an appearance. Just behind Carole to the right is Pippa, while their little brother James looks adorable on the left wearing a party hat and a tortoise jumper.
Image: partypieces.co.uk
James also got a starring role in the catalogue a few years later, and modelled one of the company's feather headdresses.
Party Pieces was set up by Carole after she and her husband Michael left their jobs at British Airways and moved back to Britain from Jordan. Looking back on her decision to start the company, which sells party items, she said on the site: 'Being a mum who was new to hosting children's parties, finding the simplest of things like party bags was a real challenge.'
However, the business soon took off, with Carole adding that her children were very involved. She said: 'Over the years all my children have played a huge part in it from modelling for the catalogue to developing new categories for the brand.
'James established our personalised cakes, Catherine started the 1st birthday side of the business, and Pippa developed the Party Pieces blog.'
It looks like the Middleton siblings were all incredibly talented way before Kate met Prince William!
Charlotte Whistlecroft is a former Family writer at GoodTo. She obtained a BA in Theology and Theological Studies at Durham University, going on to study a masters at City University London in 2016. Since leaving GoodTo she has worked as a Social Video Researcher at Mail Online and is now Assistant Producer at BBC Sport.