12 of the best kids' waterproof gloves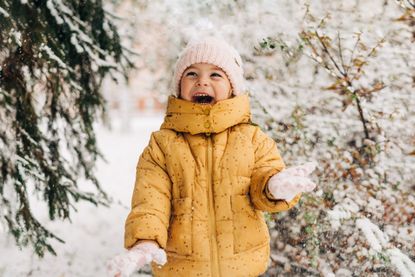 (Image credit: Getty Images/EyeEm)
GoodTo newsletter
Sign up to the GoodTo Newsletter. You can unsubscribe at any time. For more information about how to do this, and how we hold your data, please see our privacy policy
Thank you for signing up to . You will receive a verification email shortly.
There was a problem. Please refresh the page and try again.
Whatever the weather, an essential part of outdoor kit for kids is a durable pair of waterproof gloves or mittens. Nothing stops outdoor playtime faster than when little hands are cold, so keep them warm and dry with our pick of the best waterproof gloves for kids.
Along with a waterproof puddle suit (opens in new tab) and a pair of Wellington boots (opens in new tab), kids' waterproof gloves are all your child needs to get stuck into some serious outdoor fun. Getting wet is fun too but it can make little hands feel cold really fast, so making sure your child's winter gloves are waterproof is essential. For the best protection in waterproof gloves, look for taped seams and a water-resistant outer layer, such as nylon and coated fabrics. A thicker insulating inner layer - such as fleece, cotton or Thinsulate - is perfect for keeping little hands extra cosy and warm.
The most reliable options for waterproof gloves come with a waterproof rating. Fabric waterproof rating is measured in millimetres. This refers to the pressure at which water is able to press through the fabric. Anything between 1,500mm-5,000mm is suitable for everyday adventures. For more exciting excursions - think skiing or sledging - opt for a higher rating of up to 10,000mm.
The best kids' waterproof gloves
1) Best kids' waterproof gloves overall: Kuling Helsinki mittens
Sizes: 0-1 yrs to 6-7 yrs
Our top recommendation for the best kids' waterproof gloves is this pair by the Swedish brand, Kuling. Their designs are perfect for active little ones and robust enough to stand the test of time. With an impressive waterproof rating of 15,000mm, the Helsinki mittens have taped seams, a soft fleece lining, and elasticated cuffs and wrists. They also have reflective details for visibility. With Bionic Finish Eco®, the outer layer repels water. The lining is made from 100 per cent recycled polyester. The mittens are available in a range of contemporary colours, including pastel pink and baby blue.
VIEW NOW - ALEX AND ALEXA | £17 (opens in new tab)
2) Dare 2B kids' unbeaten gloves
Sizes: 6-7 yrs to 11-12 yrs
These tough-wearing, high-performance gloves are ideal for outdoor adventures. The brand put them to test in real-life conditions to ensure comfort and protection from harsh weather. Thinsulate thermal material will help keep frosty fingertips at bay and a 5,000mm waterproof rating means your little explorers will stay nice and dry too. A waterproof and breathable insert allows moisture to escape to prevent hands from getting too sweaty - perfect for ski trips.
VIEW NOW - AMAZON | £12.49 (opens in new tab)
3) Mountain Warehouse extreme kids waterproof ski gloves
Sizes: XS-L
Mountain Warehouse's extreme waterproof skin gloves are great for snowy days. Made from panelled technical IsoDry fabric, these 100 per cent polyester mittens are waterproof and breathable to allow perspiration out, keeping little hands dry. The thermal fibre lining retains heat without adding extra weight. Meanwhile, the textured finish across the palm and fingers and adjustable Velcro cuffs offer improved grip for outside adventures.
VIEW NOW - MOUNTAIN WAREHOUSE | £24.99 (opens in new tab)
4) Lugik baby ski mittens
Sizes: 12-18 months and 2-3 yrs
Sledging for the first time? Available in blue with turquoise or damson, these sweet and brightly coloured mittens are designed to keep baby hands warm and dry. Easy to pop on because of their wide opening and an elasticated wrist and cuff, they have a waterproof rating of 2,000mm and their 150 g/sqm polyester-based synthetic wadding traps air to retain vital warmth in the snow and on the slopes.
VIEW NOW - DECATHLON | £9.99 (opens in new tab)
5) Muddy Puddles PU mitts
Sizes: 6-12 months to 2-4 yrs
One of the UK's leading children's outwear brands, Muddy Puddles is devoted to creating waterproofs that work so that kids can confidently enjoy the great outdoors. Made from 100 per cent recycled polyester polyurethane (PU), these warm and toasty mitts are perfect for keeping little hands dry and protected during the colder months. With elastic wrist straps and poppers to keep them firmly in place, these gloves are fully waterproof (10,000mm) so kids will always be ready for the next adventure.
VIEW NOW AT MUDDY PUDDLES | £14 (opens in new tab)
6) Wedze kids' warm and waterproof ski gloves 550
Sizes: 6-14 yrs
Perfect for young, experienced skiers, these neat gloves are both waterproof and flexible. With long sleeves and flexible cuffs, they'll ensure a good seal to prevent water and snow from reaching active hands or cutting short sessions on the slopes. With 200 g/sqm back wadding, a water-repellent treatment to prevent moisture from absorbing and a fine polymer film to act as a waterproof barrier from the elements, these practical gloves will remain light and warm no matter how many slips and trips take place.
VIEW NOW ON DECATHLON | £24.99 (opens in new tab)
7) Regatta children's waterproof insulated mitts
Sizes: 1-6 yrs
Available in a bright and cheerful purple floral, kids will love Regatta's waterproof mittens. They feature glow-in-the-dark reflective prints, to look great as well as increase visibility and safety. Made from waterproof Hydrafort polyester fabric and boasting thermos-guard insulation and a textured palm for grip, these waterproof gloves are ideal for both gripping ski poles or climbing up slides on rainy days.
VIEW NOW ON AMAZON | £7.21 - £8.47 (opens in new tab)
8) Kuling Vilnius recycled rain mittens
Sizes: 0-1 yrs to 6-7 yrs
The same brand as our top recommendation, these recycled rain and windproof mittens come in a range of sweet, yet stylish prints and colours. Made from recycled fluorocarbon-free water- and dirt-repellent Bionic Finish Eco®, with a soft and warm fleece lining and a waterproof rating of 8,000mm, these are perfect for playing out in cold and wet weather. The elasticated strap with a snap button at the wrist and elasticated cuffs mean they won't slip off busy fingers. Subtle, yet effective reflective details are ideal for safety and visibility - perfect for standing out when days are dark and overcast.
VIEW NOW AT ALEX AND ALEXA | £16 (opens in new tab)
9) Barts kids nylon 3D mitt
Sizes: 2 yrs and 3 yrs
Whether your little one opts for the fuchsia unicorns or navy dragons, these fun, water-resistant mitts have a 100 per cent nylon shell, and a PU palm for grip. They're lined with soft, moisture-wicking material with a comfortable, knitted cuff. Featuring a 'don't lose me' cord so you'll never misplace these handy new friends, these kids' waterproof gloves are the fun way to brighten a dull and drizzly day.
VIEW NOW AT SNOW + ROCK| £22.99 (opens in new tab)
10) Helly Hansen kids' waterproof gloves
Sizes: 12 yrs and 14 yrs
These waterproof, windproof and fleece-lined gloves are ready for snowball fights, shredding the slopes or whatever else kids throw at (or with) them. With a waterproof outer made from 74 per cent polyester and 26 per cent polyurethane and a cosy lining, kids can really get stuck into cold-weather activities while staying comfy, dry and looking cool. The perect winter gloves to protect young hands from the chill.
VIEW NOW AT JOHN LEWIS | £18 (opens in new tab)
11) Jupsk kids winter ski gloves
Sizes: 4-9 yrs
These durable polyester gloves boast a hydrophobic layer to keep kids' hands dry and warm, making them ideal for outdoor snow activities. With a wear-resistant and anti-slip PU leather coating, they're perfect for skiing, snowboarding, sledging and skating. The warm lining, ribbed cuffs and elastic bands will help keep little hands warm. They also have an anti-lost buckle to prevent either glove from going AWOL on the slopes and a cute dinosaur design to help them stand out when dropped in the snow. These waterproof gloves are sure to be popular year after year.
VIEW NOW AT AMAZON | £11.99 (opens in new tab)
12) Azarxis kids snow gloves
Sizes: 3-5 yrs to 11-14 yrs
In a range of eye-catching colours and designs, these stand-out-from-the-crowd gloves and mittens are crafted from high-quality waterproof and breathable materials to prevent water from soaking in. A PU gripper on the palm and fingers to provide better grip and wear and tear resistance for active kids. Long cuffs pull over jacket and coat sleeves and the wrist's adjustable Velcro and elastic prevent cold air, snow and moisture from getting to delicate hands. With a thick fleece lining, they are comfortable and soft enough to wear all winter - whether you're hitting the slopes or the shops on a cold day.
VIEW NOW AT AMAZON | £12.99 (opens in new tab)
Are mittens or gloves better for toddlers?
When it comes to choosing kids' waterproof gloves, a key decision is whether to opt for gloves or mittens. Mittens are designed to keep fingers together, so they are more efficient at trapping warmth and keeping little hands warm. Mittens also tend to be easier to get on and off than gloves. However, gloves give kids more freedom and the ability to do more with their hands. For babies and toddlers - and particularly cold days - mittens are the best option for keeping frosty fingertips at bay. For slightly older children - or for more hands-on outdoor activities - consider gloves. And if your little ones are always losing their gloves, it's worth organising your kid's wardrobe (opens in new tab) and arranging accessories in their own storage box. You definitely won't want to misplace any of the waterproof gloves included on this list.
Best places to buy kids' waterproof gloves