It's okay if you don't do Valentine's Day, you're not the only ones...
Mums and experts share how they do or don't do Valentine's Day in their relationship.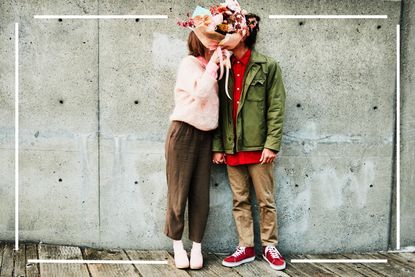 (Image credit: Getty images / Future)
Valentine's Day, for many parents, is just another thing on the never-ending to-do list, and you're not alone.
Because, Valentine's Day (opens in new tab) is genuinely second fiddle to the daily trudge. After the ongoing demands of small children, work deadlines, booking the dentist, sorting the washing, clearing the toys, figuring out what's for dinner, and paying the bills – romance and Valentine's Day poems (opens in new tab) can be the last thing on our minds. And who can blame us?
If you're one of the many touched-out, and over it, frazzled mums who, after meeting the 'kin keeping' demands of life, just want to crash on the sofa after putting the kids to bed rather than faff with lingerie and candles and everything that's 'supposed to happen' this Valentine's Day, don't worry you're in good company.
In fact, almost three-quarters of us will be spending less on Valentine's Day this year as we attempt to navigate the cost of living crisis, a new report by insolvency provider Creditfix, has revealed.
How to enjoy Valentine's Day and like your partner again
The Cost of Dating survey of over 1,000 Brits showed that 71% of people are trying to save money by cutting down on gifts this 14th February. And, mental health campaigner (opens in new tab) and founder of the So Happy In Town blog Susie Weaver (opens in new tab) will be doing just that.
Susie tells us that after eighteen years of marriage and three children, Valentine's Day has lost its sparkle. "It's gone from being an exciting will he or won't he buy me flowers, have booked us a romantic dinner or give me a glass or prosecco in the bath to will he or won't he put the bins out or even remember that it's Valentine's Day," she says.
Susie, however, really is okay with that. "I'm certainly not mopping up my tears along with the kids' leftover pizza. It doesn't bother me because there is so much more now that takes priority in our busy lives. We're both exhausted from work and we have our minds full of the children's daily needs. Our two teenage girls are in the thick of GCSE stress and our 12 year old son is autistic, which comes with its own daily challenges."
She goes on to say that as long as her and her husband keep communicating and saying regular 'I love you's,' to each other, Valentine's Day really is not a priority. "That's enough romance for me right now and hopefully once we get through this stage of our lives, I'll wake up to a bunch of heart balloons tied to my bedpost one Valentine's Day."
Founder of Honestmum.com and author of Mumboss Vicki Broadbent (opens in new tab), says her and her husband do celebrate Valentine's Day but not on the 14th February. "That's usually a school night and the restaurants are always really busy so we wait for the weekend or do something the following week," she notes.
Vicky thinks it may just be a commercialised day but it's also a reminder to celebrate yourselves as a couple, especially after you've had children when time together becomes so short and precious. So, if you do want to mark the occasion, how can you make Valentine's Day special and not feel like yet another obligation? Chartered psychologist and mother of five Catherine Hallissey (opens in new tab) says her number one tip for tired, time-strapped mums is to do something nice for yourself before Valentine's Day, whether that's a long walk or bath, a yoga class or watching your favourite film.
"This will fill your emotional cup and make you feel more relaxed on the day itself," Catherine says. If you choose to celebrate it, try and do something with your partner which reminds you of why you got together in the first place.
This could, Catherine says, be as simple as listening to music you both love while reminiscing your life together pre-kids or something bigger like dinner out or even a night away. "That way, you take the focus away from gifts and onto building connection, which is brings much more benefit to your relationship in the long term," she notes.
Founder of andbreathe.com and author of Get Your Mojo Back, Sex, Pleasure and Intimacy After Birth, Clio Wood, (opens in new tab) agrees. She tells us that spending time with your partner helps to spice up your relationship (opens in new tab).
"Reconnecting with your partner is key to getting your mojo back and enjoying not only pleasurable intimacy again (yes, it can happen!) but also a more fulfilling relationship," she notes. Clio recommends taking the pressure off on the day but arranging something for you as a couple at a time that fits in with both your diaries.
"Pick an alternative Valentine's day that isn't too far in the future (otherwise you'll forget!) and do something with just the two of you. It doesn't have to be all red roses and romantic dinners, a walk by yourselves, a quick drink in the pub or going to the cinema can be an ideal way to spend time together and connect without needing to live up to the hyper romance of the Valentine's day stereotype."
If you're trying to save money set up a babysitting swap with friends so you don't have to spend your precious funds on childcare, Clio adds. "There's nothing worse than the pressure to have a brilliant time because you've shelled out too much cash on an evening!"
If all else fails, buy some chocolate and put on some repeats of Poldark. Aidan Turner should get your pulse going, even if your husband doesn't.
Related features:
Video of the Week:
Georgina Fuller is a freelance journalist, editor and media consultant. She has written for everyone from Take A Break to Tatler, but specializes in writing about family, women and lifestyle. She writes regularly for The Daily Telegraph, The Guardian and Grazia and has a monthly column in her local paper, The Stratford Herald.