15 Valentine's Day poems to melt your loved one's heart
Roses are red...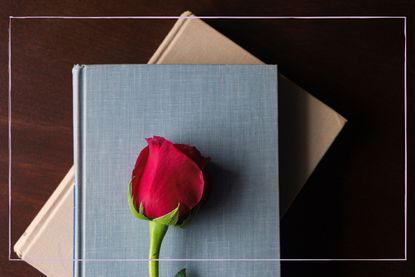 (Image credit: Getty Images)
There's no better way to say 'I love you' than with a Valentine's Day poem...
As Valentine's Day approaches, you might be feeling the pressure to find the best Valentine's gifts for him (opens in new tab), or maybe you're looking for Valentine's Day gifts for kids (opens in new tab). But when it comes down to it, showing someone you care is about so much more than finding the perfect present. Sending your loved one a Valentine's Day message (opens in new tab) can be so much more personal and meaningful - and is there anything quite as romantic as a poem? As Chris Pleines (opens in new tab), relationship expert with Dating Scout (opens in new tab), told Goodto, "Words are a powerful tool in expressing love, and sending a poem is a beautiful way to let someone know just how much they mean to you."
That's why we've put together this list of the best Valentine's Day poems, so you can pen the perfect message ahead of February 14th. Whether you're a fan of classic poets like Elizabeth Barret Browning and William Shakespeare, or you prefer the work of contemporary wordsmiths such as Maya Angelou and Carol Ann Duffy, there's something for every literature lover on this list. So grab you best writing paper and get ready to melt your loved one's heart when you write your Valentine's Day card (opens in new tab).
1. To My Dear and Loving Husband, by Anne Bradstreet
If ever two were one, then surely we.
If ever man were loved by wife, then thee.
If ever wife was happy in a man,
Compare with me, ye women, if you can.
I prize thy love more than whole mines of gold,
Or all the riches that the East doth hold.
My love is such that rivers cannot quench,
Nor ought but love from thee give recompense.
Thy love is such I can no way repay;
The heavens reward thee manifold, I pray.
Then while we live, in love let's so persever,
That when we live no more, we may live ever.
2. I Love You, by Ella Wheeler Wilcox
I love your lips when they're wet with wine
And red with a wild desire;
I love your eyes when the lovelight lies
Lit with a passionate fire.
I love your arms when the warm white flesh
Touches mine in a fond embrace;
I love your hair when the strands enmesh
Your kisses against my face.

Not for me the cold, calm kiss
Of a virgin's bloodless love;
Not for me the saint's white bliss,
Nor the heart of a spotless dove.
But give me the love that so freely gives
And laughs at the whole world's blame,
With your body so young and warm in my arms,
It sets my poor heart aflame.

So kiss me sweet with your warm wet mouth,
Still fragrant with ruby wine,
And say with a fervor born of the South
That your body and soul are mine.
Clasp me close in your warm young arms,
While the pale stars shine above,
And we'll live our whole young lives away
In the joys of a living love.
3. A Red, Red Rose, by Robert Burns
O my Luve is like a red, red rose
That's newly sprung in June;
O my Luve is like the melody
That's sweetly played in tune.

So fair art thou, my bonnie lass,
So deep in luve am I;
And I will luve thee still, my dear,
Till a' the seas gang dry.

Till a' the seas gang dry, my dear,
And the rocks melt wi' the sun;
I will love thee still, my dear,
While the sands o' life shall run.

And fare thee weel, my only luve!
And fare thee weel awhile!
And I will come again, my luve,
Though it were ten thousand mile.
4. How Do I Love Thee? by Elizabeth Barrett Browning
How do I love thee? Let me count the ways.
I love thee to the depth and breadth and height
My soul can reach, when feeling out of sight
For the ends of being and ideal grace.
I love thee to the level of every day's
Most quiet need, by sun and candle-light.
I love thee freely, as men strive for right.
I love thee purely, as they turn from praise.
I love thee with the passion put to use
In my old griefs, and with my childhood's faith.
I love thee with a love I seemed to lose
With my lost saints. I love thee with the breath,
Smiles, tears, of all my life; and, if God choose,
I shall but love thee better after death.
5. A Glimpse, by Walt Whitman
A glimpse through an interstice caught,
Of a crowd of workmen and drivers in a bar-room around the stove late of a winter night, and I unremark'd seated in a corner,
Of a youth who loves me and whom I love, silently approaching and seating himself near, that he may hold me by the hand,
A long while amid the noises of coming and going, of drinking and oath and smutty jest,
There we two, content, happy in being together, speaking little, perhaps not a word.
6. Sonnet 18, by William Shakespeare
Shall I compare thee to a summer's day?
Thou art more lovely and more temperate:
Rough winds do shake the darling buds of May,
And summer's lease hath all too short a date;
Sometime too hot the eye of heaven shines,
And often is his gold complexion dimm'd;
And every fair from fair sometime declines,
By chance or nature's changing course untrimm'd;
But thy eternal summer shall not fade,
Nor lose possession of that fair thou ow'st;
Nor shall death brag thou wander'st in his shade,
When in eternal lines to time thou grow'st:
So long as men can breathe or eyes can see,
So long lives this, and this gives life to thee.
7. Poem for My Love, by June Jordan
How do we come to be here next to each other
in the night
Where are the stars that show us to our love
inevitable
Outside the leaves flame usual in darkness
and the rain
falls cool and blessed on the holy flesh
the black men waiting on the corner for
a womanly mirage
I am amazed by peace
It is this possibility of you
asleep
and breathing in the quiet air
8. The Love Poem, Carol Ann Duffy
Till love exhausts itself, longs
for the sleep of words -
my mistress' eyes -
to lie on a white sheet, at rest
in the language -
let me count the ways -
or shrink to a phrase like an epitaph -
come live
with me -
or fall from its own high cloud as syllables
in a pool of verse -
one hour with thee.

Till love gives in and speaks
in the whisper of art -
dear heart,
how like you this? -
love's lips pursed to quotation marks
kissing a line -
look in thy heart
and write -
love's light fading, darkening,
black as ink on a page -
there is a garden
in her face.

Till love is all in the mind -
O my America!
my new-found land -
or all in the pen
in the writer's hand -
behold, thou art fair -
not there, except in a poem,
known by heart like a prayer,
both near and far,
near and far -
the desire of the moth
for the star.
9. She Walks in Beauty, Lord Byron
She walks in beauty, like the night
Of cloudless climes and starry skies;
And all that's best of dark and bright
Meet in her aspect and her eyes;
Thus mellowed to that tender light
Which heaven to gaudy day denies.

One shade the more, one ray the less,
Had half impaired the nameless grace
Which waves in every raven tress,
Or softly lightens o'er her face;
Where thoughts serenely sweet express,
How pure, how dear their dwelling-place.

And on that cheek, and o'er that brow,
So soft, so calm, yet eloquent,
The smiles that win, the tints that glow,
But tell of days in goodness spent,
A mind at peace with all below,
A heart whose love is innocent!
10. Lines Depicting Simple Happiness, by Peter Gizzi
The shine on her buckle took precedence in sun
Her shine, I should say, could take me anywhere
It feels right to be up this close in tight wind
It feels right to notice all the shiny things about you
About you there is nothing I wouldn't want to know
With you nothing is simple yet nothing is simpler
About you many good things come into relation
I think of proofs and grammar, vowel sounds, like
A is for knee socks, E for panties
I is for buttondown, O the blouse you wear
U is for hair clip, and Y your tight skirt
The music picks up again, I am the man I hope to be
The bright air hangs freely near your newly cut hair
It is so easy now to see gravity at work in your face
Easy to understand time, that dark process
To accept it as a beautiful process, your face
11. First Love, by John Clare
I ne'er was struck before that hour
With love so sudden and so sweet,
Her face it bloomed like a sweet flower
And stole my heart away complete.
My face turned pale as deadly pale,
My legs refused to walk away,
And when she looked, what could I ail?
My life and all seemed turned to clay.

And then my blood rushed to my face
And took my eyesight quite away,
The trees and bushes round the place
Seemed midnight at noonday.
I could not see a single thing,
Words from my eyes did start—
They spoke as chords do from the string,
And blood burnt round my heart.

Are flowers the winter's choice?
Is love's bed always snow?
She seemed to hear my silent voice,
Not love's appeals to know.
I never saw so sweet a face
As that I stood before.
My heart has left its dwelling-place
And can return no more.
12. Juke Box Love Song, by Langston Hughes
I could take the Harlem night
and wrap around you,
Take the neon lights and make a crown,
Take the Lenox Avenue busses,
Taxis, subways,
And for your love song tone their rumble down.
Take Harlem's heartbeat,
Make a drumbeat,
Put it on a record, let it whirl,
And while we listen to it play,
Dance with you till day—
Dance with you, my sweet brown Harlem girl.
13. Love and Friendship, by Emily Brontë
Love is like the wild rose-briar,
Friendship like the holly-tree—
The holly is dark when the rose-briar blooms
But which will bloom most constantly?

The wild rose-briar is sweet in spring,
Its summer blossoms scent the air;
Yet wait till winter comes again
And who will call the wild-briar fair?

Then scorn the silly rose-wreath now
And deck thee with the holly's sheen,
That when December blights thy brow
He still may leave thy garland green.
14. "I loved you first: but afterwards your love", by Christina Rossetti
I loved you first: but afterwards your love
Outsoaring mine, sang such a loftier song
As drowned the friendly cooings of my dove.
Which owes the other most? my love was long,
And yours one moment seemed to wax more strong;
I loved and guessed at you, you construed me
And loved me for what might or might not be –
Nay, weights and measures do us both a wrong.
For verily love knows not 'mine' or 'thine;'
With separate 'I' and 'thou' free love has done,
For one is both and both are one in love:
Rich love knows nought of 'thine that is not mine;'
Both have the strength and both the length thereof,
Both of us, of the love which makes us one.
15. Come, And Be My Baby, by Maya Angelou
The highway is full of big cars going nowhere fast
And folks is smoking anything that'll burn
Some people wrap their lives around a cocktail glass
And you sit wondering
where you're going to turn.
I got it.
Come. And be my baby.

Some prophets say the world is gonna end tomorrow
But others say we've got a week or two
The paper is full of every kind of blooming horror
And you sit wondering
what you're gonna do.
I got it.
Come. And be my baby.
Related Valentine's Day features:
Video of the Week
Ellie joined Goodto as a Junior Features Writer in 2022 after finishing her Master's in Magazine Journalism at Nottingham Trent University. Previously, she completed successful work experience placements with BBC Good Food, The Big Issue and the Nottingham Post, and freelanced as an arts and entertainment writer alongside her studies. In 2021, Ellie graduated from Cardiff University with a first-class degree in Journalism.