Prince George and Princess Charlotte desperate to meet new baby cousin Archie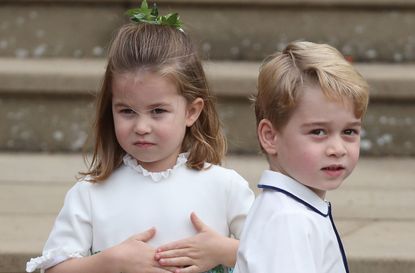 (Image credit: Getty)
Prince George and Princess Charlotte are apparently desperate to meet new cousin Archie.
Prince Harry and Meghan Markle welcomed their first child, Archie Harrison, last week.
And while the royal couple did announce the birth to royal fans across the world and even made an appearance with adorable Archie, they decided to keep to themselves and spend some quality time with their new son for the rest of the week.
Even most of the royals didn't get a chance to meet their newest family member in his first week.
The Queen and Prince Philip were introduced to the little one towards the latter part of last week, with the Duke and Duchess of Sussex sharing an adorable photo on their Instagram account Sussex Royal.
Meghan's mum Doria Ragland also got the chance to meet her new grandson at the same time.
And yesterday, more than a week after the birth, Prince William and Kate Middleton went to meet little Archie, who for now will be known without a royal title.
However, the couple headed over without their children, Prince George, five, Princess Charlotte, four, and Prince Louis, one.
But a royal source has said the young royals are in fact desperate to meet their new cousin.
'Prince George, five and Princess Charlotte, four, have already been asking their parents when they can meet their new cousin,' the source told The Mirror, 'they are as excited as anybody.'
'All of the family have been dying to meet little Archie and are really excited to finally congratulate Harry and Meghan in person,' continued the source.
'Harry's family wanted to give him and Meghan some time to settle in to family life and Meghan's mum Doria is still staying with them as the baby gets used to his surroundings.
'Prince Charles and Camilla were in constant contact when they were in Germany and are so excited to spend some time with the new family.'
We just can't wait until our next glimpse of little Archie!
Aleesha Badkar is a lifestyle writer who specialises in health, beauty - and the royals. After completing her MA in Magazine Journalism at the City, the University of London in 2017, she interned at Women's Health, Stylist, and Harper's Bazaar, creating features and news pieces on health, beauty, and fitness, wellbeing, and food. She loves to practice what she preaches in her everyday life with copious amounts of herbal tea, Pilates, and hyaluronic acid.