Princess Charlotte and Kate Middleton make an impromptu visit to London pub for a very relatable reason
So many mums will be able to relate to this...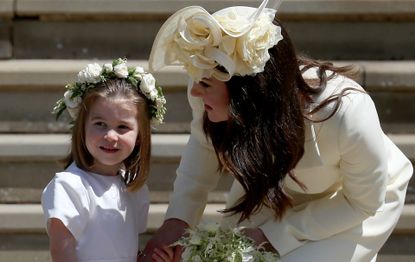 (Image credit: JANE BARLOW/AFP/Getty Images)
GoodTo newsletter
Sign up to the GoodTo Newsletter. You can unsubscribe at any time. For more information about how to do this, and how we hold your data, please see our privacy policy
Thank you for signing up to . You will receive a verification email shortly.
There was a problem. Please refresh the page and try again.
Princess Charlotte is famed for doing things off-the-cuff.
From telling reporters they're 'not invited' to Prince Louis' post-christening party to sticking her tongue out at photographers, at more than one official royal occasion.
And now the adorable three-year-old has proved that she's just like all other toddlers, after an impromptu toilet break led to her and mum Kate making an unscheduled visit to a London pub.
According to the MailOnline regulars at the Phoenix pub in Stockwell were left with their mouths open when the fourth-in-line to the throne toddled in to the local boozer to use the ladies.
It seems that Charlotte just couldn't wait as the royal party travelled down the busy A3 trunk road.
One punter apparently joked: 'It just goes to show that the royals are like any other family. When your kid needs to go to the loo, they got to go!'
A plain-clothed female detective from the Royal Protection Squad stepped in a few minutes ahead of time to give the services the royal seal of approval.
She was then quickly followed by unfazed Charlotte holding her mum Kate's hand.
Revealing more about the surprise turn of events Maggie McKinney, a regular at the pub, told MailOnline: 'I was sitting in my usual chair and when I looked up I saw Kate Middleton, I mean the Duchess of Cambridge and her daughter Princess Charlotte.
'The little kiddie just trotted in with her mum, went to the toilet and then trotted out. They could not have been in the pub for more than ten minutes.'
Continuing she added how down-to-earth the royal family members seemed:
'Someone went up to the bar and asked if the wee girl could go to the toilet and then in they came.
'They seem very nice, totally normal. Princess Kate was holding her daughter's hand. Princess Charlotte was just any other little girl.'
Another regular gave some further insight into the security procedures surrounding Princess Charlotte and Kate on the visit, saying:
'The diplomatic protection officer warned customers not to take any pictures so no one got their phones out.
'They had parked their Range Rover outside. There were other police officers inside. But it was only the female police officer who came inside.
When contacted by about the reported event by the MailOnline a spokeswoman for the Duke and Duchess of Cambridge said:
'This is not something we will be commenting on.'
Miriam Habtesellasie is a freelance lifestyle writer who has contributed content to GoodTo, Woman&Home, Women and Idealhome.co.uk. Miriam is based in London and is a fan of everything interiors, she admits to being spoilt for choice living in the capital. From stunning architecture right the way through to eye-catching department store window displays, she believes there's always an angle to be found that can translate to our abodes.