This common driving habit could result in a £2k fine - here's how to avoid it
Are you putting yourself and your children at risk behind the wheel?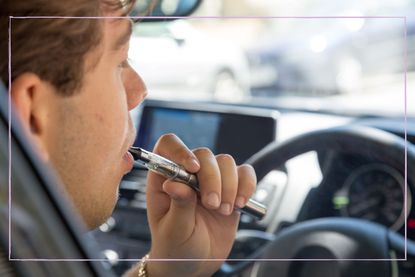 (Image credit: Getty)
Goodto Newsletter
Parenting advice, hot topics, best buys and family finance tips delivered straight to your inbox.
Thank you for signing up to GoodTo. You will receive a verification email shortly.
There was a problem. Please refresh the page and try again.
Did you know that vaping in the car can land you a hefty £2,000 fine?
While buying the best car seats for babies - such as the new Maxi Cosi car seats - and adhering to car seat rules, many drivers travelling with children could be overlooking an issue that is equally as dangerous when it comes to road safety.
Most drivers know that the ever-changing driving laws have seen a ban on mobile phone use behind the wheel and the dangers of wearing these 7 common clothing items, but some may be surprised to learn that vaping can fall under the dangerous driving category.
As families prepare to head out on road trips over the summer holidays, the International Drivers Association has issued a warning to drivers to remember that 'visibility is everything' in order to avoid a £2,000 fine. The news comes as the UK government consider a ban on disposable vapes.
A clear, unobstructed view of the road is a fundamental requirement for safe driving, and many drivers may not realise that their vaping habits could be impairing their visibility and inadvertently breaking the law, potentially leading to a hefty fine.
If you vape or know someone who does, you might not necessarily realise how visually impairing a puff of a vape cloud can be, but when a user exhales the vapour from the e-cigarettes inside a car, it can create a dense, cloudy atmosphere and this significantly reduces visibility.
So much so that even this temporary visual impairment can be enough to obscure crucial details on the road that would otherwise have been spotted in a non-vaping vehicle, and lead to dangerous situations, accidents or even fatalities.
Legal consequences of vaping in a car
The International Drivers association warned, "In many jurisdictions around the world, anything that significantly reduces a driver's visibility can be considered a driving offence. The same laws that penalise drivers for having a windscreen or windows obscured by dirt or snow, for instance, can be applied to those whose view is obstructed by vape smoke. In the UK, this law falls under Section 41D of the Road Traffic Act 1988, and it carries a fine that can range up to £1,000.
Moreover, should an accident occur as a result of this impaired visibility, it can be considered as 'careless driving,' which carries even more serious consequences, including larger fines, higher insurance premiums, or even a driving ban. So don't let your habit land you in trouble.
How to vape safely in a a vehicle
Avoid vaping while driving altogether - the easiest and most effective way is to abstain from vaping while you're behind the wheel.
Vent your car - If you must vape, ensure your vehicle is well-ventilated. Keep windows open to allow the vapour to dissipate quickly.
Take regular breaks - If you're on a long journey and feel the need to vape, it's better to take regular breaks and vape outside your car.
Use Less Vapour-Producing Devices - Some e-cigarettes produce more vapour than others. Opt for a device that generates less vapour to reduce the risk of obstructing your view.
You might also want to check out the driving licence mistake we've all been making that could cost you £1,000, or how vaping could be linked to SIDS.