Maxi Cosi's new car seats will change the game for parents - but I wish they'd been around years ago
Maxi Cosi's new sliding car seats make travel with tots less stressful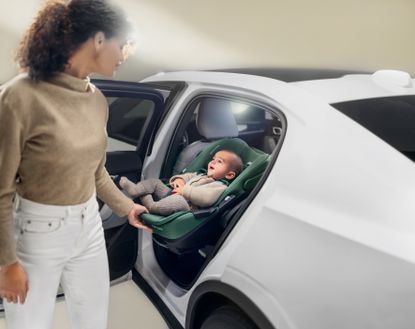 (Image credit: Maxi Cosi)

If you've ever struggled to get a wriggling baby in or out of a car seat in the rain, you'll understand exactly why we're so happy at the news that Maxi Cosi is launching a new car seat later this month.
Maxi Cosi isn't exactly downplaying the launch of the 360 Pro Family - and we can see why. Available across the UK and Ireland from 24th April 2023, the brand reckons its revolutionary new sliding car seat technology is a 'world first innovation' that's set to transform the car seat market.
This latest innovation is called SlideTech™ technology, and it means you can both rotate and slide the car seat towards you, making it about a million times easier to pop your baby or child in or out of the car seat.
A quick straw poll here in the Goodto office revealed that I'm not the only parent/aunty/godmother to have accidentally 'doinked' a little one's precious head whilst wrestling them in or out of the vehicle so I'm confident that these clever new car seats will be well-received.
'Anyone who says they haven't been there is playing fast and loose with the truth,' agrees Goodto Family Editor Stephanie Lowe. 'You're not alone and it doesn't make you a bad parent - the back seat of the car is the smallest space imaginable to squeeze two people through - especially when one of them is particularly wriggly!'
As the creator of the first infant car seat in the 1980s, Maxi Cosi says it has since carried more than 60 million babies home from the hospital. But this only leaves me wondering why on earth it's taken so long for someone to invent a car seat that doesn't actually require you to be a contortionist to get your baby in and out of the vehicle.
It's as if Maxi Cosi have heard the prayers of parents everywhere as they've wrangled wriggling tots into car seats and wished for a more practical design. Product director Guillaume Sauvetre says of the launch: "We have created the 360 Pro Family as a solution to parents' biggest frustrations when taking their little ones in and out of the car seat – such as not having enough space to move in and around the car, buckling up little ones and bumping their head on the door frame. The features are designed to make car seat struggles a thing of the past."
Hurrah. I only wish someone had invented this clever tech back when my three children were still young enough to need car seats. I'm not joking when I say that I sometimes thought twice about going out and about with the kids in the car because the faffing involved with safely installing them in their car seats sometimes just felt too much.
There are two new seats and a car seat base in the range, all designed to make light work of getting your child in and out of your vehicle. The FamilyFix 360 Pro Sliding Base is compatible with both the new Pebble 360 Pro and Pearl 360 Pro car seats and features a 360° rotating system so you can easily spin the car seat in any reclined position - even if you only have one hand free.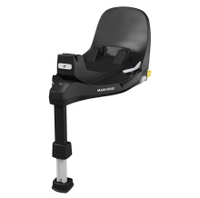 Maxi-Cosi FamilyFix 360 Pro | £219.99
The new car seat base rotates 360° degrees and features SlideTech™ technology so you can slide the seat to face you, instead of stretching across the seat to reach your child. Visual indicators on the base mean you'll know when the seat is correctly installed, and a rotation lock ensures your baby travels in the safest rearward-facing position until at least 15 months old.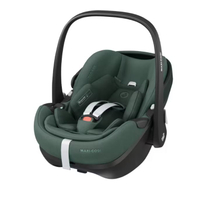 Maxi-Cosi Pebble 360 Pro | £259.99
The Pebble 360 Pro car seat is for babies aged 0-15 months and features three recline positions, including a full lie-flat position that can be used in the vehicle - gamechanger - as well as when you attach the car seat to a compatible pushchair frame. It's i-Size compliant and can be used with or without the FamilyFix 360 Pro base.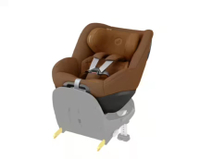 Maxi-Cosi Pearl 360 Pro | £319.99
The Pearl 360 Pro car seat has five recline positions and is designed to rotate smoothly on the FamilyFix 360 Pro base. It's i-Size compliant and suitable for use from birth up to approximately four years old, with an extra-spacious seat to allow plenty of room for growth.

The Maxi Cosi 360 Pro Family meets the latest i-Size car seat regulations and includes an anti-misuse lock to ensure rearward-facing travel up until at least 15 months, as well as integrated ISOFIX connectors and indicators that turn green when the base and seat are properly installed.
Good news for anyone with aches and pains that make reaching over a car seat torturous too - the 360 Pro Family is approved and endorsed by independent healthcare professionals and has received the Aktion Gesunder Rücken (AGR) Seal of Approval for products that protect against back pain.
"Maxi-Cosi has always pioneered innovation in technology that makes parents' lives easier," said Raul Sepulveda, President and CEO of Dorel Juvenile Europe. "As a brand, we are constantly listening and responding to feedback. Now, with the world's first sliding car seat technology, we are once again shaping the future of transportation for children."
The Maxi Cosi 360 Pro Family products are available from 24th April 2023.
Related features:
As a parenting specialist for more than 15 years, Heidi has written for most national newspapers and for a wide range of consumer magazines, including Mother & Baby where she was the Shopping Editor for six years, looking after regular consumer features including buying guides and gift roundups.