Fruit and vegetable shortage in the UK - Those empty shelves explained
Shoppers are angry at the lack of lettuce, tomatoes and other groceries in stores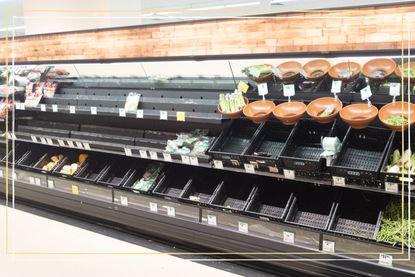 (Image credit: Future/Getty)
No it's not just your local store affected, the UK is facing a fruit and vegetable shortage for these reasons.
The weekly food shop is becoming increasingly problematic in 2023. A nationwide tomato shortage (opens in new tab) and low levels of other fruit and vegetables - such as cucumbers, peppers and salad leaves - have led to empty shelves in supermarkets and customers having no choice but to forgo fresh produce for the forseeable. Many are understandably concerned, with fruit and veg essential for health and ticking off your 5-a-day - so what's behind the current supply issues?
It's a similar story with other popular products in supermarkets. There's been an egg shortage (opens in new tab) going on for the best part of a year now. Meanwhile, others online have moaned of a Coffee Mate shortage (opens in new tab) too.
Why is there a shortage of fruit and veg in the UK?
Extreme weather conditions in Europe and North Africa have affected the production and export of fruit and vegetables to the UK. Cold weather and heavy rain has affected crop, whilst ferry cancellations have led to subsequent transportation issues.
Spain and Morocco are the UK's two biggest exporters of fruit and vegetables. Both countries have been experiencing bad weather as far back as Janaury. "It's been snowing and hailing in Spain, it was hailing in North Africa last week - that is wiping out a large proportion of those crops," James Bailey (opens in new tab), executive director of Waitrose, told LBC.
No tomatoes or red peppers in our Tescos and the cucumbers were sparse, one aubergine and hardly any eggs. 😤 pic.twitter.com/Q7OSOZLG40February 21, 2023
See more
As for when the shortages might stop? "Give it about a fortnight and the other growing seasons in other parts of the world will have caught up and we should be able to get that supply back in," Bailey added.
The British Retail Consortium (opens in new tab) confirmed Britain typically imports 95% of its tomatoes and 90% of lettuces from December to March. This dependence decreases in the summer when British farmers can provide home-grown fruit and vegetables.
Whilst this is the case in theory, other issues such as Brexit and energy prices going up (opens in new tab) have meant many British farmers are struggling to harvest as much produce achieved in previous years.
"We are seeing huge contractions — the lowest levels of production since 1985, when records began," Minette Batters, president of the National Farmers Union (opens in new tab) said in their annual conference. "For protected crop growers, those growing [crops] under cover, the price of gas means that they are mothballing many of their businesses."
Put simply, farmers rely on gas to heat their greenhouses to produce and ripen fruit and vegetables like tomatoes and peppers. But with the price of gas increasing (as a result of Russia's invasion of Ukraine (opens in new tab)) - many are struggling or growing less to keep costs down.
Massive shortage of fresh Veg in Tesco #balbriggan No tomatoes at all, no cucumber, v limited salad items.. many spots empty/low stock around store. pic.twitter.com/2EPqK0IhuoFebruary 19, 2023
See more
Gas aside, Justin King (opens in new tab), the former CEO of Sainsbury's, has said that the fruit and vegetable sector has also been "hurt horribly by Brexit". New administrative checks and costs have come into place post-Brexit which have incurred further cost to farmers. Health checks on seeds entering the UK being one of them. Farmers are also seeing a shortage of seasonal labour, which would previously have been made up of EU workers pre-Brexit.
As for the current shortage, catering supplier Reynolds told the Guardian (opens in new tab) that the availability of some fruit and vegetables are currently down by between 30% and 40%. It's no wonder shoppers across the country are experiencing empty shelves in supermarkets.
Full list of current fruit and vegetable shortages:
Tomatoes
Peppers
Cucumbers
Lettuce
Salad leaves
Broccoli
Cauliflower
Raspberries
Are supermarkets rationing fruit and vegetables?
ASDA and Morrisons
Asda has introduced buying limits on certain fruit and vegetables. At this time of writing, customers are restricted to purchasing up to three of each of the following: tomatoes, peppers, cucumbers, lettuce, salad bags, broccoli, cauliflower and raspberries.
"Like other supermarkets, we are experiencing sourcing challenges on some products that are grown in southern Spain and North Africa," an Asda spokesman said.
"We have introduced a temporary limit of three of each product on a very small number of fruit and vegetable lines, so customers can pick up the products they are looking for."
Morrisons have begun similar measures as of today. Customers are limited to buying two of the each of the following: tomatoes, cucumbers, lettuce and peppers.
M&S, Tesco, Sainbury's, Lidl and Aldi
Lidl, Sainsbury's, Tesco and Marks and Spencer have confirmed that they are not considering rationing measures. Whilst sales of fresh produce remains as usual at these supermarkets, they're not immune to the shortages.
"We're monitoring the situation, but no current plans to introduce restrictions/rationing", an M&S spokesperson told The Independent. "Although we are not immune to the well-publicised issues across the whole industry, we are mitigating where we can through alternative supply routes."
Video of the Week
Emily Stedman is the Features Editor for GoodTo covering all things TV, entertainment, royal, lifestyle, health and wellbeing. Boasting an encyclopaedic knowledge on all things TV, celebrity and royals, career highlights include working at HELLO! Magazine and as a royal researcher to Diana biographer Andrew Morton on his book Meghan: A Hollywood Princess. In her spare time, Emily can be found eating her way around London, swimming at her local Lido or curled up on the sofa binging the next best Netflix show.