When is Royal Mail on strike and why are postal workers striking?
Here's what we know about when the next Royal Mail strike will be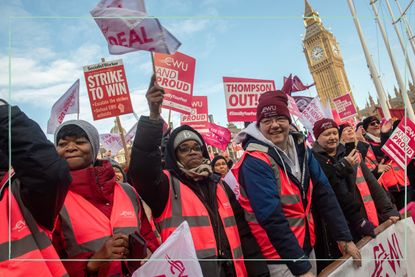 (Image credit: Getty Images)
Thousands of workers have voted for industrial action, so when is Royal Mail on strike?
It was called the summer of discontent by many, as the railways ground to a halt during the train strikes (opens in new tab), while London bus strikes (opens in new tab) saw drivers walk out for 24 hours - and it looks like the disruption set to continue through the winter, as people are now asking are teachers going on strike (opens in new tab)?
The cost of living crisis is partly to blame, and Royal Mail is no stranger to this, after April saw stamps go up in price (opens in new tab) thanks to inflation. But now the postal service is facing a fresh challenge as thousands of its workers have voted for strike action. Here's everything we know so far, including when is Royal Mail on strike and whether Post Offices will be open.
When is Royal Mail on strike?
There are currently no strike dates planned for 2023, but with the dispute between Royal Mail and the Communication Workers Union (opens in new tab) (CWU) unresolved, its likely that further strike action will take place in the near future.
Royal Mail workers planned a total of 19 days of strikes last year, which started on 13 October and included dates around Black Friday and in the run up to Christmas. However, strikes that had been scheduled to take place on 2, 3, 4, 8, 9 and 10 November were cancelled following a legal challenge. The change of plans led to 10 days of talks resuming between Royal Mail and the union.
The strikes are organised by the Communication Workers Union (opens in new tab) (CWU). General secretary Dave Ward - who has also backed the Enough is Enough campaign (opens in new tab) to tackle the cost of living crisis - previously said of the strikes "Nobody takes the decision to strike lightly, but postal workers are being pushed to the brink. There can be no doubt that postal workers are completely united in their determination to secure the dignified, proper pay rise they deserve."
A Royal Mail (opens in new tab) spokesperson has said: "Our preference is for an agreement with the CWU, but the change we need is not optional. They should be focused on a resolution to this dispute for their members and the long-term health of the business, rather than damaging strike action."
Royal Mail ballot result
98.7% of the CWU members who voted were in favour of strike action, in a turnout of 72.2% - meaning that about 83,000 staff voted, with 81,000 in favour of more strike action.
The Union said "The vote can leave no doubt that postal workers are united, and that they are demanding the proper pay rise they deserve," while a spokesperson from Royal Mail responded to the result with, "Instead of engaging meaningfully on change that will secure future jobs, the CWU has decided to ballot against change."
The CWU is the latest of several unions to organise strikes over recent months, as the rise in the cost of living has prompted both train drivers (opens in new tab) and barristers (opens in new tab) to turn to industrial action.
What happened during the Royal Mail strike?
Royal Mail said customers should expect significant disruption to services during the strike days. They aimed to deliver as many special delivery parcels as possible, prioritise the delivery of medical prescriptions, but added that they would not be delivering letters (with the exception of special delivery).
In a statement, a spokesperson for Royal Mail said "Royal Mail has well-developed contingency plans, but they cannot fully replace the daily efforts of its frontline workforce. We will be doing what we can to keep services running, but we are sorry this planned strike action is likely to cause you some disruption."
Strike action is taking place on Fri 23 and Sat 24 December. Services will be affected. Been left a 'Something for you' card?Please ensure you collect it before 23 December in order to receive your items by Christmas.For more info visit: https://t.co/GcAsdiu8HX pic.twitter.com/DTkpmnGA3TDecember 21, 2022
See more
To reduce the effect of the strike on services, Royal Mail advised its customers to send items as early as possible in advance of the strike dates and continue to post items at post boxes or Post Offices - though collections will be less frequent on the strike days.
They added: "We have been able to recover services quickly after recent CWU strike action and we will continue to focus our efforts on working to get our services back to normal as soon as possible after any future strike action."
Were Post Offices be open?
The majority of Post Offices remained open, because Royal Mail and the Post Office are separate companies. However, there was separate strike action taking place at Post Offices during December.
On December 12 and 13 Crowns & Admin staged a walkout, while Supply Chain members commenced a two-week ban on overtime. This strike will see around 1,400 staff members walk out.
The CWU's acting DGSP Andy Furey said of the Post Office strikes: "Everybody knows there's more than enough money for a reasonable pay rise and it's time for those at the top of the Post Office to show real respect for dedicated public servants who, as key workers, provided unprecedented customer service during the pandemic."
Is Parcelforce on strike?
Yes, Parcelforce have so far been on strike on the same days as other Royal Mail workers, and this is likely to continue to be the case during any further strike action.
A Parcelforce spokesperson previously said of the strikes: "We have contingency plans in place, and will be working hard to minimise disruption and get our services back to normal as soon as we can to keep people, businesses and the country connected. Meanwhile you can continue to send your parcels and letters and we would encourage you to post early in advance of these dates."
They added: "We're urging CWU leadership to accept the change and pay offer, call off future damaging strike action, for the good of our customers and our people. We apologise to our customers for the inconvenience the CWU's continued strike action will cause. We are doing all we can to minimise delays and keep people, businesses and the country connected."
Why are Royal Mail workers going on strike?
Royal Mail workers voted for strike action because of a dispute over pay brought about by the cost of living crisis, as inflation in the UK hits 11%.
After talks between the two sides ended, Royal Mail announced it would give CWU members a 2% pay increase backdated to 1 April, and offered a further a 3.5% - subject to further talks and agreements - totalling a 5.5% rise.
'We're not striking for ourselves, we're striking to save a 500 year old institution.'⁰⁰#StandByYourPost pic.twitter.com/WIyrSJwJwJDecember 24, 2022
See more
Ricky McAulay, operations director at Royal Mail, said the CWU has failed to engage in "any meaningful discussion" after months of talks.
He said: "The CWU rejected our offer worth up to 5.5 per cent for CWU grade colleagues, the biggest increase we have offered for many years. In a business that is currently losing £1m a day, we can only fund this offer by agreeing the changes that will pay for it."
More recently, Royal Mail has offered a pay deal which it says is worth up to 9% over 18 months. However, this is below the current rate at which prices are rising of 11.1%.
Royal Mail said this was its its "best and final offer", and accused the union of "holding Christmas to ransom".
In addition to rejecting the pay offer, the CWU objects to proposed changes to working conditions, such as ending a number of allowances and the introduction of compulsory Sunday working.
A spokesperson for Royal Mail has said: "Royal Mail is losing £1m a day and must change faster in response to changing customer demands. We operate in a competitive market, and our customers have choices.
"Further strikes and resistance to transformation by CWU will only make our financial position worse, and threaten the long-term job security of our postmen and women. The CWU has a responsibility to recognise the reality of the situation Royal Mail faces as a business and engage urgently on the changes required."
The CWU has accused Royal Mail of planning structural change, which it has said will see cuts to workers' sick pay, delayed arrival of post by three hours and inferior terms for new employees.
Royal Mail salary
According to Glassdoor, the average salary for a Royal Mail postal worker is around £25,000. In 2020, the Daily Express reported (opens in new tab) that postal worker salaries at Royal Mail can range from £13,007 - £34,582, and that the hourly rate is thought to be between £10 and £11.
Is Royal Mail privatised? Who owns Royal Mail:
In 2015, the government sold its remaining shares in Royal Mail, meaning it is now owned wholly by its employees and private investors.
In April 2012, Post Office Ltd became independent of the postal service Royal Mail Group as part of the Postal Services Act 2011. The UK government had initially retained a 30 per cent stake in Royal Mail, but ended the 499 years of state ownership when its shares were sold.
The Postal Services Act allowed private buyers to own up to 90% of Royal Mail, with staff entitled to 10% of the company's shares.
Royal Mail profits 2022
In May 2022, Royal Mail announced they had turned a profit of £758m that business year. Although this was a £56m rise from the year before, it was below analysts' average forecast of £771m and the company has announced it is losing £1m a day.
The company has said it will need to split if it cannot achieve "significant operational change."
Dave Ward, CWU general secretary, said of the planned strike action: "While bosses rake in £758m in profit and shareholders take £400m, workers are expected to take a serious real-terms pay cut. Postal workers won't accept their living standards being hammered by bosses who are typical of business leaders today - overpaid, underqualified, out of their depth."
In October 2022, Royal Mail announced plans to cut 10,000 jobs by next August, blaming ongoing strike action and rising losses at the business.
Video of the Week
Ellie joined Goodto as a Junior Features Writer in 2022 after finishing her Master's in Magazine Journalism at Nottingham Trent University. Previously, she completed successful work experience placements with BBC Good Food, The Big Issue and the Nottingham Post, and freelanced as an arts and entertainment writer alongside her studies. In 2021, Ellie graduated from Cardiff University with a first-class degree in Journalism.