'You look like peas in a pod!' Fans shocked by Gary Barlow's 'double' son Daniel in Instagram snap
Get ready to do a double-Take (That)…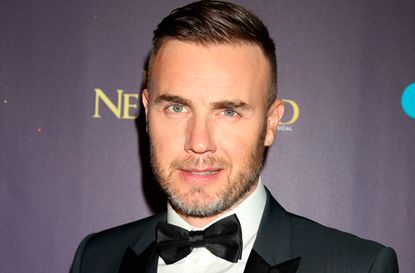 While it's no shock that children can look like their parents, fans were still gobsmacked when they spotted a snap uploaded by Gary Barlow (opens in new tab) wishing his son a happy 17th birthday.
Keeping the message to his eldest child simple, the Take That legend wrote, 'Happy 17th Birthday Daniel Barlow'
The 46-year-old star is pictured stood alongside his son, both of whom are smiling at the camera and topless - not hard to see why it's had over 15,900 likes, then!
Daniel seems to tower over his 5ft 9" dad, yet it wasn't the height difference that seemed to stun Gary's 156k followers, but rather the uncanny resemblance.
Fans immediately posted comments not only wishing the teen a happy birthday but to express just how much he looks like his musical maestro dad back in his Take That days.
And they aren't wrong. Gary was only two years older than his son - 19 - when he shot to fame in the five-piece boyband.
One user said: 'You look like peas in a pod! ❤️enjoy your birthday Daniel!' while another played on the Take That hit, Giants with 'We are GIANTS!! Happy birthday Daniel! Height from mum, but your ya dads double! Many happy returns 🎂'
Another posted: 'He's the spit of you Gary - it's those gorgeous genes!'
Gary is notoriously private about his family life, so it's unsurprising that the personal pic went down well with his fans.
He's been married to Dawn Andrews, the mother to his three children - Daniel, Emily and Daisy - since 2000.
Dawn was a back-up dancer on tour with Take That in 1995. She and Gary had been together for five years before marrying and welcoming their first son, Daniel.
What do you think? Are they the spitting image of one another? Let us know in the comments box below.