I was the first of my NCT group to 'admit' I bottle-fed my baby - and I'll never forget the reaction
I felt like the villain of the story as I typed out my message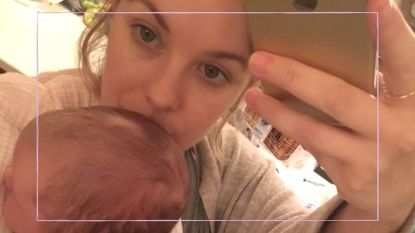 (Image credit: Stephanie Lowe)
When I was pregnant, I was surprised at how many people asked me if I had plans to breastfeed my baby. I hadn't 'planned' to as I didn't want to set myself up to fail - 'I'm going to give it a go' was my party line. It never went down well which is why I was scared to share my bottle-feeding decision.
I joined my local NCT (National Childcare Trust) group - basically a 'how to be a parent' course where you're thrown together with other parents-to-be - and breastfeeding was all that was discussed, bottle feeding wasn't even a side note.
My phone pinged with a message from my NCT WhatsApp group; 'Hey guys, any tips on how to help with the latch, we're loving breastfeeding but Lois sometimes struggles to latch on?' Instantly there was a flood of suggestions from other breastfeeding mums in the group.
As I read it I felt that all-too-familiar pang of failure. I wasn't breastfeeding, I found it too hard. And at one stage I actively didn't want to feed my tiny newborn, so decided to switch to bottle feeding. In the newborn fog, I hadn't even looked into the 'best bottles' or researched even how to do it - it wasn't covered in my NCT course, the main focus there was 'breast is best'. I had no clue of the best formula to use, or how to sterilise baby bottles - I was clueless. But after weighing up breastfeeding or bottle, I made the change anyway, for my mental health, for my baby, for my husband, and for oh-so-many reasons.
'Sorry we're bottle-fed over here,' I typed quickly. 'Hope you get some help with Lois! Sending hugs.' I held my breath and hit reply. I had just jumped headfirst into a huge new mum confession. My heart was beating hard as I stared at my phone, waiting for the telltale three dots to show me she was replying. Expecting her to judge me, to tell me I'm a terrible mother already. To delete me from the group.
What I got instead were three unexpected messages from other mum's in the group; 'Ohthankgod, me too! I thought I was the only one.' and 'I am SO glad you said that, I'm not breastfeeding either', and 'PHEW! Not just me then… thank you that message has made me feel so much better.' I wasn't alone.
My bottle-feeding decision
I was just four days into being a first-time mum and I was trying my hardest to breastfeed my jaundiced infant, I made the switch before we even left the hospital. We were using the teeny baby milk pre-made bottles as we weren't set up for bottle-feeding yet. Our first buy was the Tommee Tippee bottle prep machine - this was a game changer. Then, controversially, we put it in our spare room so there was no stumbling to the kitchen in the night putting ALL the lights on, this was another GAME CHANGER. If you can, I strongly advise you to do this, it makes figuring out how to feed a newborn all a little easier.
There were no medical reasons that breastfeeding didn't work out. No tongue ties or low milk supply issues. My nipples were shredded, I had no idea how to do it, and my boobs were so big I couldn't physically see what I was doing. I found myself filling up with resentment, which would overspill every time I spotted hunger cues in my tiny newborn. There will, no doubt, be people who will think I didn't try hard enough. Or that I didn't care enough about my baby's health, that I wasn't a 'good enough' mum. But let them think that, that's their opinion. I do not care, because I know with every ounce of my being that this was the best decision for me and for my baby. This decision shouldn't require an explanation, it should simply be respected.
Your baby, your decision
The topic of breastfeeding is a heavy weight for many mothers. Mums talk about the sadness they felt when it was over or the fears they felt about whether their baby was eating enough. Some mums try to convince others of their inability to breastfeed due to medical conditions or complications with childbirth. But in all of these conversations, mums are battling an assumption that all mothers want to breastfeed, that if they didn't, it must have been because they weren't able to. All of these stories include a justification for not breastfeeding their baby. And that's not fair.
I think it is brilliant that we now talk more openly about breastfeeding and bottle feeding and that pregnant people now have the resources to make informed decisions about breastfeeding. But the assumption that everyone should want to breastfeed is a damaging and exclusive narrative. I didn't breastfeed my newborn, and I shouldn't have to provide a 'valid' explanation. I didn't breastfeed because it wasn't right for me and my baby.
If you are a mum who breastfed because you wanted to, I'm happy for you. If you are a mum who was unable to breastfeed but wanted to, I hear your grief. And if you are a mum who didn't breastfeed because you didn't want to, I see you and I understand. I know that this doesn't mean you love your baby any less, you did what was needed, you knew how to love your baby, and you took the hard steps to do exactly that - and that, makes you an amazing mum.
If you've nodded along yes to this article, know that you are not alone. We have spoken to mums, dads, and experts to help empower you to make the decision for your family, from breastfeeding or bottle - choosing what's right for you, to How to bottle feed a newborn, as well as paced bottle feeding and what that looks like.
Video of the Week:
Stephanie Lowe is Family Editor at GoodTo covering all things parenting, pregnancy and more. She has over 13 years' experience as a digital journalist with a wealth of knowledge and experience when it comes to all things family and lifestyle. Stephanie lives in Kent with her husband and son, Ted. With his love of choo-choos, Hey Duggee and finger painting he keeps her on her toes.