Is Santa real? How to make the kids believe in Santa
Keen to keep the magic of Santa alive? Our handy hints and creative ideas are sure to help you this Christmas.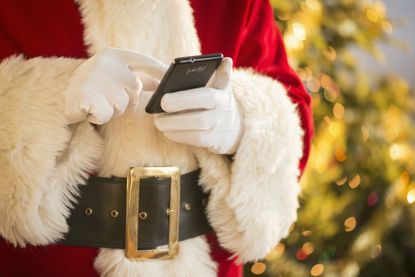 (Image credit: Getty)
Keen to keep the magic of Santa alive? Our handy hints and creative ideas are sure to help you this Christmas.
The magic of Christmas is unique, especially for the little ones and you might want to delay the time when they start asking you 'is santa real?' The magical memories of Santa will stay with them forever, so it's helpful for parents to know what you can do to keep up the belief and excitement for another year.
Adorable Christmas traditions to start with your kids
The sweet old man with the big white beard who travels the world every year to bring joy to all the children in the world is a big part of the Christmas experience for kids - and adults too!
Whether it's leaving a glittery trail of reindeer food on your front lawn on Christmas Eve, sending the kids a personalised letter from Santa, or just leaving a little something from the big guy on the Christmas tree, our ideas are fun and simple to carry out.
With these exciting ideas, you can promise to make his arrival even more thrilling for kids. Click through our gallery of ideas to help you keep the magic of Santa alive...
Download a Santa app
A Santa app is the perfect way to get the kids excited for Christmas especially when they hear Santa's voice. A Santa app lets your little ones get a phone call from Santa all the way from the North Pole. You can personalise the call, meaning Santa will know all about your children when he rings for chat. Some apps even let you text Father Christmas and leave voicemail and you can schedule the call so Santa rings at the perfect moment. There's even one app where Santa will text or call your child when they've been naughty.
With messages for children who might be on the naughty list, it's also a fun way to encourage good behaviour!
There are a number of apps you can download including A Call from Santa and Personalised Call from Santa and Message from Santa
Explain Einstein's theory of relativity
It turns out that technically Santa would have a better chance at delivering presents to every home in the world than we think.
If your little one is starting to doubt how Santa would be able to travel across the globe in just one night, you might be able to convince them with this theory - but it might need simplifying a bit!
Professor Brian Cox has appeared on This Morning and explained that according to Einsteins special theory of relativity, the faster you travel to the speed of light, the more distance shrinks.
Brian said, 'Let's say Santa's going around the globe now, so he starts off in Canada and he goes whizzing across to Europe. Now that's 3,000 miles or something. But if you're going very close to the speed of light - let's say 99.99999% of the speed of light - distances shrink in that case by a factor of 7,000. 7,000 miles is one mile when you're travelling close to the speed of light'
So, just repeat that to them word for word and we're sure they'll get it...
Video call Santa
You don't have to visit Santa's grotto to meet Father Christmas you know! Now, thanks to a handy new app, you and your little ones can actually talk face to face with the big guy over the phone!
With Video Call Santa your kids can ask Santa what they'd like for Christmas without even having to leave the house.
It gets even better, as the app lets parents hear the secret recording (which is password protected), meaning you'll know exactly what your kids are hoping to get under the tree this year.
You can even prearrange the phone call so Santa rings just at the right moment. Genius!
Leave him a little snack
Flying all night over five continents is bound to make him very hungry, so leave good old Santa a nice snack to keep him going.
We hear his favourite is cookies and milk, but he'll probably be thankful for whatever he can get. Bake Christmas treats with your children and make it an exciting family activity - after all, they're baking for a very important person!
When the kids go to bed, enjoy your well-deserved snack and see the surprised look on their faces the next morning when it's all gone!
Write Santa a letter
Help them write a letter to Santa with not only a list of what they want for Christmas but also a few reasons why they deserve their presents this year.
Walk with them to the nearest postbox and post the letters. The fact that you're actually sending the letter in such an official way will make kids believe it's actually going to the North Pole.
Do Elf On The Shelf
What would Santa do without his little elf helpers?
Make sure you welcome a visitor from the cold North Pole and have fun creating different scenarios every day. There's lots of great elf on the shelf ideas that will capture your children's imagination, and remind them of the magic of Christmas and Santa.
Leave a key for Santa
Not finding a chimney shouldn't be an impediment for Santa.
If he can't come in through the roof, leave him a special key so that he can still leave the little ones' presents under the tree. Personalise the key with them ahead of the big night with a sweet little message.
Don't forget to feed the reindeers
You've remembered to leave a little something for Santa, but what about his reindeer friends?
Give them much needed fuel for the rest of their long journey with special reindeer food - oats mixed with glitter. Spread it on your lawn for a shimmering effect when it's dark.
Santa was here!
After Santa's visit, make sure he leaves a few traces behind. And what better way to prove he was actually in your home than his footprints?
Put a shoe on the floor and sprinkle some flour around it or cut footprint shapes from a foam board for especially snowy footprints... He's travelled all the way from the North Pole after all!
Take a photo
If the kids are getting suspicious, then just give them something they can't argue with.
The guys at Capture the Magic website can seamlessly add Santa to a picture of your living room, or wherever else you keep the tree, so you can show children Santa really was there!
Make a yearly snap of Santa one of your Christmas traditions - photographic evidence (almost) never lies...
He left you something on the tree...
Santa might be a busy man but he has all the time in the world for well-behaved boys and girls.
Show your children how special they are to him by adding a special ornament to the tree overnight, and tell them Santa left it there for them.
That wasn't there last night!
If you have a bit more time, don't stop at just one ornament. Decorating a window is a great idea - keep what you'll need in your room and do it while the children are sleeping.
On Christmas morning tell them that Santa's added some more sparkle to the room, and watch their eyes light up as they find the festive decorations.
Visit Santa's hometown
For the ultimate Santa experience, you can take the children on an incredible family holiday to Santa's home in Lapland, Finland. There are elves, sleigh-rides with reindeer and Husky dogs, igloos and lots of other magic Christmassy activities that the kids will love.
If you can't make it all the way to Finland, make sure pay a visit to your local Santa's grotto so your children can meet Santa in person!
Trusted, informative, and empathetic – GoodTo is the ultimate online destination for mums. Established in 2007, our 15-year-strong archive of content includes more than 18,000 articles, 1,500 how-to videos, and 7,000 recipes.