"It's not the same for dads!" - Kerry Katona argues well-known parenting double standard
Kerry Katona says what most women are thinking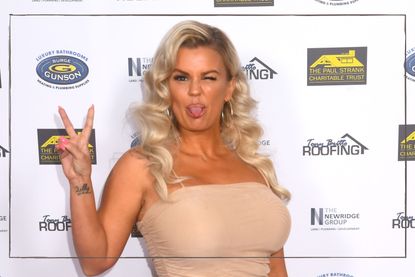 (Image credit: Getty Images / Future)
Kerry Katona opens up about the parenting double standard she's become the target of since having five kids with three dads, suggesting that "men are treated differently to women" over it.
Kerry's (opens in new tab) comments come in response to reports that Hollywood A-Lister Jude Law (opens in new tab) has become a dad-of-seven by four mums. Jude Law, 50, reportedly welcomes a seventh child with wife Phillipa Coan. The pair have been married since 2019 and already have a two-year-old child together. Jude also has five older children from previous romances.
Kerry has written about it in her latest column for New! magazine, with her comments reported on by OK! magazine. She wrote: "Jude Law has reportedly become a father again, making him a dad-of-seven by four mums - I didn't even realise he had so many kids!
The mum-of-five adds, "it's lovely news, but I do think that men are treated differently to women. I doubt he would be labelled as a '7x4 dad', whereas I've received a lot of c**p for being a '5x3 mum' in the past." Her remarks come after Jude and his wife were said to have been spotted pushing a newborn baby in a pram at Heathrow Airport in London recently.
Kerry shares her eldest two children Molly, 21, and Lilly, 20 with her ex-husband Brian McFadden. The I'm a Celebrity winner (opens in new tab) has two children Heidi, 15, and Maxwell, 14 with her ex Mark Croft. And also has daughter Dylan-Jorge, eight, with her late ex George Kay.
Kerry further commented in her latest column that she is "proud of everything" she has done for her children.
Actor Jude - who's well known for The Talented Mr. Ripley - shares his eldest three kids Rafferty, 26, Iris, 22, Rudy, 20 with ex-wife Sadie Frost. He also shares daughter Sophia, 12, with Samantha Burke. And daughter Ada, seven, with Catherine Harding.
This isn't the first time that Kerry Katona has spoken out about this, in her Closer magazine column in 2022 she wrote that 'women are more vilified than men' when it comes to having children by more than one day.
The comments were the result of Kerry listening to an episode of Meghan Markle's podcast Archetypes (opens in new tab), where Meghan said: "I don't understand what it is about the stigma surrounding women and their sexuality and the exploration of their sexuality that is so much more vilified than for a man."
She added: "A man, if he is a player, out having fun or whatever he's doing, it's often celebrated. Even heralded. But for a woman, I don't care if she's perhaps the most successful woman in finance in her mid-50s, I promise you, someone will still go, 'But she was such a sl*t in college." And Kerry wrote in her column 'I totally agree... Nobody says anything about the dads!' The former Loose Women panellist added; "I'm the one bringing up the kids, yet I'm the one getting derogatory remarks."
Related features:
Stephanie Lowe is Family Editor at GoodTo covering all things parenting, pregnancy and more. She has over 13 years' experience as a digital journalist with a wealth of knowledge and experience when it comes to all things family and lifestyle. Stephanie lives in Kent with her husband and son, Ted. With his love of choo-choos, Hey Duggee and finger painting he keeps her on her toes.