Meghan Markle ignites debate over the pronunciation of 'scone' in Scotland
Will the debate ever be resolved?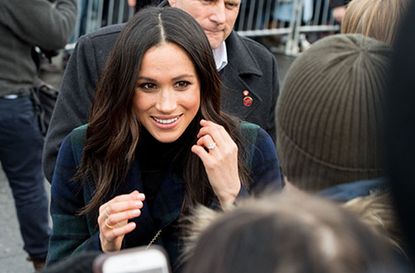 Meghan Markle will become part of the royal family in just a few months time but she's already got herself embroiled in a long standing British debate - how do you pronounce the word 'scone (opens in new tab)'?
Ahead of their May wedding (opens in new tab), Prince Harry and Meghan Markle have been upping their public appearances. The couple were in Scotland last week and attended the famous One o'Clock Gun firing at Edinburgh Castle.
And while there was a lot of excitement and positivity surrounding the engaged couple, one thing Meghan did has divided fans.
REX/Shutterstock
After receiving a freshly baked batch of scones from a royal fan, Meghan was accused of putting on a British accent when she pronounced the name of the baked goods.
Carolyn Chisholm was in the crowd at Edinburgh and baked some heart-shaped potato scones for the couple to enjoy.
According to the Mirror, Carolyn's mother Lynda noticed that Meghan's pronunciation of the tea-time treat was contrary to her American roots.
She explained: '[Meghan] gave them to her aide, saying they were "scones", and used the British pronunciation rhyming with "gone".'
Americans usually pronounce the word so that it would rhyme with 'bone', using a long 'o'.
Lynda added that she thought the correct pronunciation was the one using a long 'o' but others soon took to Twitter to discuss whether Meghan was right or wrong.
One wrote: 'Meghan Markle is pronouncing 'Scone' to rhyme with 'Gone'. This is strange because in the US it is pronounced with a long 'o', is she taking lessons????'
Another added: 'Meghan Markle pronounces scone like the British...'
However, others suggested the former Suits star could have picked up the pronunciation in Canada, where she lived for a few years.
Stefan Dollinger, professor of English at the University of British Columbia, confirmed that theory to Yahoo Lifestyle, saying that Meghan's pronunciation is in line with how Canadians would say it.
Another royal watcher also added: 'She's pronounced it the Canadian way which is like the British way. It makes more sense as she had lived there for years.'
This age old debate is yet to be resolved and it looks like Meghan just added fuel to the fire. According to a 2016 YouGov poll 51 per cent of the British public would pronounce "scone" so that it rhymed with "gone".
In contrast, 42 per cent would pronounce it with a long "o" and the remaining seven per cent didn't have a preference or used a completely different pronunciation.
Trusted, informative, and empathetic – GoodTo is the ultimate online destination for mums. Established in 2007, our 15-year-strong archive of content includes more than 18,000 articles, 1,500 how-to videos, and 7,000 recipes.