JoJo Maman Bebe sale steals! 5 cute buys our editor has in her basket right now
Our editor has done the legwork to select her favourite JoJo Maman Bebe sale items, with up to 70% off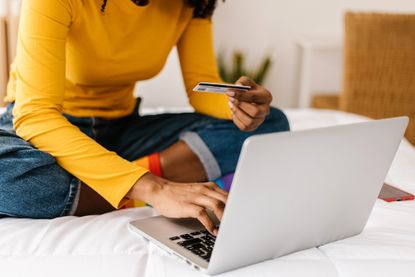 (Image credit: Future)
January may be over (hurrah, we made it!), but there are still winter sale bargains to be found when it comes to baby clothes - no doubt music to every cash-strapped parent's ears. And happily, that applies to one of my go-to retailers, as the Jojo Maman Bebe sale still has some rather good deals available.
You'll find over 200 items in the (seemingly hidden) baby sale section on the brand's website (opens in new tab), whilst a recent trip to my local store (strictly for research reasons, you understand...) illustrated that there are good deals to be found in-store too.
Given that JoJo definitely isn't the cheapest store for baby clothes, I usually only shop there for 'special' items for my one-year-old son, Woody. (It must be said that they make one of the best baby sleeping bags (opens in new tab) around, for example - and they're one of my go-to brands when I'm in the market for gifts for new mums (opens in new tab)). But with prices reduced by up to 70% in their winter sale selection, I've gone a little bit wild.
And so, these are the JoJo Maman Bebe sale items I've currently got sitting in my basket. Please give me time to check out before you race to buy them too, OK?
1. Cosy Pom Pom Hat
Cosy Pom Pom Hat, was £14, now £4 (opens in new tab)
I'm buying two of these - one for my son to wear now, and one to fit him next winter when he'll be 2 years old. Now all I have to do is decide which colours to go for - the autumnal 'toffee' shade, pink, navy or grey...
---
2. Reindeer Dungarees & Print Body Set
Reindeer Dungarees & Print Body Set - was £28, now £8.50 (opens in new tab)
I'm a BIG fan of stocking up on Christmas outfits in January. You'll pay a fraction of the price - just think about what size your little one will be come December when adding to basket. These festive dungarees are perfect for a Christmas Day outfit, and the patterned bodysuit can be worn throughout December with leggings for a festive nod to the season.
---
3. Fox Embroidered Gloves
Fox Embroidered Gloves - were £14, now £7 (opens in new tab)
Devastatingly, just as I decided that I absolute should add these to my JoJo Maman Bebe sale basket, they sold out in the 1-2 year sizing. SOB. So now I'm left wondering if it would be madness to buy the 3-6 years size, and just put them into 'storage' for a couple of years...
And yes, Keith (my partner), if you're reading this - I know we don't need any more stuff clogging up the house. But just LOOK AT HOW CUTE THEY ARE.
---
4. Ditsy Floral Pretty Cord Dungarees
Ditsy Floral Pretty Cord Dungarees - were £24, now £14 (opens in new tab)
Florals? For a boy? Absolutely! I've very much adopted a Harry Styles approach when it comes to dressing my son, meaning I like to flex the boundaries of 'traditional' boys' clothing. That includes cute ditsy print florals like on these dungarees. Woody had a pair from John Lewis, but he's grown out of them - so these will make a great replacement. Happily, they pass the 'do they have leg poppers' test that I apply to all baby dungarees. I mean, what sort of monster would design a pair without them!?
---
5. Dinosaur Hooded Cardigan
Dinosaur Hooded Cardigan - was £26, now £12 (opens in new tab)
I try not to buy too much dinosaur stuff for my son, just because - well, why do all 'boy' clothes inevitably have dinosaurs, spaceships or trucks on them!? However, I'll make an exception in this case because that hood is seriously funky. And a nice variation on the 'hoods with ears' look that I have discovered is rife in babywear.
---
Related features:
Kidly Sale (opens in new tab)- unmissable £10 and under Flash Sale bargains
Stephanie is Acting Editor at GoodTo, covering Editor Anna Bailey's maternity leave. She is a first time mum to son Woody, who was born in November 2021 (and who doesn't share her surname, it should be noted!). As a journalist, Stephanie has over 15 years' experience. It's her second stint on GoodTo, having previously been the site's Content Director in 2019. Elsewhere, she has worked as a digital editor and writer for brands including Stylist, MSN and Woman&Home.