18 signs you're a Christmas-hating mum
It might be time to admit it to yourself... you're a Scrooge. Pass the humbugs.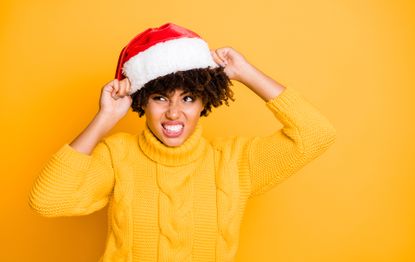 (Image credit: Getty Images/iStockphoto)
Goodto Newsletter
Parenting advice, hot topics, best buys and family finance tips delivered straight to your inbox.
Thank you for signing up to GoodTo. You will receive a verification email shortly.
There was a problem. Please refresh the page and try again.
December is a wonderful time of year, but not if you're a mum who isn't madly in love with all things to do with Christmas.
You don't have to be a Christmas hater per se, but if you're failing to get as excited as everyone else, here are the signs that you just might be a bit of a Grinch.
From stressing about the damn turkey, to avoiding the in-laws, to preferring a normal glass of wine that isn't heated and spiced, we're sure you'll find a few of these scenarios all too familiar!
Refusing to wear a Christmas jumper, even for the family photo on Christmas day
Image: Comedy Bang! Bang!/Earwolf Media/IFC You don't care if Rudolph's nose lights up - it's not going anywhere near your body.
Flicking through the car radio in the hopes of finding a station that isn't playing Christmas songs
Image: Wham/Andrew Morahan Nope, nope, nope - oh, maybe this one - nope, still Wham!.
Not understanding why everyone loves snow
Image: Game Of Thrones/HBO It's not fun, it's a bloody nuisance.
Wanting to avoid all shops at all costs
Image: Black-ish/ABC You silently scream when the kids are already pointing out things they want from Santa in October.
Not exactly being thrilled at the idea of a Christmas tree
Image: The Mindy Project/Hulu/NBC When everyone is getting excited decorating it, you're just wincing at the collection of pine needles gathering on the floor.
Wondering if anyone will notice if you just don't bother with Christmas cards this year...
Image: Seinfeld/Castle Rock Entertainment/Columbia TriStar Television Just seeing the Christmas cards start dropping from the letterbox in November makes you wince. You know that for every one you receive, you'll have to send one back. What a waste of stamps.
And questioning why every student in your child's class needs a card
Image: The Simpson's/Gracie Television/20th Century Fox Particularly when you know you're going to have to finish writing them once they've done the ones for their 'bestest' friends.
Refusing to consume anything pumpkin spice flavoured, ever
Ever since the sickly sweet concoction invaded from across the pond, you've avoided it at all costs.
Dreading the onset of Christmas desserts
Image: Ally McBeal/20th Century Fox Having to swallow down mouthfuls of Christmas pudding, after spending hours boiling the thing, is not your jam.
Wondering what the deal with all the dried fruit is
Just thinking of monstrosities that are mince pies and fruit cake - why do we love dried, mushy fruit so much?!
Hating what Christmas does to beverages as well
Even mulled wine can't save you - it's really just a sugary, less alcoholic, thicker and more expensive version of a perfectly good glass of Merlot. And eggnog? Bleurgh.
Feeling just a little bit resentful towards Mariah Carey every December
Image: Mariah Carey/Brett Ratner Hearing 'I-i-iiii... don't want a lot fooor Christmas...' for the 847th time in your life is a slow punishment.
Ditching the Christmas markets for the cinema
They're overpriced, overcrowded, plus baby it's cold outside.
Considering scrapping the turkey altogether
Image: Family Guy/20th Century Fox It's basically just chicken's tougher, drier and less delicious cousin.
Hating the damn expense of it all
Image: Full House/Lorimar Television/Warner Bros Coming this close to re-mortgaging the house every December is not worth it.
Already planning your excuse for bunking off the office Christmas party
They're always a let down - people either don't get drunk enough or get too drunk. Yeah, um, you're washing your hair that evening... ?
Wanting to avoid the extended family at all costs, but knowing you can't
Image: Saturday Night Live/SNL Studios/NBC Spending time with the insufferable in-laws doesn't get better - can your mother-in-law stop turning her nose up at the food you cooked? Yes, we all know the turkey is dried out!
And getting VERY tired of having to explain every single factor of Santa's existence
Image: Community/Sony Pictures Television/NBC Trying not to scream 'because he's not real!' at every question gets harder and harder. And then you feel bad because you were the one who fed the lie to them in the first place.
It might be time to admit it to yourself... you're a Scrooge. Pass the humbugs.
Parenting advice, hot topics, best buys and family finance tips delivered straight to your inbox.
Samantha is a freelance writer at Goodto who has been with team since 2019. Initially trained in psychology, she specialises in health and wellbeing and has additionally written for magazines such as Women's Health, Health & Wellbeing, Top Santé, Healthy, Refinery29, Cosmopolitan, Yahoo, CelebsNow, Good Housekeeping and Woman&Home.