My first Mother's Day gift was a disaster, here's what I'd choose instead
My first Mother's Day gift didn't quite hit the mark...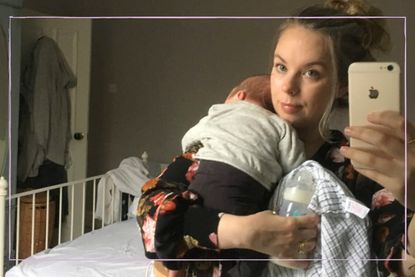 (Image credit: Stephanie Lowe)
My first Mother's Day gift was a bit of a disaster, there I've said it. And, while it wasn't really my husband's fault, read on to find out what I'd choose instead.
For my first Mother's Day we were bleary-eyed new parents, still reeling with 'what have we done' sleep-deprived panic infused with 'oh, but look-at-our-baby' all-consuming love. But still, it was an unmitigated disaster.
We had been parents for just three months and riding the rollercoaster of oh-my-good-God emotions that comes with that. And, while I knew expecting home-made Mother's Day cards was pushing it, social media - in its infinite wisdom and filtered insta-posts, whispered in my exhausted ears that I should expect a spa break, ridiculously pricey facial, jewelry with my baby's fingerprint on, some kind of extravagant thank you for keeping our son alive. But my husband, who is not well-known for present-giving, hadn't realized just how much this Hallmark holiday had meant to me. And, to be honest, I hadn't realized it either. So, when nothing of note actually happened on Mother's Day I did what any emotionally regulated adult would do, I reserved my right to be p***ed off, and I gave him the silent treatment.
Okay, so when I say 'nothing' he did give me a card (though no Mother's Day special quote) and a glass of bubbles and chocolate for breakfast... which I then put on social media as if it was the best Mother's Day ever - I hate past me - But I do stand by the caption; '... This day - and the 'mommy' card - makes being a mom feel way more real than the 24-hour labour, emergency c-section and 10 weeks of poonamis and stealth wees since, that's for sure.'
This day was more weighty than I expected it to be. I couldn't help but feel that his morning gifts in bed were a panic move by a man who had no actual gift to give. And, reader, I was right. The card and fizz was all I got that day.
That first Mother's Day did make being a mom feel really real in that I felt last on the list, forgotten about, and under-appreciated for all that I did, thought, and gave to our family. Needless to say, it did not live up to my expectations. My C-section scar was still tender to the touch after the 24-hour labor of a baby who was two weeks late. I had a body-to-Gaviscon ratio of 8o% (the heartburn was horrendous) and I just wanted, no I needed more. I needed a thoughtful gift that showed he put the effort in, that he truly heard me at some point and remembered my needs, and ordered a gift that made me feel appreciated, loved, and truly doted on. Because I - my body - had single-handedly built, housed, and birthed a baby human, and then kept it alive. And if that isn't worthy of the world on a stick - or a Cashmere pair of socks - then I genuinely don't know what is.
I do wish my very first Mother's Day had gone a little better. Though this taught us lessons as a couple. This mishap, this lapse in communication set us up. It helped us to realize and make space for each other's erm, shortcomings. Challenges? (the word failings feels too harsh). We learned that my husband does not take hints, and I am flakey about what I like and lose interest in things quickly so now we work together on gift-giving, and I set my expectations. Social media and Hollywood ruin so much with unrealistic expectations.
Now I make sure to share at least three items I would LOVE to receive on Mother's Day, and one will always be 'a day off'. Below is my edit of the top five things I would have asked for on my first Mother's Day instead of hoping my husband could magically read my mind.
First Mother's Day gift - my top five edit
1. Mummy and me Line Drawing
RRP: $65 / £50 | Delivery: FREE | Refundable: No
Most mums I know are still getting to grips with being in photos when they're at their most tired, so go for this option instead, ease her in.
Hand-drawn in freehand flowing lines, and colored with watercolor brushes to pick out colors from a shared image. The majority of reviews are 5-star on the Etsy site, though many recommended asking for a proof to make sure you thoroughly love the result before clicking okay.
2. Sephora gift card
RRP: $39 / £29 | Delivery: FREE | Refundable: No
It might not be in the first year of becoming a mom (or it might be - we're all different), but at some point, your other half is going to find some time to spend on herself, and you better believe she'll be ready to invest in that again. So, get ahead, and give her the financial freedom to do that.
---
3. Personalised photo key ring
RRP: $39 / £29 | Delivery: FREE | Refundable: No
The gift that keeps on giving, on days when I need to be reminded just how far we've come as a family - a photo of my teeny newborn will do the job.
Soft-butter leather case can be personalized with up to six characters, and it comes in leopard print. Your chosen photo is printed directly printed onto the stainless steel insert.
---
4. Audible subscription
RRP: $14.99 / £7.99 | Delivery: FREE | Refundable: 30 days
The gift of a new platform for escapism in the form of favorite books, but on audio. Great for when feeding, stuck under a sleeping baby, or driving on school runs. Pop the earphones in and catch up on a novel or 'how to get your baby to sleep' self-help book.
---
5. Monica Vinader heart pendant & necklace
If you want to bring out the big guns on the first Mother's Day then look no further than jewelry from the effortlessly chic and endlessly classy Monica Vinader. Cast from a heart-shaped pebble, this handcrafted locket captures the spirit of your love and will definitely show her how much she - and all she does - means to you.
---
Happy Mother's Day
I sincerely hope you have the Mother's Day you deserve, Mother's Day is tough for many people, for so many reasons. Social media will be particularly hard to navigate as some women show how great their lives are with smiling children and gift-wrapped presents. To quote Phil Dunphy from the Modern Family... 'the only perfect family is the one you haven't met yet'. None of us really knows what's going on behind the filter. I put that picture of me and my baby in bed on Mother's Day on Instagram too, and now you know that it wasn't the best. Happy Mother's Day to those who celebrate. And to those who don't, it will soon be over for another year.
Related features:
Video of the Week:
Stephanie Lowe is Family Editor at GoodTo covering all things parenting, pregnancy and more. She has over 13 years' experience as a digital journalist with a wealth of knowledge and experience when it comes to all things family and lifestyle. Stephanie lives in Kent with her husband and son, Ted. With his love of choo-choos, Hey Duggee and finger painting he keeps her on her toes.