Mother's Day origins: What is the history of Mother's Day?
We share some fun facts about the special day...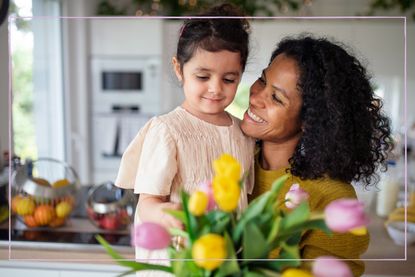 (Image credit: Getty Images)
Ever wondered about Mother's Day origins and why we celebrate the special day? We share the history behind the tradition plus some fascinating facts.
There's no greater friend or support than a mother. From raising us as kids to sticking by us as moody teenagers and being the occasional shoulder to cry on - they've always had our backs. Which is why we celebrate these amazing women with Mother's Day - a tradition that's held across the world.
Though the day started several centuries ago, it has remained an important date in the calendar and has today evolved to include shopping for the best Mother's Day gifts (opens in new tab), creating thoughtful homemade Mother's Day cards (opens in new tab), and other Mother's Day activities (opens in new tab). Ahead of the big day, we share some fascinating facts on how the tradition began.
What are the origins of Mother's Day?
The origins of Mother's Day date back to the Ancient Greeks. In their spring festival, they celebrated the goddess Rhea, considered the Mother of the Gods. Rhea was closely associated with another mother goddess, Cybele, whom the Romans honoured.
In Christianity, Mothering Sunday has featured in the calendar since at least the 16th century. Originally it wasn't a celebration of motherhood, but a time during Lent when people returned to their mother church – the main church – for a special service. This is why Mother's Day falls annually on the fourth Sunday of Lent.
The tradition of gifting came from families reuniting at this Mothering Sunday service too. Children would pick flowers on their way to church and gift bouquets to their mothers - hence why an online flower delivery (opens in new tab) is still considered the go-to gift for Mother's Day today.
In Medieval times, apprentices and servants would be given Mothering Sunday off to return home to their mothers too. They would take a special Mother's Day cake (opens in new tab) known as a Simnel cake. This was a rich fruit mixture with layers of almond paste in the middle and on top, and decorated with 11 marzipan balls to represent the apostles of Jesus – minus Judas Iscariot.
Mother's Day celebrations declined in popularity in the 1900s but was rejuvenated by the efforts of an American woman named Anna Jarvis in the 20th Century. Jarvis's lobbying of President Woodrow Wilson resulted in Mother's Day becoming an official American holiday in 1914.
And a 2012 study into Mother's Day celebrations (opens in new tab) reveals it now takes place in over 152 countries worldwide.
When did Mother's Day start in England?
Since the 1950s, Mothering Sunday has been a permanent fixture in the UK calendar. Moved by Ms' Jarvis efforts, an English woman named Constance Penswick Smith worked to establish the UK's Mothering Sunday Movement.
Passionate about it's revival, Constance founded the Society for the Observance of Mothering Sunday. And she additionally wrote a book titled The Revival of Mothering Sunday (opens in new tab) published February 19, 1921.
However, Mother's Day in the UK is celebrated on a different day to the US, where it takes place on the second Sunday in May every year. This is because it was the date that Anna Jarvis held a small memorial service for her own mother in 1907.
It took a while for Constance's efforts to pay off and eventually campaigning was aided by the Second World War, where soldiers paid thanks to their mothers from afar.
How do we celebrate Mother's Day now?
These days, it's less about Simnel cakes and more about sentiments. A modern Mother's Day celebration typically includes flowers, chocolates, treating her to a nice dinner out or a bottle of her favourite tipple. This is in addition to a thoughtful Mother's Day card.
According to Amanda Fergusson (opens in new tab) from the Greeting Card Association, we spend a staggering £73 million each year on Mother's Day. And Brits send more cards per person than any other nation.
We also love giving flowers – two bouquets will be delivered every second across the UK on Mother's Day, according to Inteflora. That's 15 times more than an ordinary day. While pink flowers are a favourite, vibrant colours are increasingly popular. Our top five picks are carnations, roses, sunflowers, gerberas and tulips.
Brits enjoy raising more than just a glass to their much-loved mums on the day too. Alcohol sales have seen a spike around Mother's Day in recent years with Gin skyrocketing in popularity. Mother's Day gifting data (opens in new tab) reveals that sales of the aptly nicknamed 'Mother's Ruin' increased by 21% in 2018.
Modern Mother's Day has also seen a shift from in-person to online shopping. 2020 market research (opens in new tab) into the holiday found that the percentage of shoppers buying Mother's Day gifts online grew by 3.6%. This was no doubt aided by the pandemic and the increasing popularity of online orders.
Mother's Day facts
In the UK the largest annual number of telephone calls take place on Mother's Day.
In Thailand, Mother's Day is celebrated on August 12 - the date of their Queen's birthday.
Every year people send around 30 million cards on Mother's Day in the UK.
Mother's Day is the biggest flower buying day of the year in Britain.
Red or pink carnations are the flowers associated with Mother's Day.
In 2021, the top 3 most popular gifts were greeting cards, flowers, and special outings.
It's estimated that there are 2.2 billion mothers in the world.
Video of the Week:
Emily Stedman is the Features Editor for GoodTo covering all things TV, entertainment, royal, lifestyle, health and wellbeing. Boasting an encyclopaedic knowledge on all things TV, celebrity and royals, career highlights include working at HELLO! Magazine and as a royal researcher to Diana biographer Andrew Morton on his book Meghan: A Hollywood Princess. In her spare time, Emily can be found eating her way around London, swimming at her local Lido or curled up on the sofa binging the next best Netflix show.