Prince William's swearing shocks audiences (but makes us love him even more!)
Watch the moment the prince describes getting a b***ocking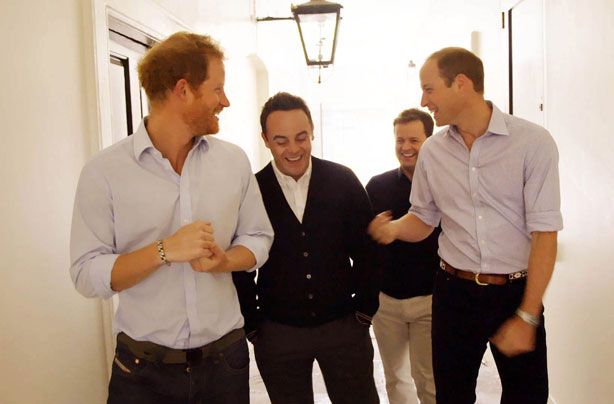 Well, well, well William – we wonder what your grandmother would think of this outburst. We're not entirely convinced your latest phrasing is the Queen's English.
Our very own prince has been caught swearing on television. When Ant and Dec Met the Prince: 40 Years of the Prince's Trust aired on Monday, viewers saw a rather more relaxed side to William who was clearly comfortable in the company of the Geordie pair.
The slip up happened while the prince was talking about his time at one of the country's poshest boarding schools, Eton.
William, along with Harry, explains how his dad isn't too hot on the old technology and still loves the traditional communication method of the letter – often writing to the two princes during their schooldays. He tells Ant and Dec that you can tell when the future king has been writing letters late at night because his writing starts to disappear off the page.
The brothers revelaed that their father, Prince Charles, loves to write letters
The conversation then quickly turns to the legibility of such letters. The princes joke between each other that they would have to compare notes on the contents of such letters because Charles' writing could sometimes be hard to read.
The princes were obviously enjoying the interview at Kensington Palace when William decided to let go a little more than usual. Speaking about what Prince Charles' letters might contain while the two brothers were pupils at Eton, William dropped in that there was a chance the correspondence from their father may contain a bo***cking. Whoops! In lovable Wills and Harry fashion the two brothers laughed it off and added another big tick against their names when it comes to being the favourite royals around.
Need to see the slip up with your own eyes? Here's the video from the Daily Mail for your enjoyment!
See the many (many) reasons why we love Prince Harry
And of course, Twitter couldn't hear our heir to the throne swear without having their say, either... [Twitter]
are your thoughts? A bit of fun or a shocking slip up? Let us know in the comments below!
Rosie is an experienced food and drinks journalist who has spent over a decade writing about restaurants, cookery, and foodie products. Previously Content Editor at Goodto.com and Digital Food Editor on Woman&Home, Rosie is well used to covering everything from food news through to taste tests. Now, as well as heading up the team at SquareMeal - the UK's leading guide to restaurants and bars - she also runs a wedding floristry business in Scotland called Lavender and Rose.