Princess Charlotte won't have to wear a school uniform when she returns in September
It's a very simple reason...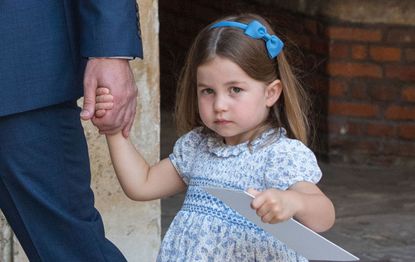 GoodTo newsletter
Sign up to the GoodTo Newsletter. You can unsubscribe at any time. For more information about how to do this, and how we hold your data, please see our privacy policy
Thank you for signing up to . You will receive a verification email shortly.
There was a problem. Please refresh the page and try again.
Princess Charlotte will be heading back to school soon as will her big brother Prince George. But while George will have to wear a uniform, Charlotte will not...
Princess Charlotte always looks adorable, no matter what she wears.
She has truly taken after her mum Kate in the sense that she has become a bit of a style icon with many of her outfits selling out minutes after she is spotted in them.
It's for this reason that Princess Charlotte's net worth is considerably higher than her brother Prince George's.
Princess Charlotte is also thought to have a keen eye for fashion as her dad Prince William revealed earlier this year that she would be obsessed with a pink satchel that was gifted to her. (opens in new tab)
With the end of summer fast approaching you might be starting to seek out the best school uniform deals for 2018. (opens in new tab)
Lucky for Kate and William, they only have to worry about this for one of their three children, Prince George.
Prince Louis hasn't even turned one yet so there's no chance he's off to school anytime soon and Princess Charlotte doesn't have to wear one.
The three-year-old princess attends Willcocks Nursery School in Kensington and the nursery do not enforce a uniform for their students.
So, when Princess Charlotte's first day comes around we can hopefully look forward to another portrait from mum Kate showing off an outfit she has picked for her only daughter.
Princess Charlotte on her first day of nursery last year
Prince George on the other hand will be back in his uniform come September when he heads back to Thomas's Battersea and his first day back could be even more special this year. (opens in new tab)
The five-year-old prince is likely to once again sport his smart navy and red jumper with a pale blue shirt underneath and his classic shorts with black ankle socks.
Last year eagle-eyed- royal fans were surprised to see that Prince George's school shoes were not as expensive as you might think (opens in new tab) for someone who is third-in-line to the throne.
It will be interesting to see if Kate and William stick to the same style or if they've chosen a different pair for this year.
We cannot wait for the first day of school pics!
Are you excited to see your kids all dressed up for their first day of school too? Head over to our Facebook page to share your tips on getting organised ahead of the back to school rush!