Princess Charlotte is already obsessed with this fashion accessory
Princess Charlotte is going to be thrilled with the gift her dad is bringing back from Liverpool...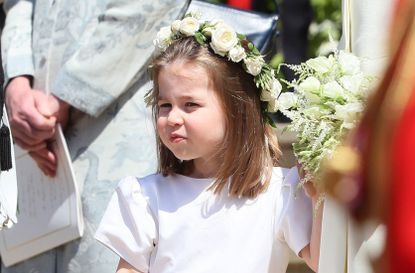 Princess Charlotte is going to be thrilled with the gift her dad Prince William is bringing back from Liverpool after a brief visit to the city.
Although the little royal isn't the only one set to receive a gift from her dad's visit of Liverpool, she's likely to be the most excited...
Prince William was in the city to attend the International Business Festival. While there he met the people behind the Leather Satchel Company who have made three special backpacks for each of Prince William's children and have embossed their names on the front.
The Liverpool Echo report that when Prince William spotted the bags his face lit up and he said: 'Charlotte will be obsessed with that - I'll never be able to get it off her.'
Princess Charlotte's bag is light pink with a darker shade of pink for the buckles and her name is embossed in silver. Older brother Prince George has a dark navy satchel with red buckles while the youngest of the Cambridges, Prince Louis, has a classic brown satchel.
As Prince Louis is just over eight weeks old and his christening has only just been confirmed, (opens in new tab) it's likely we will have to wait a while before we see him sporting the satchel but Prince George may well use it for his next school term.
Keith and Gail Hanshaw, the makers of the satchels, were not expecting to see Prince William but explained that they had intentionally made the 'mini-Windsors' their own bags as this style of bag is called the Mini Windsor.
Keith said: 'George's bag is in his school colours. Charlotte's mad about pink, he (the Duke) said it's her favourite colour. And Louis' bag is a classic London tan.'
After Prince William left the festival, Gail exclaimed: 'We were made up', when asked how it felt to have met Prince William and shown him the bags in person.
We hope to see Princess Charlotte rocking her new bag soon – we just know she'll look adorable!