Royal Mail release new stamps featuring Prince George and Prince William for The Queen's 90th birthday
And doesn't George look proud to be stood next to his Gan-Gan!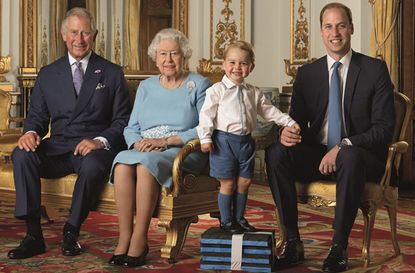 The Royal Mail has released a specially commissioned Royal family portrait to mark The Queen's 90th birthday.
It's not often we get a glimpse of that cheeky George smile. So imagine our delight when we spotted this adorable snap featuring Prince George, his dad Prince William, grandfather Prince Charles and great grandmother - or should we say, 'Gan-Gan, as George affectionately calls her - The Queen, all posing for a special stamp.
The image, featuring four generations of the House of Windsor, was photographed for Royal Mail by Ranald Mackechnie in the summer of 2015, in the White Drawing Room at Buckingham Palace. It's just one of the 10 special stamps released by the Royal Mail to celebrate The Queen's 90th birthday celebrations - and it also marks Prince George's very first stamp appearance!
Royal Mail chose photographer Ranald Mackechnie 'due to his excellent use of light in his work and specialist portrait skills.' He'd originally selected the Yellow Drawing Room for the shoot, but, according to The Telegraph, he changed his mind as it was 'just too yellow' and swtiched to the White Drawing Room instead.
Image: Royal Mail
The shoot wasn't without its challenges for photographer Ranald! 'When the Royal family came into the room and sat down, my computer system crashed,' he told The Telegraph. 'Prince Charles was very sympathetic, and saved my blushes, and fortunately I had back-up so we were back up and running in about a minute.'
Another of his challenges on the shoot, which took about 25 minutes, was the height difference within the group.
Image: Royal Mail
'For both aesthetic and technical reasons Prince George couldn't be positioned much lower within the photograph', Royal Mail said. The solution? George was popped onto some 'high density foam blocks' that Ranald had as part of his kit, to bring him up level with the rest of his family!
Image: Royal Mail
While George's parents have described him as 'naughty' in the past, Ranald, who didn't even tell his wife he was taking the Royal picture it was so secret, said: 'He was absolutely charming, as you can see from the picture. You only have a short window of opportunity with small children, but Prince George was on good form and everyone seemed to enjoy seeing him enjoy the day.'
'He was fascinated by my lights and all the kit, and he was quite happy standing on the blocks. I took maybe 80 or 100 shots, but when I saw this one I knew straight away that was it.'