How to make pretty paper flowers
Don't worry if you haven't received a bunch of flowers lately. These paper ones will cheer up a room for ages and are easy to make with the kids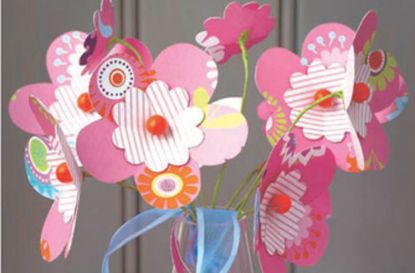 GoodTo newsletter
Sign up to the GoodTo Newsletter. You can unsubscribe at any time. For more information about how to do this, and how we hold your data, please see our privacy policy
Thank you for signing up to . You will receive a verification email shortly.
There was a problem. Please refresh the page and try again.
Get creative and try some crafts either with the kids or on your own! These gorgeous paper flowers make lovely decorations and gifts too.
The basic flower
You will need for all flowers:
Double-sided paper (or plain-coloured paper)
Bead centres
0.8mm-diameter wire
Green floral tape
Tracing paper and pencil
Craft knife and scissors
Double-sided tape
All-purpose household glue
Thick needle
To make a large flower
Print (opens in new tab) this page to get the flower template above
1) Trace the large (pale pink) and small (dark pink) flower templates (above) separately on to one side of a sheet of double-sided paper and cut out. One side of the paper will be the right side of the large flower, and the contrasting side will be the right side of the small flower that forms its centre. Score lightly along the broken lines on the right side with a craft knife. Cut the slit to the centre on each flower. Fold along the scored lines with the right sides facing. Stick the tab under the opposite straight edge with double-sided tape.
2) Thread a bead on to a length of wire. Holding the bead 3cm from one end of the wire, twist the wires together under the bead. Pierce a hole through the centre of the flowers with a large needle. Insert the wire down through the small flower, then the large one. Use glue to stick the end of a length of floral tape to the underside of the flower close to the wire. Bind tape tightly around the wire, catching in any leaves. Bend the flower head forward.
To make a small flower
Make as above, using just the small (dark pink) template.
To make a bouquet in pink
You will also need:
30cm sheet of double-sided, pink-patterned/pink-and-white-striped paper
6 x 12mm orange beads
3 x 8mm orange beads
50cm lengths of pretty ribbons
Make six large flowers with leaves using the patterned side of the paper for the large flowers and striped side for the leaves. Make three small flowers, using the striped side of the paper. Fix the flowers on 30cm lengths of wire. Bunch the flowers together and tie with ribbon. Wrap in tissue paper or stand in a vase to present as a gift.
To make flowers in orange for a vase
You will also need:
30cm sheet of double-sided, orange-and-white patterned paper
12 x 8mm pink beads
Small vase and wired ribbons, optional
Make six large flowers with leaves and six small flowers, making half the flowers using one side of the paper and half using the other. Fix the flowers on 30cm lengths of wire. Arrange in vase and add ribbons, if desired.