The 8 toy storage ideas I tell all my mum friends about - and they support independent play too
Toy storage ideas - get it right and it really can be the one big game changer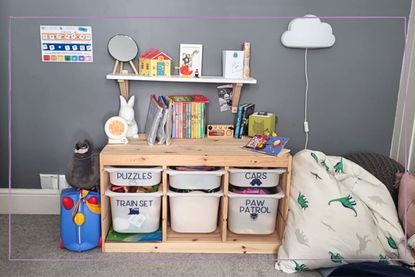 (Image credit: Future)
Toy storage ideas from busy working parents could be the game changer you need. You're not alone in figuring out this dilemma, so keep reading.
The thing about kids is, whether you have a playroom or not, if you're in the living room your kid will drag their Paw Patrol playset in to play near you. It doesn't matter if it's one of their best toys they want to show off or an old McDonald toy, kids want to be near their parents. It can be overwhelming for moms and dads at times, but to be fair to them, it's a kid's survival instinct that makes them do that.
Mom-of-twins, Dionne tells us how decent storage changed her day to day; "I used to have the kids' toys all hidden away in baskets, which meant that any time they wanted to play they tipped EVERYTHING out and I lost 30 minutes of my life each evening, minimum, tidying it all up. When I switched them out for see through boxes, the tipping lessened as they could see exactly what was in there."
When it comes to storage ideas, most of them seem great for people with no budget or no kids, and with lots of space and room, not really a true representation of your average family. You don't need lots of space to store toys, you need thought-through actions and realistic expectations. And this is where our round-up of the best toy storage ideas comes in, they're clever too and vouched for by moms or experts.
Toy storage ideas
Toys are the tools of childhood, when a kid is playing they're working, so storing toys so they're accessible is key. Remember these are just ideas that have worked for some mums in the past, every family and their needs are different.
1. Clear boxes with lids
RRP: £35.99 / $32.82 | Delivery: FREE | Refundable: FREE 30 days
"As toy storage ideas go I know these aren't as pretty as baskets but they let my kids see exactly what's in them and guess what? That means they're not tipped all over the floor every day." Tasha, mum-of-twin boys tells us.
These clear bins are shoe box sized, sturdy, and durable. They're on the pricier side for a budget-friendly list but worth it and will last. When using these try to stick to one type of toy in each container, avoid mixing. This makes it really easy for your kid to understand what goes where each time they pick, play and put away.
2. Mesh zip-up envelopes
RRP: £10 / $12 | Delivery: FREE | Refundable: FREE 30 days
This is a pretty out-there toy storage idea but go with it and trust the process. Board games come in clunky big boxes which take up a lot of space, so get rid of them.
Mom-of-two, Kiran tells us where she got this idea from. "I saw a mom shared that she uses the mesh zip-up bags to store games, so I gave it a go. I had to cut the box up to get the illustration in the envelope so we knew which game was which. And while I wasn't 100% comfortable with cutting the boxes up it has saved so much space. And, double win, it supports my kid's pincer grip when he wants to open the zip to play with the game."
3. Cutlery drawer inserts
RRP: £10 / $12 | Delivery: FREE | Refundable: FREE 30 days
A super easy and cheap-to-buy toy storage idea. Dad-of-one Dignity tells us; "This cutlery tray became storage by accident but stuck. I bought one for our kitchen and before I had a chance to put it away, my son had started stocking his stone collection in there and never looked back."
4. Clear biscuit barrels
RRP: £20 / $22 | Delivery: FREE | Refundable: FREE 30 days
Great shape for small toys and to mix up the shape of storage.
Mom-of-three, Amy tells us; "I put my kids Lego across four of these. They can see exactly what's in them and it's easy for them to get their hands in and out without faffing with taking lids off all the time. Easy win."
5. The Trofast
RRP: £96 | Delivery: FREE | Refundable: FREE 30 days
The Trofast is a pretty good staple for kids. Though if you're trying to stick to a budget always look at Facebook sells - parents are usually keen to get rid as kids get older.
Mom-of-one, Bex tells us; "This IKEA buy really upped my storage game. It's great because my son knows where things go from the labels which makes tidying so much easier for him. I got those from Etsy, they start from 75p
6. Puzzle holders
RRP: £40 / $50 | Delivery: FREE | Refundable: FREE 30 days
This isn't a cheap buy, we think it's because it's no longer sold mainstream that the price is so high. Worth is linked to different things and if the jigsaw pieces all over the place drive you to distraction then this might be a worthwhile investment for you. Every little helps, right?
Dad-of-three, Rob explains that this was worth the spend. "In our house, puzzles are currency, they're so popular. We noticed that our little one was drawn to the chunky wooden puzzles when she could see where the pieces went originally, so this was a Godsend for us."
7. Trolley on wheels
RRP: £23 / $32 | Delivery: FREE | Refundable: FREE 30 days
An easy-to-move trolley with wheels and three sections works for so many different things. I use ours as a 'craft trolley' - easy to move from the table to the standing easel.
But, mom-of-four, Linzi tells us; "I use this as our Playdough station. Top section is the playdough pots, middle section is the playdough accessories - the plastic knives and cookie cutters, and the bottom section is the table cover."
8. H&M Hooks for dress up
RRP: £4.99 | Delivery: FREE | Refundable: FREE 30 days
Available in light dark wood and a black finish. These hooks are great for keeping dress-up outfits easy to get to.
Mom-of-two, Carla tells us; "I used to throw them in a dress-up box, but realised my two rarely played with it all that way - they forgot it all existed, so now I use these hooks - useful and I like how they look, win-win."
Organize the toys
Now, before you go buying up all the storage, looking at how to organize toys can be a great first step. Toy storage and how toys are organized becomes a critical part of the playing process, if they can't see what toys they have how can they play with them? If you want children to play independently set them up for success, and make sure their tools (toys) to do that are visible and easily accessible. Storage is more than just about making your living room look tidier, it's vital to support children in their play.
Professional organiser Charlotte tells us that every space is different, "but there are general rules which can make playrooms so much easier to manage and organise."

Charlotte's top storage and organizing tips
Declutter - kids grow fast, so whether you want to sell, donate or keep for a younger sibling make sure you go through your toys at least bi-annually so that it doesn't get too crowded
Know when to decant! Generally, games work best in their boxes but sometimes other toys like magnatiles work better decanted! Be careful with puzzles, you could end up with a load of plastic wallets shoved on a shelf which is not helpful to kids when they want to play
If you have a lot of action figures or dinosaurs why not display them on shelves over putting them all in baskets it looks nice and relieves pressure off storage space
Go for taller baskets for fancy dress and bigger toys, they will hold more in them!
Don't forget about cupboard doors, use a magnet board like I've done here or put some hooks up to hang fancy dress try to use all the space creatively
Teach your kids to tidy up, reward them when they do - its the best lesson for them and saves you doing it all the time
Best places to shop for storage
IKEA - The Swedish store is a popular choice for toy storage solutions, with a wide range of products at affordable prices. The Trofast storage system, in particular, is a great option for storing toys of all sizes.
Great Little Trading Co. - Great Little Trading Co. is a UK-based company that specializes in children's furniture and storage solutions. Their range includes toy boxes, bookcases, and storage benches, among other options.
Amazon Basics - Amazon Basics offers a range of affordable storage solutions, including cube storage units, storage bins, and storage bags. While they may not be the most stylish options, they can be a good choice for budget-conscious parents.
Related features:
Video of the Week:
Stephanie Lowe is Family Editor at GoodTo covering all things parenting, pregnancy and more. She has over 13 years' experience as a digital journalist with a wealth of knowledge and experience when it comes to all things family and lifestyle. Stephanie lives in Kent with her husband and son, Ted. With his love of choo-choos, Hey Duggee and finger painting he keeps her on her toes.