6 types of stroller: what they are and what to look for before buying
With 6 types of stroller on offer, here's the knowledge you need to buy the one for your needs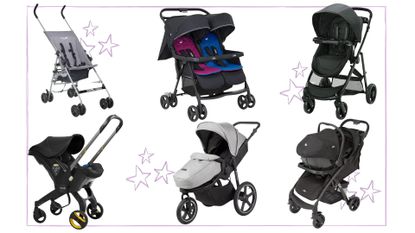 (Image credit: Argos, John Lewis, Mamas & papas, Little Angels)
Goodto Newsletter
Parenting advice, hot topics, best buys and family finance tips delivered straight to your inbox.
Thank you for signing up to GoodTo. You will receive a verification email shortly.
There was a problem. Please refresh the page and try again.
With 6 types of stroller to choose from, making the right choice for your family's needs can be a minefield. We have expert help on hand to explain the differences between them, empowering you to know what to look for before making your purchase.
If you're considering buying a stroller, the chances are you've already had to make the difficult decision of choosing the best pram for you and your baby's needs. Now your baby is older or becoming a toddler, the stroller vs pram debate might have begun - is your pram still suitable for current family life, or are you ready to make the switch to a stroller? If a stroller is what you've decided on, you might've realised there are 6 types of stroller on offer; choosing between them can be a little intimidating.
Mum of two Lucy says "We did plenty of research when buying our pram, but rushed into buying a stroller and ended up with the wrong one. It wasn't suitable for our city life, and we didn't realise our son was almost at the weight limit when we bought it - we didn't know there was so much variation! Having specialist advice would've been helpful."
That's why we've got expert help to arm you with the knowledge to understand the differences between each stroller, and everything you need to know before buying. With 6 different choices comes something for every budget. From the best pushchairs and strollers on the market, to travel and lightweight strollers, we are sure to help you find the one you need.
Types of strollers - and why they differ from a pram
Prams are more durable than strollers, and suitable for newborn and young babies who should be carried flat. Strollers are more lightweight but less sturdy, more suited to older babies and toddlers.
Not only are prams sturdier than strollers, they feature reclining seats that allow very young babies to be transported laying flat in a way that promotes safe breathing. The reclining seat can usually swap between forward-facing, to facing the parent or person pushing; it's likely parents will want their baby facing them for the first few months.
Prams have more complex features than strollers, often taking a multi-system approach - adapters allow a car seat to be attached to the frame, or a carrycot can adapt or swap to an upright seat. Designed to navigate more difficult terrain and offer greater suspension, these prams are often referred to as 3-in-1, 2-in-1, or travel systems.
A stroller is suited to older babies and toddlers. Parents would generally make the change to a stroller when their baby is around 6-months old, or have control of their head and neck muscles. Should an infant not have this level of control, their head can flop forwards and obstruct their windpipe, potentially resulting in suffocation.
Strollers are generally lighter and easier to fold and although prams generally fold flat too, strollers fold significantly more compactly. Being less sturdy than prams, strollers are cheaper to purchase but unsuitable for terrain other than pavements. There is no parent-facing option with most strollers either, and something to be aware of is that little ones will usually face forward with the stroller option. Some more modern strollers however, do have features similar to a pram, with some offering travel system adaptation.
Full-sized stroller
Full-sized strollers are sturdier than traditional strollers, and generally last longer. Worrying about matching the weight of your baby or toddler isn't usually an issue with full-sized strollers, as they often last from the point of purchase until your child can walk distances and it's no longer required. These often come with more features, making them almost a pram and stroller hybrid.
Full-sized stroller pros:
Sturdier - meaning more comfort is offered than traditional strollers
Reclinable - allowing for stroller snoozing
Long-lasting - can last from 6 months to when the child is fully walking
Extras - sometimes comes with extras such as canopies, cup holder or trays, meaning costs don't mount up
Tyres - can be more hardwearing
Storage - often has more storage than traditional strollers
Handlebars - ability to alter the handlebars
Full-sized stroller cons:
Heavy - as sturdier, full-sized strollers can be heavier than traditional strollers the added weight can be an issue
Difficult navigation - can be difficult to get on and off public transport easily, due to size
Bulky - not the best option if you have limited storage in your boot or house
Expensive - more expensive than other, regular strollers
Lightweight stroller
The lightweight stroller is the most traditional stroller, and the one parents are most likely to turn to once they've finished with a pram. Cheaper and with fewer features than you get from a pram, lightweight strollers make up for it with their ease and practicality.
Lightweight stroller pros:
Very lightweight - the meaning is in the title, and this option is very easy to move and carry
Shoulder strap - some fold down to the size of a small bag and contain a shoulder strap meaning you can just put it over your shoulder
Easy to fold - great for city life, these make hopping on and off the train, tube, bus and more, really easy
Space - they take up very little if you are short of space in your boot or home
Partial recline - can be slightly reclined for sleeping on the go
Holidays and trips - lightweight strollers are great for holidays abroad or weekend trips, and some people keep one just for this purpose. They fit easily on planes, and don't take up space in cupboards until they need to be used again
Lightweight stroller cons:
Initial transition - being so lightweight, the lack of sturdiness means these are often suited to toddlers and upwards and not for older babies first transitioning to strollers.
Basic - the cheap and easy nature of lightweight strollers mean they come with very few features or optional extras
Extras - rain covers, sun shades, and storage will likely need to be an extra purchase
Non-convertible - you'll be unlikely to attach a buggy-board or other method of transporting another child with this option, which is something worth considering
Double stroller
Just what it says on the tin, a double stroller allows two children to be transported side-by-side. These are the perfect option for parents of twins or those with a stroller-ready baby and toddler still unable to walk distances.
Double stroller Pros:
No accessories needed - no buggy-boards or adapters are needed to transport another child, with both children contained within the same unit
Storage - due to the size, double strollers often come with more storage
Stable - being wider offers the double stroller more stability
Double-stroller cons:
Bulky - double strollers take up more storage space and don't fold as flat as other strollers
Heavy - consider how far you'll need to carry the double stroller to your car, as they can be heavy
Manoeuvrability - can be difficult to navigate around shops, buy or narrow streets, and other tight spaces. Careful consideration of the logistics of your final destination will be required
Lack of suspension - strollers are known for having smaller wheels and less suspension, and this could be felt twice over with a double
---
Jogging stroller
Jogging strollers allow parents to take their baby or toddler along when they're out running, and are the best stroller for outdoor cross-terrain adventures. While a great addition to maintaining fitness, jogging strollers aren't without their downsides.
Jogging stroller pros:
Stability - the three-wheeled structure and generous size make the jogging stroller very stable
Suspension - superior suspension allows for exercising and adventures across many terrains
Comfort - the suspension and added size keeps babies comfortable across long distances and while taking bumps at speed
Wheels - unlike traditional strollers, jogging strollers come with sturdy wheels, with a front wheel that can be fixed to offer extra stability
Recline - jogging strollers will recline further than other models
Jogging stroller cons:
Age restriction - although babies over 6 months can be placed in jogging strollers, they can be unsafe for those under 12 months depending on user activity level and baby ability to support their head - please seek advice before using
Difficult to fold - learning to fold these can be tricky
Difficult to assemble - even putting them together can be hard
Manoeuvrability - jogging strollers don't make a good everyday mode of transportation and can be difficult to fit inside shops and smaller spaces. This also means you might need to purchase another stroller for everyday use, pushing up costs
Car seat stroller
This stroller is simply a frame that allows you to transfer a car seat straight onto it, avoiding hassle or disturbing a sleeping baby.
Car seat stroller pros:
Lightweight - just as light and compact as the lightweight stroller, if not more
Compact - will fold down and fit easily into small spaces
No waking baby - there's nothing worse than having to wake a baby for transfer into a pram or stroller once you've reached your destination, and with this you don't have to
Multiples - this can also come in a double version for twins
Car seat stroller cons:
Short-term use - as babies outgrow car seats quickly, these strollers won't last very long
Not for all day - babies should not be kept in a car seat for longer than two hours. If your car journey has been that long, or you you'll be longer than two hours at your destination, this stroller is not appropriate.
Features - this basic structure doesn't have an extras such as storage, cup holders or trays
Travel system stroller
The stroller version of a travel system pram, the travel system stroller allows an upright seat to be switched out to a car seat. Full-size, jogging and lightweight stroller travel systems can be available, meaning there's plenty of choice to suit your needs and lifestyle.
Travel system stroller pros:
Lightweight - this is a more lightweight option to the travel system pram
Adapters - adapters are usually part of the package and don't need to be purchased separately
No waking baby - this option also allows a smooth transition from car to stroller, with no disturbance to a sleeping infant
Cost effective - will be cheaper than a travel system pram
Travel System Stroller cons:
Easily outgrown - the upright seat will last your toddler, but they will outgrow the car seat option quickly
Not for all day - again, consider that babies shouldn't be placed in car seats for longer than two hours at a time, and you might need to switch to the seat
Number of cars - if you have more than one car, a separate car seat or base might be required
For more information on the best travel strollers on the market, we have a thorough and handy guide. For city living, these are our thoughts on the Thule Shine stroller, or for something super lightweight, the