Where can you go on holiday without quarantine from the UK? Holiday destinations still open to Brits
Will you be going on holiday this year?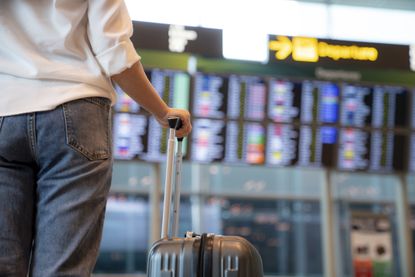 (Image credit: Getty Images)
Goodto Newsletter
Parenting advice, hot topics, best buys and family finance tips delivered straight to your inbox.
Thank you for signing up to GoodTo. You will receive a verification email shortly.
There was a problem. Please refresh the page and try again.
The Covid-19 pandemic has brought along with it plenty of uncertainty around our jobs, income, health and future plans.
There were still plenty of places where you can go on holiday without quarantine when you arrive from the UK, so all wasn't quite lost for a getaway in the coming weeks.
However after a new Covid-19 variant was discovered in the UK, the situation has changed almost overnight and will continue to do so in the coming days.
Since the beginning of July when the quarantine list was announced, the coronavirus pandemic has majorly impacted the tourism industry. In November, 88% fewer people flew out of Heathrow Airport alone in comparison to last year, while at some points during the initial lockdown, train travel in England was at just 5% of regular capacity. The main reason for this was that people have to self-isolate on their return back to the UK for two weeks, unpaid if they were unable to work from home.
But the situation only became harder to handle when later in the summer, it was announced that many countries around the world were also imposing quarantine on travellers when they arrived.
As a result of this, the further rules on travelling abroad during the second lockdown in England, the new tier system and localised lockdowns coming into play, interest in going abroad naturally dropped dramatically.
Now with more known about coronavirus than ever before and the development of the Pfizer vaccine, the government is looking at ways to get the tourism and aviation industries back on their feet. One of these ways has just been announced: reducing the quarantine period on return to the UK from 14 days to just five days after Tuesday December 15, if travellers can produce a negative test after the short isolation period.
So what about on arrival into the country? With 2020 (finally) drawing to a close, where can you travel abroad in the world without having to quarantine on arrival?
Where can I go on holiday from the UK?
Before the new variant emerged, international business hubs such as Hong Kong weren't open for business but major holiday destinations like some islands in Greece were allowing people to enter without any restrictions.
The list hasn't barred all travel though so as long as you're not in a Tier 4 or 3 area, a getaway might still be on the cards. Here's all the places you can go on holiday to without quarantine when you get there, but be sure to read all the T&Cs...
Places to go in Europe to go on holiday without quarantine on arrival
Gibraltar
Anyone looking to go abroad with free movement on arrival before Christmas can go to Gibraltar. The only limitations are that travellers have to complete a passenger locator form and tell the authorities if they have been to a 'relevant area', which does not include the UK, in the two weeks before their arrival.
Travellers coming from a 'relevant area' must self-isolate for 5 days on arrival and be tested on day one or day five after arrival.
Iceland
There's no quarantine for those coming into Iceland who have already had Covid-19. Anyone who can produce an antibody test result no more than 14 days old, proving that they've already had the virus, is free to begin their trip without any restrictions.
However, anyone who can't produce a suitable antibody test will have to take a test at the border and a second test after five days of isolation.
Jersey
Travellers from certain places in the UK can go to Jersey without self-isolation if they can produce a negative test result upon arrival or take a test when they enter the country.
This is only applicable to those in Scotland at the moment as the rest of the UK is on the amber list (meaning there's a five day isolation on arrival) or the red list (a full 14-day quarantine).
Madeira
On arrival, travellers to Madeira must complete a questionnaire before departure or on arrival. Anyone who can produce a test before arrival should upload it 72 hours before they leave for Madeira.
When people arrive into the country, which is close to Portugal and just off the coast of Africa, they will be subject to a health screening. Anyone who has not uploaded their Covid-19 test result will have to show it at the airport and if they cannot, they will have to take one at the airport for free. While waiting for their results, people will have to self-isolate at private accommodation until the results come. This will happen within about 12 hours.
Other countries around the world will require travellers to take a coronavirus test before they leave and produce the test result on arrival. These include...
Antigua and Barbuda
Barbados
Bermuda
Cambodia
Grenada
Maldives
St Kitts
St Lucia
St Vincent and the Grenadines
UAE (including Dubai and Abu Dhabi)
There are also some other countries that will require people to have a negative test result before they leave and also when they arrive in the country. These places include...
Anguilla
Dominica
Mauritius
Seychelles
Rwanda
Others will make travellers just have a test when they arrive in the country, such as Cuba and Bahrain, so there's no need to take one beforehand.
These rules differ from the so-called quarantine list as they dictate whether tourists and travellers have to self-isolate when they enter their destination, rather than when they return. With Brits trying to catch the last of the year's sunshine or go for a festive city break, some countries have recently changed their quarantine list rules.
Is Tenerife on the quarantine list?
The situation in Tenerife has not changed. Earlier this week, it was reported that the popular British holiday destination will stay open to travellers (but of course, only those allowed to travel freely in tiers 1 and 2) for the time being.
Despite the new coronavirus restrictions, both Jet2 holidays and Ryanair as well as the Tenerife tourist board has said that any holidaymakers won't be affected. However, travelling between different municipalities apart from for essential purposes will be limited and Christmas gatherings will be limited to just two households with the ongoing 'rule of six' in place.
The rules come into place at midnight on December 18 and will last for 14 days, through to the new year when they'll be reviewed.
Is Brussels on the quarantine list?
The government is advising anyone returning back from Brussels at this time to self-isolate in the UK when they arrive.
When coming into Brussels, travellers are advised that will have to complete a Passenger Locator Form but otherwise there are few restrictions on entering the area. It's also important to note how travelling will affect the trip, as anyone coming through Calais to Brussels will have to follow the self-isolation rules for France before they can enter Belgium.
Is Madeira on the quarantine list?
Just as Madeira isn't requiring travellers to necessarily quarantine on their arrival into the country, the UK isn't imposing self-isolation on anyone coming back into the country.
Although Madeira is close to Portugal, where travellers do have to self-isolate on their return to the UK, it has joined Azores on the list of countries and regions where quarantine isn't necessary on return to the UK.
Are the Canary Islands on the quarantine list?
Updated in the last review of the quarantine list, anyone visiting the Canary Islands will have to quarantine on their return for 10 days as of December 12 under the new self-isolation rules for England but international travel is allowed.
While in Wales, international travel is currently banned until January 2021 apart from essential reasons such as education or work. In Northern Ireland, travel isn't prohibited but they have advised travellers to be "mindful of the risks of spreading the virus by travel and should use their judgement when deciding whether or not to undertake a journey based on the individual circumstances."
In Scotland, whether a visit abroad is permitted depends entirely on where you live and what the local coronavirus infection rates are like.
There are still eight main islands to choose from, however, where the restrictions on the Canary Islands do not apply. These include Tenerife, Fuerteventura, Gran Canaria, Lanzarote, La Palma, La Gomera, El Hierro and La Graciosa.
While it is technically possible for anyone in England to travel any country during the restrictions, many will have strict self-isolation rules on entrance and other issues preventing passengers from going on holiday without quarantine. For example, while the sunny destination of Azores might seem like the perfect getaway before Christmas and entry is technically allowed with no isolation, Ryan Air have cancelled all their flights to the airports in Azores. The only way to enter would be via Portugal, which is on the quarantine list and also requires a period of self-isolation when you enter.
Greece is another country where other barriers would prevent you from immediately kicking off your trip. The country was recently removed from the safe list and placed on the quarantine list, however, Greece also entered their own national lockdown on November 7 which stopped tourists from being able to travel within the country. After a review of the situation, this lockdown has now been extended until January.
Those in the vicinity of the UK are also allowing arrivals to go on holiday without quarantine. Ireland for instance is asking all arrivals, including residents, to restrict movement for 14 days after they come into the country. It doesn't include those coming from Northern Ireland or countries that are on the Irish government's 'Green List' but this currently does not include the UK.
The Isle of Man has even harsher restrictions as anyone arriving must self-isolate for 14 days and so far, there have been prison sentences handed to those who have failed to do so.
Parenting advice, hot topics, best buys and family finance tips delivered straight to your inbox.
Amy is Senior Digital Writer across Woman & Home, GoodTo and Woman, writing about everything from celebrity news to health, fashion and beauty features. When she isn't obsessing over the latest dress drop from Marks & Spencer, you'll most likely find Amy out running, or with a cup of tea in hand ready to dive into a gripping new Netflix series.