Best vegan cookbooks 2022: Deliciously Ella, BOSH! and more
From Amazon's bestseller, The Green Roasting Tin to Deliciously Ella's plant-based cookbook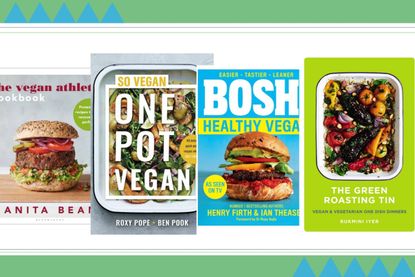 From Amazon's bestseller, The Green Roasting Tin to Deliciously Ella's plant-based cookbook, here are the best vegan cookbooks for 2022 - all of which are available to purchase online.
"If you're in need of some vegan recipe inspiration, a cookbook is a great place to start," says Senior Content Editor, Jessica Dady. "It's good to have a cluster of go-to vegan recipes that you can refer back to over and over again. Cookbooks are also a great way to expand your cooking repertoire by trying new dishes and ingredients you wouldn't buy regularly."
Veganism has become an increasingly popular diet choice. People choose a vegan diet for all sorts of reasons, it could be for health reasons, the environment, for the animals, or all of the above. You might choose to limit your meat intake and be a flexi-vegan, or just looking for a change. But whatever your motivation cutting out meat and dairy can be a real challenge, especially if you are used to cooking with them.
There are heaps of new foods for vegans on the market, but these too can be a little boggling if you don't know what to do with them! We find cookbooks are a fantastic resource and source of inspiration. They can help you to experiment with new ingredients, and to make nutritious meals with lots of variety.
Best vegan cookbooks
1. Vegan Savvy
Why we love it: Author Azmina Govindji is an award-winning dietitian, so you are in safe hands with this book.
Changing your diet can be a nightmare for your nutrition, but these healthy vegan recipes will get you through. The recipes have been specially created to fill you with energy and vitality. Plus it's packed with lots of easy-to-digest information about nutrition and health. One of the best vegan cookbooks.
Rated 5 stars by nearly 90% of Amazon customers, this book is certainly a popular purchase. "My husband and I like to understand the provenance of food and nutritional value. Both of us subscribe to various sites or have seen various programmes on vegan food. However, there is limited information out there about the nutritional value of vegan choices. This book covers so much information - regardless of if you have a vegan leaning or not, it gives you the power of choice: choice in what is valuable to your body from a nutritional perspective and choice on whether you can 'afford' to absorb the vegan life-style," said Amazon reviewer Mona.
2. Vegan Slow Cooker
Why we love it: Family-friendly slow cooker recipes - including dessert!
There is a misconception that vegan meals are just fancy salads, but this book is proof that vegan food can be just as hearty and filling as its meaty counterpart. Vegan Slow Cooker contains dishes that the whole family will love and includes some vintage-inspired bakes, we can't wait to try the vegan upside-down pineapple cake.
Amazon customer Laura commented; "Really pleased with this... not just recipes for meals, but for baking cakes etc. with a slow cooker... things I'd never even thought I could do with it! Really excited to try some... would definitely recommend it." Amazon customer Elle added; "Excellent recipe book, with really tasty slow cooker recipes! Tried several and no problems so far. I tend to add extra seasoning to most recipes I make, but these are pretty good without tweaking."
3. One Pot, Pan, Planet
Why we love it: Plant-based recipes keeping the environment and reduction of food waste in mind.
If your motivation for swapping to a vegan diet is to benefit the environment and you love beautiful and delicious things then you need this book in your life. It's full of informative tips and tricks for eating seasonally and reducing food waste, as well as a plethora of inventive ways to celebrate your veggies. One of the best vegan cookbooks.
One happy Amazon customer gave this cookbook 5 stars and added; "I've been waiting for Jones' latest book eagerly since it was announced and it is even better than I expected. For those people looking for work along the lines of other recent one-pot type recipes - this is going to push your cooking to the next level. Some of the recipes look intimidating but once you read the lists of ingredients there's rarely anything in there that's tricky to come by, and Jones nearly always suggests good swaps or substitutes."
4. The Plant-based Diet Revolution
Why we love it: A cookbook approved by a doctor and recipes created by an experienced Riverford chef.
Dr Alan Desmond is an NHS consultant, specialising in both gastroenterology and general medicine, with twenty years of clinical experience under his belt. He has seen many of his patients benefit from a shift to a plant-based diet so collaborated with Riverford chef Bob Andrew to recreate our favourite dish with a vegan twist.
Rated an average of 4.6 stars by Amazon customers, including Sue and Ben who gave this cookbook 5 stars commenting; "An absolutely brilliant book. I can't praise it highly enough. I have been a vegan for a few years now and being an overworked teacher I tended to get my wok out, bung some vegetables in, add a few nuts and call that dinner. Nothing wrong with that you may add but.... anyway now I'm. Lockdown teaching 3 days a week I am using the 28-day guide, cook a meal that cooks 2 meals - that's tomorrow sorted! It has introduced me to different tastes and textures. It also highlighted to me the importance of grains. Cooking has become my new mindfulness therapy to get me through Covid. Finally, he talks a lot of sense from his own medical practice."
5. Plant Over Processed
Why we love it: It's a positive cookbook with a wide range of vegan recipes from breakfast to dessert.
This book is by Instagram star Earthy Andy who lives what looks like the dream life in Hawaii with her beautiful family. Andrea's 30-Day Plant Over Processed Challenge is designed to detox your body to introduce you to a vegan lifestyle. Recipes include breakfast, lunch, dinner, and snacks.
Rated an average of 4.8 stars on Amazon, this cookbook is a popular choice with the majority claiming this book to be a 'life changer' encouraging healthy eating for the whole family. One satisfied Amazon customer, who gave this cookbook 5 stars, commented; "This book has shown me a new way of life! I thought it may be hard to follow with Andy being based in Hawaii and myself in the UK and I was wrong, I'm finding it easy to follow and have loved every recipe that I have tried! My household is now plant over processed and we are all loving this new way of life!" One of the best vegan cookbooks.
6. Be More Vegan
Why we love it: A easy guide to going vegan including some simple, delicious recipes.
We love this book. It's so informative and includes tips such as how to make vegan milk from scratch and alternatives for eggs. It's great for the inquisitive young chef who's interested in understanding more about a plant-based diet. And the recipes look delicious too.
Amazon customer Pip said; "I'm not a 'young person' but I love the author's previous book so picked up a copy. All the recipes are really non-intimidating but look so tempting and nourishing at the same time. A practical cookbook for vegans of any age who are looking for some easy and approachable cooking inspiration."
7. Deliciously Ella Quick & Easy
Why we love it: Super quick and super easy vegan recipes for those looking for mid-week meal inspiration.
With tonnes of healthy fast vegan recipes, this is our go-to for a simple mid-week vegan meal. As well as batch cooking if you're the organised sort. Recipes include beetroot pancakes, quinoa bread, almond pesto dressing, and many more.
"I'm not one to usually buy cookbooks and I have to say I am very happy I bought this one," said Amazon customer Sara. She added; "I love how simple and clear the instructions are, with pictures accompanying every recipe. I think what I love most about this particular cookbook is: 1. There are a few pages about how to get all essential minerals and vitamins on a vegan diet (e.g sources of complete protein, calcium, zinc, supplementing B12, etc.) 2. A complete list of what is useful to keep in your cupboards at all times e.g examples of spices, etc. that the recipes use, and 3. Tips on how to cook/roast/freeze certain foods and possible substitutes of general foods to use (this can be applied in all kinds of recipes you find on the internet!) And well of course the recipes."
8. The Green Roasting Tin
Why we love it: Amazon's bestseller, this cookbook is jam-packed with mouthwatering vegan recipes.
This cookbook is sectioned into 'quick', 'medium', and 'slow' recipes for both vegan and vegetarians. All recipes are cooked in just one tin. Recipe highlights include rainbow Tabbouleh with avocado, radishes, and pomegranate as well as beetroot, chickpea, and coconut curry.
Rated 5 stars by over 75% of Amazon customers, this cookbook has been titled 'delicious, quick, healthy, brilliant.' Another customer commented; "I have now had this book for a couple of months and it is the only one I use! The recipes that I have made so far are unbelievably full of flavour and absolutely delicious, as well as being incredibly simple to make.... sweet potatoes with red onions, basil, and taleggio cheese are just ohhhhh, as are the caponata aubergines with olives, capers, and tomatoes plus the oven-baked ratatouille, to name a few. I would highly recommend this book and am gradually working my way through it. Additionally, when I have had a query, the author has emailed me back which has been really helpful."
9. BOSH! Healthy Vegan
Why we love it: A great range of recipes as well as a healthy lifestyle and nutritional tips too.
Another great cookbook from authors Henry Firth and Ian Theasby. Bosh! cookbooks have sold over one million copies so far and continue to be a popular choice with vegan dieters. Alongside delicious recipes, this book includes healthy lifestyle tips, tricks, and nutritional hacks too. Recipe highlights include the salted caramel apple crumble with custard, as well as the jammin' Jambalaya. One of the best vegan cookbooks.
"Very impressed with such nice recipes and split into low fat, high protein, low carb, etc and the recipes have ingredients easy to find in the supermarkets (although I did have to google a couple!) A wide variety of dishes and not too difficult to make. The book has some really nice visuals of the dishes. Lots of informative information regarding portion sizes, vitamins, and minerals, etc. Really impressed and would definitely recommend it. Even for non-vegans there are great tasty recipes in here for a change from meat dishes you will not be disappointed," said one happy Amazon customer.
10. The Vegan Athlete's Cookbook
Why we love it: Protein-rich recipes for those gym-goers or exercisers on a vegan diet.
This book includes easy, nutrient-packed meals to support your training goals. The recipes in this cookbook focus purely on performance, so each recipe is bursting with nutrients and proteins to help fuel the body, as well as recover after intense workout sessions etc. Amazing photography and useful cooking tips make this cookbook stand above the rest.
Rated an average of 4.7 stars by Amazon customers. Amazon users Susan gave this book 5 stars and commented; "I love Anita's new book. Her information on sports nutrition using a plant-based diet is spot on and I always like how Anita's advice is easy to read and understand. I've only had the book a few days and already I've made the following breakfasts - the blueberry and lemon protein overnight oats, the vanilla and cinnamon quinoa porridge, and the chocummus. We've also tried some of the one-pot dishes including the black bean, butternut, and cauliflower curry. The recipes are all easy to make and require everyday ingredients so are easy to source or are kitchen staples. The recipes are even approved by our 6-year-old so that's a winner in our books. I highly recommend this book."
11. Eating Good Vegan
Why we love it: A great array of flavour-packed vegan food - with a Caribbean twist.
One of the best vegan cookbooks and new for March 2022, this book is packed with Caribbean-inspired vegan recipes - with over 35 to choose from. The recipes are designed to make veganism a part of your everyday life, from quick breakfasts to easy dinners. Recipe highlights include vegan crispy calamari, vegan tuna melt, and Kentucky fried 'chickin'.
Rated 5 stars by over 70% of Amazon customers. Reviewers have labeled this cookbook as 'great value, great recipes' as well as 'awesome vegan food'. One happy customer added; "Had the book just over a week, done about 5 recipes, and managed to follow the instructions to a tee, each one has turned out better than the food we get at vegan restaurants. Great to see some Caribbean flavor in vegan cooking, hoping to start seeing it more often." Another commented; "Incredible book that brings flavours to life! Stunning dishes that hit every spot. Restaurant-grade food for your home. I would recommend it!"
12. One Pot Vegan
Why we love it: 80 quick, easy and delicious vegan recipes, each using only one dish.
A staple cookbook for vegans and vegetarians. Recipes range from snacks to hearty dinners to nutritious lunches. Recipe highlights include roasted vegetable mezze, loaded sweet potato wedges, and no-waste harissa cauliflower as well as peanut butter swirl brownies, boozy Caribbean pear cake, cardamom, and pistachio shortbread. A fuss-free vegan cookbooks.
Rated an average of 4.6 stars by Amazon customers. "Had this book less than a week and I have already cooked 3 recipes! Every single one tasted beautiful. Really nice easy recipes packed full of flavour. The recipes are simple enough for any level of cooking ability. A big hit with the family. I love that there is barely any washing up to do afterward (bonus)," said Amazon customer Jaime who gave this cookbook 5 stars.
Related features:
Video of the week
Rose Fooks is Deputy Food Editor at Future Publishing, creating recipes, reviewing products and writing food features for a range of lifestyle and home titles including GoodTo and Woman&Home. Before joining the team, Rose obtained a Diplome de Patisserie and Culinary Management at London's Le Cordon Bleu. Going on to work in professional kitchens at The Delaunay and Zedel.