Best Mary Berry cookbooks for 2022
Mary Berry has written over 80 cookbooks, here's our roundup of the best ones you can buy online...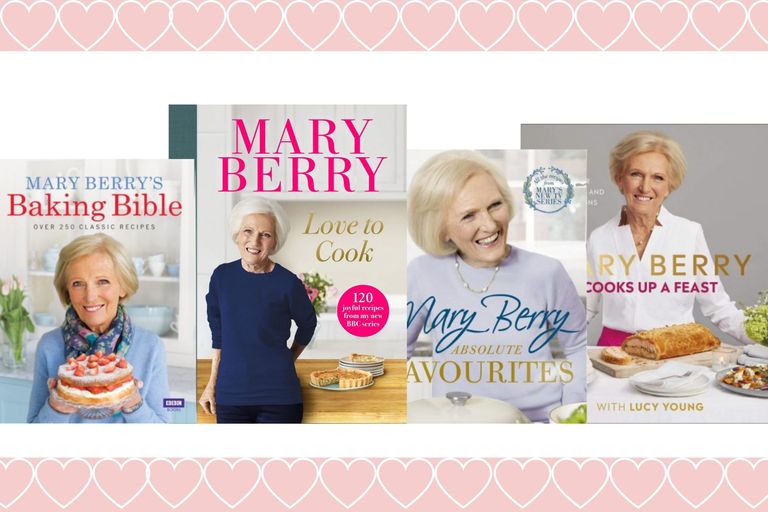 Whether it's an old classic, such as Mary Berry's Christmas Collection, or her most recent book, Love to Cook released in 2021, here are the top 10 Mary Berry cookbooks for 2022.
"Cookbooks are a great gift for those who love to cook and bake, and choosing to gift one of Mary Berry's cookbooks is sure to get you some serious brownie points," says Senior Content Editor, Jessica Dady (opens in new tab). "I'm old-fashioned and love a cookbook, especially if there's a favourite recipe or meal you always go back to. Mary Berry's Absolute Favourites cookbook is one of my go-to's particularly the Bakewell tart recipe and shortbread biscuits too."
All of Mary Berry's recipes (opens in new tab) featured in her cookbooks are easy and family-friendly. Mary is dedicated to simplifying recipes as she demonstrates in all of her cookbooks with basic, straightforward instructions and clearly labeled methods. Her most popular recipes include classic lemon drizzle cake (opens in new tab) and her mouthwatering flapjacks recipe (opens in new tab). And of course, Mary's cooking repertoire isn't limited to cakes, bakes, and desserts, her cookbooks include savoury dishes from nut roast to lasagne too, from fish to chicken dishes.
Mary Berry cookbooks - top 10
1. Mary Berry Cooks to Perfection
Why we love it: It includes illustrative images of the steps to her tested and trusted recipes.
In this book Mary is the charming kitchen guide you can trust, offering simple recipes and detailed descriptions of each step. Salmon en croute, ginger and chocolate cake and warm chicken salad are just a handful of recipes included in this book.
Rated an average of 4.6 stars by Amazon customers. One happy customer commented; "Mary Berry has done it again. She makes difficult recipes seem simple. She explains and demonstrates the process required for each recipe. There are excellent color photos to clarify the step-by-step instructions so one can accomplish what could be a very messed up process. The recipes use ingredients that are accessible, and for those that might be obscure, Mary offers substitutes."
2. Mary Berry's Simple Comforts
Why we love it: We love the modern style of this book which was published in 2020.
Every dish looks mouth-wateringly delicious, plus who isn't a sucker for comfort food? Each recipe has Mary's signature simple style and features an array of comforting foods to please all tastes year-round.
Amazon customers have rated this cookbook 4.7 stars bought by over 7,000 users. "I have many Mary Berry cookbooks. This is one of her very best. My copy already has been well-thumbed after only arriving a few hours ago. I can't decide which lovely recipe to try first. All the ingredients are easily found. Don't hesitate to get your copy."
3. Mary Berry's Complete Cookbook
Why we love it: Worth the money with over 650 recipes to choose from.
For more bang for your buck opt for Mary Berry's Complete Cookbook. It contains over 1,000 of Mary's best tried and tested recipes. It's a cookery bible to turn to for any occasion, from a simple healthy family dinner to an impressive blow-out dinner party meal. This book has it all.
"Having bought this cookbook as gifts for birthdays and Christmas I finally decided it was high time I had my own copy. Like a lot of people, I have a collection of cookbooks all happily lined up on my kitchen counter mostly unused. I generally buy a cookbook thinking, this is the one I will use to death only to pinpoint a few recipes and put it on the cookbook shelf of doom never to be opened again... This book however has been a revelation," says Amazon customer Nicci who gave this cookbook 5 stars.
"I've only had it two weeks and have already made Mary's roast potatoes (crispiest, fluffiest roasties I have ever eaten), sausage casserole, and a mushroom dish all of which were utterly delicious and simple to make. Most of the recipes are made with cupboard staples and come with clear and easy instructions. This is a brilliant book for cooks of all abilities. Highly recommended by me for yourself or as a gorgeous and practical gift."
4. Mary Berry's Christmas Collection
Why we love it: This book includes everything you need for smooth running festivities including clear and easy-to-follow cooking countdowns and shopping lists.
It's not Christmas without a touch of home cooking. But it's often not the most relaxing endeavor when you have a whole family eagerly awaiting a perfectly cooked turkey. There is one calming influence that we can trust to guide us through the Christmas cooking tribulations.
"You can never go wrong with Mary Berry's books. I bought this for my son who is an avid follower of Bake Off and especially Mary Berry. These books are SO brilliantly written by Mary Berry. I must say that unless you do something hideously wrong, don't follow the instructions, fail to use the right ingredients, or don't measure them out properly, you are more or less guaranteed a good result. She really IS the cookery Goddess and especially for beginners or those who want to try something a bit more adventurous. There is something for everyone in all of her books but this one, for Christmas fare, is amazing. Long live Mary Berry," commented one happy Amazon customer and Mary Berry fan.
5. Mary Berry's Baking Bible
Why we love it: The perfect book for avid bakers or those who want to improve their baking skills.
Mary is baking royalty, we all saw her lovable and knowledgeable presenting on the Great British Bake Off so know she's not a fan of a soggy bottom. But when it comes to traditional cakes Mary knows her stuff. Much like a good Victoria sandwich (opens in new tab), this book is jam-packed containing 250 foolproof recipes. Available in hardcover and Kindle Edition.
Rated an average of 4.7 stars by Amazon customers. "I bought this book on Amazon six years ago and I thought I should leave a review to say that I still use it all the time," said customer Carlotta from Edinburgh. " Most of the recipes look deceptively simple, but you can actually trust them to work, whereas other baking books might look fancier but they overcomplicate things or use more expensive ingredients to make things that just taste nowhere near as good. Honestly, I'm now resolved not to bother trying to make cakes any other way than the way Mary suggests because it never goes well. This is the only baking book you actually need to have a great all-around baking repertoire."
6. Mary Berry's Absolute Favourites
Why we love it: A collection of Mary Berry's favourite recipes that she likes to make regularly at home.
Another collection of dependable easy make dishes from the queen of home cookery. This time her own favorites. This book was released alongside Mary's cookery series that first aired on BBC two back in 2015, so some of the pictures look a little dated, but the recipes are timeless tasty classics.
Reviewed by over 2,000 customers on Amazon. It's been described as 'great' and 'the best cooking book ever'. One customer added; " You cannot go wrong with Mary, this is my 25th Mary Berry cookbook and I use recipes from all of them and they always turn out as described."
7. Mary Berry Foolproof Cooking
Why we love it: Plenty of tips and tricks included for each recipe - ideal for beginners.
You can't go wrong with this book. Mary has included her tips and tricks to assist you while you're cooking her easy-to-follow recipes. Great for guaranteeing perfect results even for the underconfident cook.
"I love Mary Berry so I am biased, but after baking and cooking from Nigella, Delia, and Jamie Oliver's books it's all Mary Berry's recipes that turn exactly as they should, taste delicious, and use standard ingredients that you can find in the kitchen or local supermarket," said Amazon customer Danielle.
8. Mary Berry Cooks Up A Feast
Why we love it: This is the book to pick from the shelf for special occasions and celebrations.
Mary Berry Cooks Up A Feast is packed with an array of splendid-looking dishes that are sure to impress. But don't worry they're also delightfully easy to make. Mary is also renowned for her Aga cookbooks, and this one contains both oven and aga cooking times.
86% of Amazon customers gave this book 5 stars. One happy customer went on to recommend recipes she'd made from the book; "This newest Mary Berry recipe book is fantastic. Brilliant recipes. I have already made 3 and would highly recommend the Aromatic Beef Curry with Ginger and Tomatoes, Paprika Pork Fillet, and Twice Baked Lemon Souffles. Recipes are easy to follow. If cooking for a smaller number, a simple calculation is what is required!"
9. Classic by Mary Berry
Why we love it: This book encompasses everything we love about Mary's cooking style.
The recipes are easy to follow so you always get the desired result. They are classy and classic, but also there's don't require any extra faff or fussiness. It's just full of really easy and delicious recipes that we can trust.
"I have all of Mary's recipe books and this one is as good as the rest. All her recipes are fail-safe with clear instructions and handy tips. There are a few updated versions of recipes from her older books and lots of lovely new ones, I've already made the Beef Bourguignon and the roast loin of pork, both were delicious, now I'm planning to make the Honey Chicken next weekend. I'm not the most confident of cooks, but I can always rely on the lovely Mary Berry. All in all, a great book at a great price!"
10. Love to Cook by Mary Berry
Why we love it: The perfect examples of Mary Berry's skill in home cooking.
Featuring more than 120 recipes from the 2021 Love to Cook BBC series this book is great if you're looking for no-fuss meals. Highlights include Kashmiri chicken curry and fresh lemon limoncello pavlova. Mary Berry's latest book has been given 4.8 stars on average by Amazon customers.
"I already have three of Mary's 21st-century books and wondered if I needed this one, but I liked so many of the recipes during the TV series that I decided to go for it. So glad I did as this is the best cookbook I have ever bought, in the sense that so many of the recipes are ones I actually want to cook," added happy customer Ciao.
"I once bought a cookbook by Tom Kerridge and only liked two of the recipes. Having seen Mary make them is a bonus and I am sure this book will be a standby for many years to come. I really appreciate the emphasis on tips, the use of good ingredients, and the economy. She even in the programme eschewed the KitchenAid which is beyond many people's pockets and used a hand electric whisk. Very thoughtful. Many of her rival's recipes would break my bank."
Cook and Share by Mary Berry
Mary Berry will be releasing a new cookbook on the 6th of October 2022. Now available to pre-order via Amazon, Waterstones, and other book stores. We can't wait to add this to our collection of Mary Berry cookbooks.
Video of the week
Rose Fooks is Deputy Food Editor at Future Publishing, creating recipes, reviewing products and writing food features for a range of lifestyle and home titles including GoodTo and Woman&Home. Before joining the team, Rose obtained a Diplome de Patisserie and Culinary Management at London's Le Cordon Bleu. Going on to work in professional kitchens at The Delaunay and Zedel.