Cook the show: The Great British Bake Off Christmas special
Did the Bake Off Christmas special get you in the mood for some Christmas baking? Make your own versions of their creations with our Christmas recipes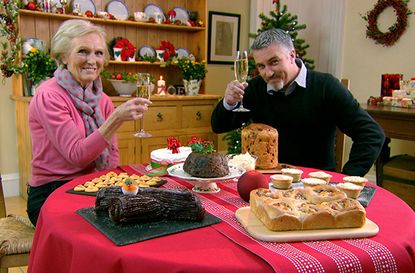 Did the Bake Off Christmas special get you in the mood for some Christmas baking? Make your own versions of their creations with our Christmas recipes.
Mary Berry and Paul Hollywood were back on our screens for their festive version of The Great British Bake Off.
No longer having to share screen-time with a dozen amateurs, Paul and Mary ensured this episode was pure baking heaven. Their Christmas creations were so amazing, it really made us want to give them a go.
These six classic dishes were made in the show - try our cheap, quick and easy versions to make them yourself.
What is it? The German cake is a delicious blend of dried fruit and marzipan. It makes a lighter alternative for a Christmas cake. Get Paul Hollywood's stollen recipe
What is it? Streusel is a crumble topping made with butter and sugar. Mary made her streusel cake with mincemeat so you can replace the fruity filling in our streusel recipe with ready made or homemade mincemeat. Get our fruity streusel recipe
What is it? This has got to be one of our favourite bakes at Christmas. The structure, made from gingerbread biscuits, can be decorated however you like - these are our favourite ever gingerbread houses. Get our gingerbread house recipe
Scottish Black Bun
What is it? Scottish Black Bun Cake is essentially a traditional fruit Christmas cake wrapped in shortcrust pastry made with half lard and half butter. Athough we don't have a recipe for this traditional Scottish favourite baked for Hogmanay, you can make your own by lining a bread tin with shortcrust pastry (bought or homemade), fill with our Christmas cake mixture, add a shortcrust pastry lid with egg wash and bake for around two hours at 160°C.
Boxing Day Pie
What is it? Paul Hollywood's Boxing Day Pie comprises a hot water pastry case, filled with layers of stuffing, turkey and cranberry sauce - all the leftovers from your Christmas dinner. Our Boxing Day favourite is this turkey and cranberry pie with a festive pastry star on top. To make it even more festive, why not try adding leftover stuffing as the bottom layer?
Tunis cake
What is it? Tunis cake is a Madeira sponge cake, topped with a layer of rich chocolate ganache and decorated with marzipan fruits. Try the cake at home by making a Madeira cake (you might want to leave the lemon out though), leaving the cake to cool in the tin and then pouring over chocolate ganache. When the chocolate mixture has hardened, you can remove the tin and cover with pretty marzipan shapes. How about making the cake more Christmassy with some of our Christmassy cake decorations.
See more of our brilliant Christmas recipes
Holly has over 15 years' experience understanding and creating digital content that people want to read and share. Holly's has created news and lifestyle content for brands, such Now Magazine, Best Magazine and Goodto.com.