What is Fika? Everything you need to know about the Swedish coffee break
Fika is the Swedish coffee concept that everyone is talking about!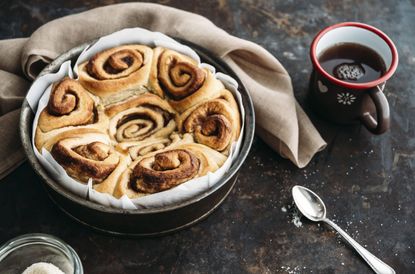 Fika is a Swedish concept that involves drinking coffee, whilst eating baked goods such as pastries, cookies or pie. Could this tasty tradition be the secret ingredient to happiness? We wanted to find out more...
The Scandinavian coffee culture fits with the Swedish mindful mentality, and the importance of taking the time to appreciate the good things in life.
Anything involving coffee and cake, and we're in. So we thought it was just about time we shared the joy, and explained a little more about it. Here's what Fika is, and how you can put it into practice.
What is Fika?
Fika can be a noun, meaning coffee, or a verb, meaning the act of drinking coffee and taking a break. The Fika coffee break is nothing like the mad dash to refuel with caffeine that we Brits may be familiar with. Fika means taking a break from whatever you are doing, and sitting down with others to refresh, rejuvenate and reward yourself with a sweet treat.
Why Fika works
As well as being a chance to enjoy a sugary snack, Fika is a scheduled time when people take a break, and engage in conversation with one another. It may seem trivial, but it is mandatory in most Swedish businesses that there is a time of day where employees can sit down and do Fika, and is said to improve productivity and boost mental health. Fika is so much more than just a coffee break, it's a chance to slow down, gain perspective, and practice mindfulness.
Fika recipes
Want to introduce Fika into you life? Here are some easy and irresistible recipes to get you started. Just add a steaming hot cup of coffee...
Cinnamon rolls are the most iconic Fika food. You'll find these sweet and spiced buns in almost every bakery in Sweden. Get the recipe for our homemade cinnamon rolls here.
Swedish chocolate balls are another Fika favourite. These sweet, no-bake treats coated in coconut are so easy to make at home and pair perfectly with coffee. Get the recipe for our homemade chocolate balls here.
This sweet and nutty cake is another coffee time staple. Ground almonds give a beautiful texture and great moisture to cakes and bakes. For other ideas with ground almonds you could try our Bakewell slice or our rich and fudgy chocolate cake. Get the recipe for our homemade almond cake here.
Coffee and biscuits is a classic combination. The Scandinavians love to tuck into rich, buttery biscuits when doing Fika, and we think these chocolate dipped biscuits will do the trick. Get the recipe for our homemade Viennese finger biscuits here.
Pastries are a staple in any Scandinavian bakery. A rich and buttery pastry is the perfect partner for a morning coffee. Get the recipe for our homemade Danish pastries here.
Cardamom is a really popular spice in Swedish cooking, and is commonly used in cakes and sweet treats. This moist and flavourful sponge cake is just the thing for an afternoon pick me up. Get the recipe for our homemade cardamom cake here.
If you've not got a sweet tooth, that doesn't mean you have to miss out on Fika. Smorgas, Swedish open faced sandwiches, are often enjoyed with a good strong coffee too. Try a traditional combination of rye bread and smoked salmon for a savoury Scandi snack. Get the recipe for our homemade smorgas here.
Could adding Fika to your life make you happier? Let us know in the comments below.
Parenting advice, hot topics, best buys and family finance tips delivered straight to your inbox.