This Christmas dinner recipe box guarantees a stress-free family feast - but you have to be quick!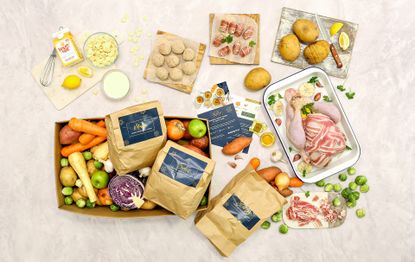 (Image credit: kevin bellion)
GoodTo newsletter
Sign up to the GoodTo Newsletter. You can unsubscribe at any time. For more information about how to do this, and how we hold your data, please see our privacy policy
Thank you for signing up to . You will receive a verification email shortly.
There was a problem. Please refresh the page and try again.
If you'll be preparing Christmas dinner and you haven't even thought about the food shop yet, don't panic – a recipe box could be the answer.
Sitting around the dinner table and enjoying a lavish three course-meal with your nearest and dearest is the best part about Christmas.
Turkey (opens in new tab) with all the trimmings, including roasted potatoes (opens in new tab), honey-glazed vegetable (opens in new tab)s, pigs in blankets (opens in new tab), stuffing (opens in new tab) and even Brussels sprouts (opens in new tab) (which, Lidl claim can taste even nicer with this wine (opens in new tab)), is one of our favourite meals of the year.
The only downside? The endless preparation, especially when you're the one hosting. Once you have planned your shopping list, you'll need to find the time to go to the supermarket (please let there be a parking space!), all the while praying they haven't run out of the vital ingredients you'll need as you dash around the aisles.
If all of this sounds too much, you could consider a recipe box - which takes all the stress out of choosing what to buy, and finding the time to get your hands on it all. Doing your food shop online is, our course, a much easier way to avoid a stressful race around the shops at the busiest time of the year – but, ordering your entire Christmas dinner in just a few clicks really does make life even easier.
We tested out MuscleFood's Easy Cook Three Course recipe box (opens in new tab), which serves 4 to 6 people, priced £74.
How does it work?
MuscleFood hampers are available to buy online - but you need to be quick! You'll need to order it by 10.55am on Thursday 20th December, for it to arrive in time for Christmas. The boxes are delivered cross the country, seven days a week on your chosen date. Everything is packed in temperature-controlled bags, with hydrated gel ice packs to ensure the food stays perfectly fresh.
All of the ingredients are carefully measured out for you, and the box comes with clear step-by-step instructions for each recipe, including how long each dish takes to prepare and cook.
The Christmas dinner menu
The recipe box contains all of the items you'll need to serve the following:
Roasted sweet potato and carrot soup
British turkey roast, with gravy
Meatball stuffing and pigs in blankets
Hasselback potatoes
Honey roasted parsnips and carrots
Sautéed Brussels sprouts, bacon and onion
Red cabbages and apples
White Chocolate Lemon Mousse
Top tips for preparing these dishes:
It sounds very obvious, but make sure you read all of the recipes first, so you're not thrown by any of the instructions. You'll also need to be clear which ingredients are for each dish, for example – I used all of the butter when coating the turkey and only realised afterwards I should've save some for the hassle back potatoes!
Make what you can the day or night before, so you aren't rushing around on Christmas Day. The soup can easily be made in advance and kept in the fridge, and the dessert will be even nicer when it's chilled overnight.
The vegetables however, will be much tastier when served straightway, no one likes over-cooked Brussels sprouts. And, you'll want to tuck into the roasties pretty soon after they leave the oven so they still have their lovely crispy edges.
If you're planning to roast your turkey on the day, give yourself plenty of time. It's recommend you take the turkey out of the fridge an hour before you cook it, and then roast for an hour per kg, then rest it for a further 60 minutes – that's four hours in total!
The verdict:
This recipe box is a great way of ensuring you have everything you need for a festive banquet without having to plan an intricate menu, or going out and shopping for the ingredients. You're also guaranteed high quality. The turkey is sourced from an award-winning family run business.
You may also find yourself picking up a few extra skills, or trying something new. Call me unadventurous, but I'd never have considered making red cabbage with apples before. And, I wouldn't have had a clue where to start with a lemon and white mousse - but both were so easy to make and they looked so impressive.
You're not left with endless leftovers, or piles of wasted food. There was still quite a bit of turkey afterwards, which was swiftly turned into a turkey curry, but there was just the right amount of vegetables. I would've loved more pigs in blankets and stuffing (you get about two or three each), but who can ever get enough of these?
The nutritional information is provided for each recipe, per 100g and per serving, when shared between six. For most of us, the calories, grams of sugar and protein etc. is the last thing on our minds – but, if you are keeping track, it's useful!
What else do you need?
Aside from an oven, pans and baking trays, you'll need a heatproof bowl and a whisk - for the mousse - and, a blender for the soup. Store cupboard ingredients you'll also require include sea salt and black pepper, olive oil, vegetable oil and extra virgin olive oil.
The gravy is supplied but you might want to add a couple of extra condiments, such a cranberry sauce. If you like to mop up your soup, make sure you have a fresh loaf to hand – and, don't forget the crackers and plenty of Prosecco!