You can now buy Crème Egg-flavour rum, and it sounds amazing
This sounds like the perfect Easter treat for the adults…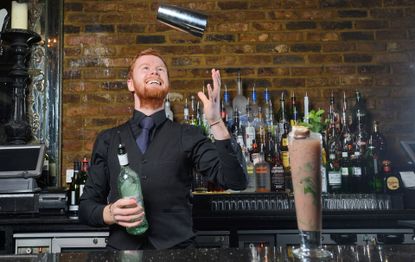 (Image credit: Solent News/REX/Shutterstock)
Crème Egg-flavour rum sounds like the perfect Easter treat for the adults…
It's nearly Easter, which we reckon gives us the perfect excuse to indulge in all things chocolate and fondant-flavoured. And this year, some very creative product developers have taken our Crème Egg obsession to the next level.
If you think the idea of a Crème Egg trifle (opens in new tab) sounds a bit out there, you ain't seen nothing yet. But even if spreading Crème Egg mayonnaise (opens in new tab) on your crumpets doesn't float your boat (seriously though, don't knock it 'til you've tried it) we think this just might…
Liqueur specialists Sweet Little (opens in new tab) have launched a sweet rum liqueur inspired by the classic Easter treat.
You can currently pick up a 50cl bottle of their Cream Egg Rum Liqueur from the Sweet Little website for £21.99. If you're after an eggstra-special Easter gift with a twist, you can add a gift box packed with straw, tissue and a personalised gift card for an extra £5.99.
You can enjoy the liqueur neat over ice, mix it with cola or tonic water, or pop a shot in your favourite cocktail. However you choose to glug it, 'the experience is luxurious and perfectly balanced,' says the company.
Looking for a minimum fuss, maximum impact aperitif for an Easter gathering? Just pour a shot into a champagne flute and top it up with prosecco! Or wait until after dinner and serve it neat, garnished with a bit of grated chocolate, for a showstopping digestif.
Why not make some of our favourite Crème Egg recipes (opens in new tab) for the buffet table while you're at it? Giving its own delicious twist to everything from brownies to ice cream, cheesecakes to cookies, we reckon the humble Crème Egg has got to be one of the most versatile – and underrated – staples in your kitchen cupboard. It even tastes great in a toastie (opens in new tab)!
Well, we are a nation of Crème Egg lovers. Incredibly, we eat more than 200 million between New Year's Day and Easter Sunday each year. After all, once they're gone, they're gone…
Samantha is a freelance writer at Goodto who has been with team since 2019. Initially trained in psychology, she specialises in health and wellbeing and has additionally written for magazines such as Women's Health, Health & Wellbeing, Top Santé, Healthy, Refinery29, Cosmopolitan, Yahoo, CelebsNow, Good Housekeeping and Woman&Home.