Extreme Cake Makers: All you need to know about Extreme Cake Makers
The show features a group of elite bakers and their best creations, here's what to expect...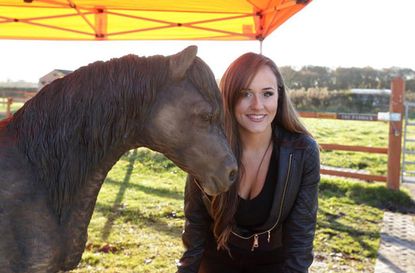 GoodTo newsletter
Sign up to the GoodTo Newsletter. You can unsubscribe at any time. For more information about how to do this, and how we hold your data, please see our privacy policy
Thank you for signing up to . You will receive a verification email shortly.
There was a problem. Please refresh the page and try again.
Extreme Cake Makers is the new Channel 4 show that follows a group of elite baking (opens in new tab) experts while they try to turn delicious cakes into works of art.
If you're still struggling with a Bake Off (opens in new tab) shaped hole in your life (it's been a while!), you'll be happy to know there's a new drama-filled baking show making its way to our TVs.
Channel 4's Extreme Cake Makers follows a group of talented and successful bakers who dedicate their careers to baking not only the most delicious cakes, but also the most impressive-looking creations (opens in new tab).
We're not talking multiple tiers of sponge and frosting - these extreme cake makers attempt to bake things like life-sized replicas of animals, cakes with moving parts and 5ft edible murals. But will they succeed?
Baking ambitious cakes comes with a host of challenges for the bakers, including transporting them to the venue and finding suitable packaging, as well as the issues that come with baking the actual cake.
The contestants on Extreme Cake Makers will be creating beautiful bakes, including some tiered masterpieces. Image: Channel 4
Who are the Extreme Cake Makers?
The show features a few very talented bakers, but what they all have in common is that they all go above and beyond to create the tastiest and most amazing-looking creations for their clients.
The list of cake makers taking part in the show includes Nastassja from the Indulgent SugarPlum, Eloise from The Gourmet Cupcake Company, Molly from Molly's Creative Cakes, Phil and Christine from Peboryon and Suzanne from The Frostery.
All of them have had to fulfil some insane cake requests from clients, with a lot of detail.
Talking about the most elaborate request she's ever had to do, Molly from Molly's Creative Cakes says: 'I made a cake like a top table at a wedding, and put all the guests on. I had a list of what everyone was wearing and photos, so they looked like each individual person.'
Designing creations like this can take a long time and comes with a few challenges too. Christine from Peboryon says: 'It can be months, it can be days – it all depends on the design and who you are working with. Something like the Wallace and Gromit cake was months and months in the making.'
If you're hoping to pick up some baking tips from these professional bakers, you're in luck - they have plenty of knowledge to share.
Eloise, from The Gourmet Cupcake Company, has two very important tips to give to people who bake at home: 'I think attention to detail is really key for a successful cake maker, whether it's following your recipe to a tee or taking your time to make the decorative elements really perfect. Also work hard to develop your own style and flair as this is what will set you apart from the rest!
'Weigh everything. I'm horrified when our cake course attendees tell me they guess how much of their ingredients they are putting in at home!'
What will the craziest cake creations (opens in new tab) on Extreme Cake Makers be?
The bakers will be creating incredible bakes - show-stoppers similar to this bake we can't believe is cake (opens in new tab)!
You can expect some of the craziest cakes you've ever seen on Extreme Cake Makers.
This includes a life-size Shetland pony as well as a 4ft replica of the Statue of Liberty.
Molly's life-size Shetland pony cake
Bakers on the show will also attempt to create a life size ball gown with edible peacock feathers and a 5ft edible Wizard of Oz mural - but will they succeed?
Extreme Cake Makers: Week one creations
The first week of Extreme Cake Makers did not disappoint in terms of beautiful and impressive bakes.
Michelle attempted to make a surprise sculpted cake inside a giant chocolate egg. Image: Channel 4
Professional baker Michelle attempted to make a surprise sculpted cake inside a giant chocolate egg, but it didn't go without a few challenges.
Cornwall-based team Phil and Christine worked on a five foot long lemon and elderflower cake, designed to look like a leaping fish, and they had to use over 17lbs of sugar paste to decorate it.
This week has also seen Molly Robbins embark on a journey to make Shetland pony cake, designed to be the same shape - and size - of a real life pony. Molly also created a five-tier Alice in Wonderland cake, with an edible Cheshire Cat and a pouring teapot.
When is Extreme Cake Makers on?
The show premiered on 1 May at 5.30pm on Channel 4 and is on every Monday at 5.30pm for a total of 10 episodes.