What time does McDonald's breakfast start and end? Plus full menu options
Get your order in during this six-hour window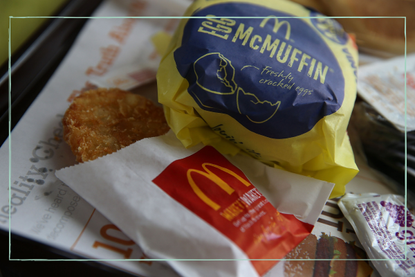 (Image credit: Future/Getty)
Craving a cheeky mid-morning pick me up? Here's what time McDonald's breakfast starts and end - during the week and weekends.
Be it a golden McDonald's hash brown or a sausage and egg McMuffin, everyone has their go-to McDonald's breakfast item of choice. And whilst we're aware of the calories in a McDonald's breakfast - most of us still can't resist the tasty AM treat once in a while, served fresh and hot from the golden arch stores.
But with McDonald's extending their breakfast hours recently, there's been some confusion on when you can order your morning treat. With this in mind, we've shared the all important McDonald's breakfast start and end time to prevent any potential missed McMuffin disasters.
What time does McDonald's breakfast start and end?
In their 24-hour branches and drive-thru's, McDonald's breakfasts start at 5am and finish at 11am. All other McDonald's restaurants also finish their breakfast menu at 11am - though their start time varies from store to store depending on their opening time.
If you're unsure of times, it might be worth checking your local McDonald's operating hours before heading out to grab your morning meal.
The 11am cut-off time has remained in place since 2021 when the chain decided on a half hour extension, following successful trials in their Isle of Wight and Portsmouth branches. In the past, the fast food chain finished serving breakfasts at 10:30am.
What's on the McDonald's breakfast menu?
Breakfast Roll with Ketchup
Breakfast Roll with Brown Sauce
Bacon Roll with Brown Sauce
Bacon Roll with Tomato Ketchup
Bacon & Egg McMuffin
Double Bacon & Egg McMuffin
Sausage & Egg McMuffin
Double Sausage & Egg McMuffin
Egg & Cheese McMuffin
Muffin with Jam
Cheesy Bacon Flatbread
Pancakes & Syrup
Pancakes & Sausage with Syrup
Hash Brown
There are a total of 14 items that are available to order and enjoy on the McDonald's breakfast menu.
Some selected branches also offer porridge as a breakfast option - plain, with strawberry jam, sugar or golden syrup. However you'll have to check your local Mcdonald's to see if they do this.
Original icons like the McMuffin have been on the menu for years. In fact, the beloved Egg McMuffin celebrated it's 50th anniversary in 2021:
"The Egg McMuffin, the first-ever quick service restaurant breakfast sandwich, joined the McDonald's menu in 1971 in Santa Barbara, California, and customers have been getting creative with it ever since," says Molly McKenna, McDonald's Senior Director of Brand Communications.
It wasn't until 1976 that the item when national in America. And a year later the full breakfast menu launched - including hotcakes, toasted English muffins, scrambled eggs, sausages, hash browns, and danishes.
Products on the McDonald's breakfast menu have chopped and changed over the years. The last change the company made was in January 2022, when they ditched two items from the classic breakfast line-up.
"Despite specualtion and following a trial separation period, Breakfast Bagels & Breakfast Wraps will not be returning to the menu," said McDonald's on Twitter in a statement at the time.
Though sad news for some, one of McDonald's new breakfast menu items remains, after being unveiled in October 2021. The Breakfast Roll jam is packed with bacon, cheese, egg, and sausage. Then finished with a choice of brown sauce or ketchup. And it's proved pretty popular with fans.
Can you order normal food at McDonald's during breakfast?
No, you are unable to order McDonald's burgers, nuggets, fries and other non-breakfast foods during McDonald's breakfast operating hours.
A spokesperson has confirmed that both menus are not available at the same time as "the demand isn't strong enough to warrant running the burger grill in the morning."
Richard Widman, a former McDonald's employee provided further reasons at to why McDonald's don't run both menus together. He wrote on Quora : "Customers have been requesting burgers in the morning since 1972, when the Egg McMuffin was created. But as the breakfast menu expanded, access to kitchen equipment did not. Thus, the breakfast items and the "regular" menu items had to be cooked on the same equipment, but they couldn't all be cooked at the same temperature.
"There was no way to cook a hamburger at temperatures used for eggs," he added. Pointing out the obvious that egg cooking times and hamburger cooking times vary considerably.
When will McDonald's serve their breakfast all day?
There's currently no plans to serve McDonald's breakfast menu all day. McMuffin fans for years have been calling on the chain to make this popular item available 24/7 but McDonald's have explicitly ruled this out. Their reasons for this include different cooking times and limited space availability in branches.
A statement on the McDonald's website reads: "Items on our breakfast menu are cooked slightly differently and at a different temperature from items on our main menu.
"This means we don't have enough space in our kitchens to accommodate the cooking and preparation of our breakfast and main menus at the same time. The 11am cut off enables us to accommodate our breakfast lovers, whilst allowing the customers who enjoy our main menu to get their food before 11:30am."
How to order McDonald's breakfast at home:
There's good news for those who don't want to leave the house to get their hands on a McDonald's breakfast. The McDonald's app, plus food delivery services Uber Eats and JustEat all deliver McDonald's to your door.
You can get their delicious breakfast menu to your home, so long as you order before the delivery cut off time.
The McDonald's App states that "Almost our entire menu is available to order on McDelivery, with the only exceptions being ice cream cones and drinks with cream on the top. e.g. Frappes and promotional McCafé hot drinks."
I this becoming a weekly ritual McDonalds Breakfast 😂 #McDonalds #McMuffin #Breakfast pic.twitter.com/foTUmvfVtSJanuary 14, 2023
See more
Just Eat will deliver until 11am, according to a statement on their website: "A delicious hash brown is great on its own or as a side at breakfast time. Crispy on the outside and served until 11am, they're what mornings were made for."
Whilst Uber Eats has specified that delivery on McDonald's breakfast starts at 5am and finishes at 10:45am. In further good news, one customer has shared a free McDonald's delivery hack to help you get your hands on a McMuffin without the extra charge.
Video of the Week:
Emily Stedman is the former Features Editor for GoodTo covering all things TV, entertainment, royal, lifestyle, health and wellbeing. Boasting an encyclopaedic knowledge on all things TV, celebrity and royals, career highlights include working at HELLO! Magazine and as a royal researcher to Diana biographer Andrew Morton on his book Meghan: A Hollywood Princess. In her spare time, Emily can be found eating her way around London, swimming at her local Lido or curled up on the sofa binging the next best Netflix show.