McDonald's is giving away free cheeseburgers – here's how to get one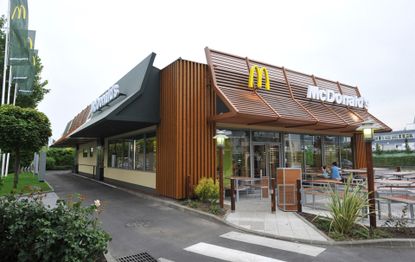 Somehow January always feels like the longest month.
We're only two thirds of the way through yet New Year's Eve seems like a distant dream.
And with yesterday (21st January) the third Monday of the year oft referred to as Blue Monday (opens in new tab), AKA the most depressing day of the year, one eatery is doing all they can to get us through to the warmer hues of the month of love.
12 mind-blowing McDonald's hacks that will change your life (opens in new tab)
If there's anything guaranteed to put a smile on someone's face, it's free food. And when those freebies are from fast food restaurant McDonald's, that smile comes even faster.
So on the bluest week of the year, the childhood favourite is endeavouring to make sure that everyone has at least one reason to smile this week.
After recently giving away free festive treats on Christmas Eve (opens in new tab) (these were so good we're already counting down to next Christmas), the restaurant chain is now offering their customers a deal on one on of their most-beloved eats – the cheeseburger.
For one week only, you can get a free cheeseburger at any McDonald's branch – and you don't even have to buy anything else to get the deal.
All you have to do to get access to the tastebud-pleasing offer is download the McDonald's app to your smartphone, and add the snack to your basket under the 'My Deals' tab.
You then just head to your local McDonald's to pick up your free snack, which usually costs 99p on the chain's Saver Menu.
Make sure you go by Friday, as the deal is only available from Monday 21st January unti Friday 25th January.
Unfortunately, you won't be able to pick up a free feast for the whole family, as the deal is strictly limited to one free cheeseburger per person. But you could try out these McDonald's hacks and save yourself a lot of money.
Or if you're attempting to go meat-free (opens in new tab) this month, try out the fast food joint's new vegetarian offerings (opens in new tab).
Earlier this month, the high-street icon added a vegetarian wrap to their menu.
Containing a red pesto goujon, salad and red onion relish, the Spicy Veggie Wrap comes in a normal size or happy meal size for the little ones.
'Our commitment is to offer great food, great choice and a great experience to our customers and we are constantly asking them how we can evolve and improve,' said Duncan Cruttenden, Menu Director at McDonald's UK&I.
'We are really thrilled to be able to give our customers this new choice with the addition of the Spicy Vegetarian Wrap and our first Vegetarian Happy Meal.'