Morrisons is now selling Toblerone, Nutella and Smarties mug cakes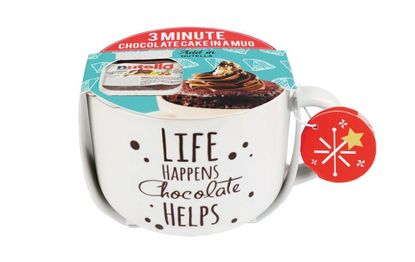 Of all the sweet treats and guilty pleasures we like to treat ourselves to, the one that reigns supreme has to be cake.
But unfortunately, cracking out the measuring jug and weighing scales and covering the whole kitchen in flour, butter and cocoa powder is not as easy as just grabbing a snickers bar from the treat drawer.
Plus chances are it'll always end up too dry, significantly undercooked or toppling over.
Definitely not a Great British Bake Off candidate over here.
So it was life-changing for all of us a few years back when some genius mind in the universe came up with the idea of mug cakes.
A moist, chocolatey, perfectly-cooked cake that you can dig into with a big spoon and not have to put away any leftovers? Basically our idea of heaven.
And now leading supermarket Morrisons is taking our go-to cake form one step further.
The everyday store is selling mug cake mixes in the flavours of some of our favourite chocolates.
You can now get Toblerone, Nutella and Smarties flavoured mug cake mixes and they even come ready in an adorable mug so that all you have to do is add oil, milk and one egg and pop it straight in the microwave and it's ready to dig into.
And once you've polished it off you can use your momento mug for your bedtime hot chocolate.
For only £6 each you can get your hands on a mug cake mix with mug included, or if you can't choose between the moreish flavours you can take advantage of their two for £10 offer.
The indulgent mug treats are available to buy online, where you can take advantage of the offer too. Or if you're having a sugar craving and can't wait for delivery, you can get hold of them in-store as well.
With these gooey treats it'll be cake all around for elevenses from now on.
Who needs to go on Bake Off when you've got these.
Aleesha Badkar is a lifestyle writer who specialises in health, beauty - and the royals. After completing her MA in Magazine Journalism at the City, the University of London in 2017, she interned at Women's Health, Stylist, and Harper's Bazaar, creating features and news pieces on health, beauty, and fitness, wellbeing, and food. She loves to practice what she preaches in her everyday life with copious amounts of herbal tea, Pilates, and hyaluronic acid.