Spoiler alert: Here's what they're making on episode one of The Great British Bake Off
Welcome back to our lives, cake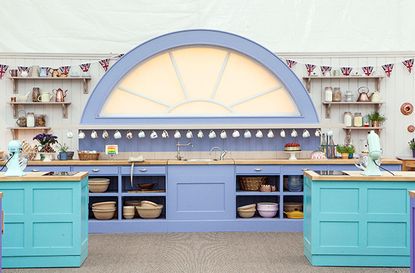 The Great British Bake Off is BACK, and we couldn't be more excited that our weekly fix of all things cake is returning to our lives.
So, we hear you cry, what challenges are up first for the 12 bakers to complete in Bake Off 2017? Well, we've had a sneak preview and can happily reveal that Paul and Pru have set satisfyingly unusual tasks for the contestants to complete for their first week.
For the initial signature task Paul set the challenge, while Pru came up with the technical challenge. Among the highs there were of course lows, but all in all the contestants, we thought, were of an amazingly high standard. And if you don't believe us, Paul thinks so too.
In a recent interview he revealed that he felt like the 'standard this year is the best year ever.'
Ready to discover what the bakers had to whip up? Here are the first week's challenges...
The Great British Bake Off week 1 Signature challenge: Fruit cake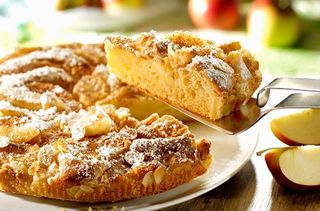 To kick things off Paul set a challenge of making a fruit cake, but before your mind jumps to Christmas cake or wedding cake let us clarify he wanted a fresh fruit cake from each of the 12 bakers.
Explaining why this was such a strong opener for the show Paul said: 'it really tests the bakers' knowledge of baking in its purest form,' as they have to understand how to adapt recipes to take into account the additional liquid the fruit adds.
In the first Bake Off episode Pru reveals that bakers are often caught out by fruit cake when they test it with a skewer, as if their skewer hits a piece of fruit and comes out wet some people might confuse that for the cake not being properly cooked - meaning they overcook their bake, leaving it to come out dry.
The judges had no time for small bakes, requesting a 'family sized fruit cake', but left the choice of sponge and fresh fruit up to the contestants. As with previous series the baking enthusiasts were given two hours to come up with a masterpiece fit for showing off their talents.
Of the 12 bakers four made variations of apple cakes, while three got tropical with flavours of mango, pineapple and coconut.
Tom, a Scottish architect and sports fanatic from Edinburgh came up with a pear and blackberry cake, featuring an entire pear covered in gold leaf as a decoration.
The Great British Bake Off week 1 Technical challenge: Mini rolls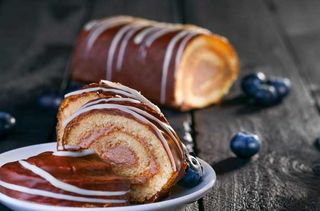 The technical challenge for the first week of The Great British Bake Off came courtesy of cookery writer Pru Leith, who asked the bakers for 12 identical chocolate mini rolls, which she called one of her 'childhood favourites'.
To get full marks from the judges, contestants would have to produce light and airy sponge, perfectly flavoured mint buttercream and a delicious chocolate coating with neat white chocolate decoration.
These traditional British treats are made without any flour, which means the bakers need to make the batter in two parts. One part is sugar, egg yolks and cocoa, while the second part is egg whites stiffly whipped with more sugar. Once combined these two mixtures create an airy mousse-like texture and produce a feather-light sponge.
However, thanks to the stripped back instructions Pru left the bakers this all proved too much for one contestant, who added all the ingredients to one bowl, without whipping his egg whites - resulting in a flat finished product.
Despite the trials experienced by the bakers in their first go at the technical challenge Pru warned that there were 'more difficult recipes to come'.
The Great British Bake Off week 1 Showstopper challenge: Illusion cakes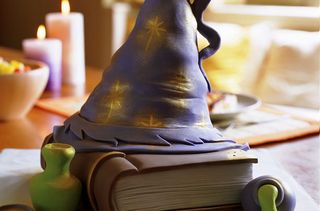 What is an illusion cake, we thought, when we first hear Pru and Paul set this challenge, but quickly all became clear. The pair wanted a cake sculpted and decorated to look like 'anything but cake', something like our wizard cake.
They wanted whatever the bakers came up with to be sized and shaped 'to scale' and all decorations had to be edible. Where would Prue be her line? Why 'style over substance,' of course, adding that 'of course we want it to look like what it's not, but it's got to taste fantastic.'
In order to make the most of this challenge Paul predicted that the bakers would need a little bit of engineering skill too, warning that 'precision in every cut, in every cake is crucial'.
The contestants made a variety of incredibly detailed illusion cakes, covering everything from a Russian doll cake that opened up to reveal another Russian doll cake to a terrarium creation that included edible glass.
Will you be watching The Great British Bake Off on Tuesday? Let us know in the comments below!
Parenting advice, hot topics, best buys and family finance tips delivered straight to your inbox.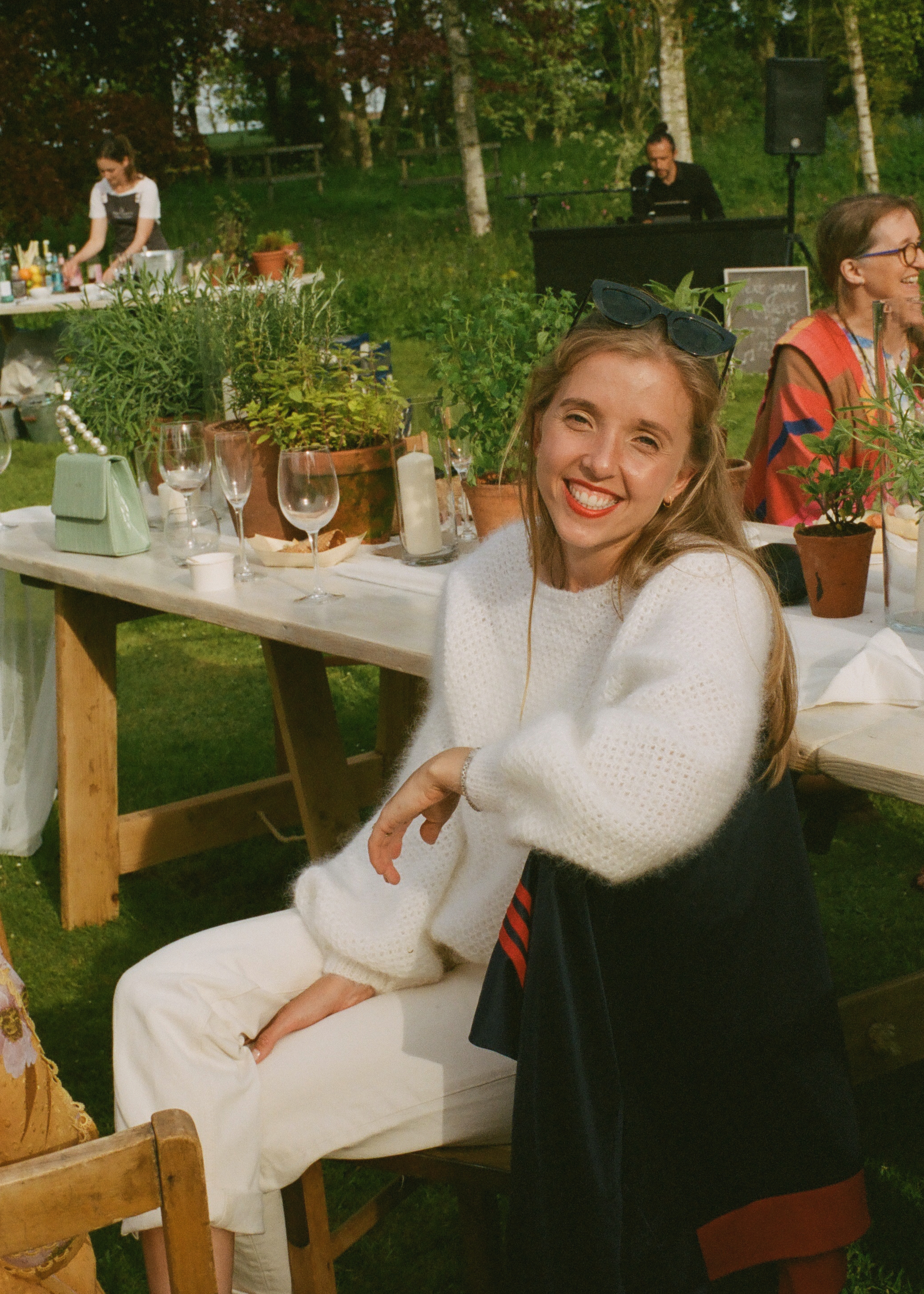 Rosie is an experienced food and drinks journalist who has spent over a decade writing about restaurants, cookery, and foodie products. Previously Content Editor at Goodto.com and Digital Food Editor on Woman&Home, Rosie is well used to covering everything from food news through to taste tests. Now, as well as heading up the team at SquareMeal - the UK's leading guide to restaurants and bars - she also runs a wedding floristry business in Scotland called Lavender and Rose.