Food to make for Father Christmas
Don't forget to leave food out for Santa on Christmas Eve! Discover our favourite Christmas recipes for biscuits and more festive treats...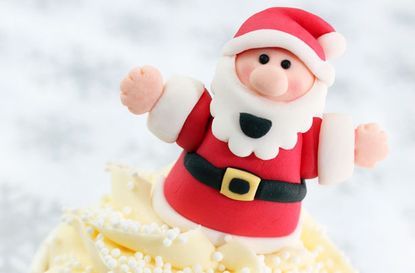 Don't forget to leave food out for Santa on Christmas Eve! Discover our favourite Christmas recipes for biscuits and more festive treats...
It's a tradition all kids love, popping a little something under the tree. Leaving treats for Father Christmas really brings a magical touch to Christmas Eve - and their faces when the treats have been eaten by 'Santa' is another lovely Christmas memory to treasure.
These handmade treats keep the kids busy on Christmas Eve and also make a delicious treat for whoever's 'job' it is the eat them come about midnight on Christmas Eve.
Whatever you decide to make for Santa we're sure he'll enjoy it! We've got all sorts of lovely things to choose from. If you think Father Christmas is a classic kind of guy then why not plump for mince pies? Ours have gorgeous flaky pastry and a rich filling. And if you think Santa might have had a rough ride by the time he gets to putting your presents under the tree then we've got recipes for that too - Christmas cocktails! Think he might appreciate a little tipple? Try our eggnog (which is hiding a good glug of something special!) or our chocolate cocktail.
Whatever you do, don't forget Rudolph. We hear that lovely reindeer gets a bit miffed if there's nothing for him to nibble on too. Favourite treats include a carrot, apple or some oats. Whatever a horse would eat, Rudolph will love. And because flying is thirsty work he might like a bowl of water to drink out of also.
Ready to get started? These fun, easy and Christmassy treats for Santa will help keep the magic of believing in Father Christmas live on just that bit longer and give you an excuse to spend a few hours getting messy with the kids in the kitchen before bedtime comes knocking on Christmas Eve.
Don't forget to save all your favourite festive recipes in a special Christmas collection in your recipe book
Click through to see all the lovely food and drinks to make for Santa...
Santa cake decoration
What better way of welcoming Father Christmas into your home than these adorable cake toppers? The kids can make the cakes while you top them with these fun characters. And the best bit is that these can be made weeks ahead and stored in an air tight tin, ready for when you need them.
Get the recipe: Santa cake decoration
Mince pies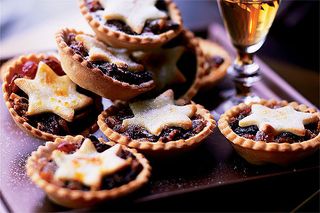 The classic treat to leave for Father Christmas is mince pies. You can buy shop-bought ones, team together pastry and ready made mincemeat or you could go the full hog and make them from scratch. This recipe is really easy and so delicious, you could even save a few for yourself. We're sure Santa wouldn't mind sharing!
Get the recipe: Homemade mince pies
Christmas cookies on sticks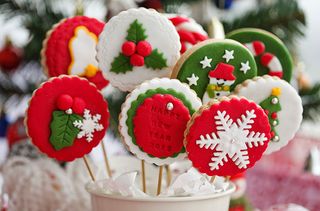 Santa is a busy man, he might not have time to stop and eat all that food. That's why these cookies on sticks are the perfect treat for the man on the go. He can pop them in his pocket for a little nibble while he's flying high in the sky on his sleigh. They're easier to make than they look, too, and if the icing isn't perfect it doesn't matter - they'll still taste great!
Get the recipe: Christmas cookies on sticks
Snowman truffles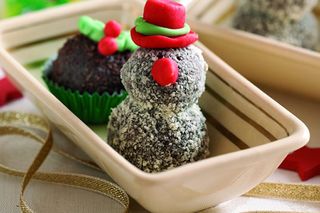 The kids will love making these cute little snowman truffles and they'll give Father Christmas a nice reminder of home, too. While you're making them for Santa you could try making them as food gifts for friends and family - they'll love receiving something home made and will appreciate all the effort you and the kids have put in.
Get the recipe: Snowman truffles
Stollen fruitcake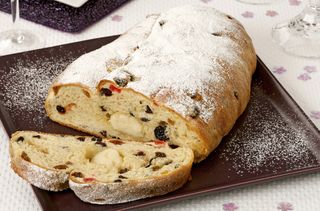 A traditional German Christmas fruitcake, a slice of stollen will be a winner with Santa - not least because of the cheeky rum! Slice it thickly and leave it with a little butter in case he prefers his stollen with toppings. This classic recipe has deliciously sweet dried fruit and the traditional strip of marzipan hiding in the centre.
Get the recipe: Stollen
Rudolph cake decorations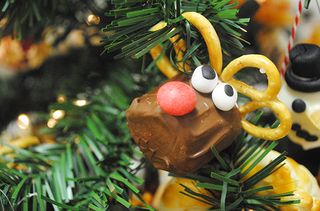 It's not just Father Christmas who comes a calling on Christmas Eve! These easy Rudolph tree decorations can be made for all the reindeer, too. They require no baking so can be made by the kids on their own while you put your feet up (or just watch in horror at all the washing up being created!).
Get the recipe: Rudolph tree decorations
Carrot cake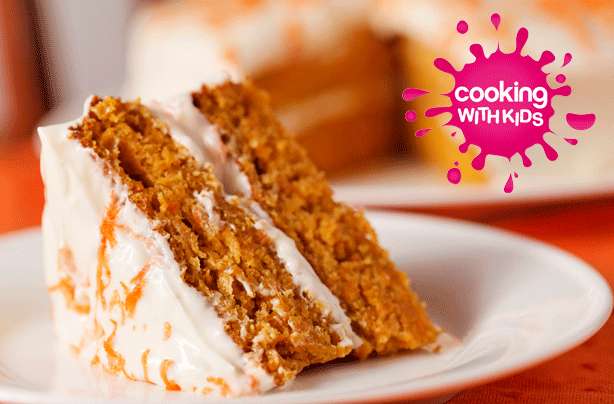 You traditionally leave out a carrot for the reindeer but would you rather eat a carrot or a slice of carrot cake? This recipe shows you which stages you can do and which the kids can help with. Perfect for teaching little ones the basics of baking, they can have fun measuring and mixing while you man the oven and lining the tin!
Get the recipe: Carrot cake
Shortbread tree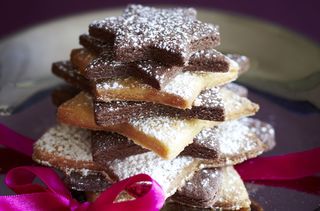 Made out of delicious star-shaped cookies, this festive shortbread tree is sure to catch Father Christmas's eye. He could even take some home for Mrs Clause if he can't manage them all by himself. Despite this shortbread Christmas tree looking really impressive it's actually really simple to make and assemble.
Get the recipe: Shortbread tree
Mince pie pops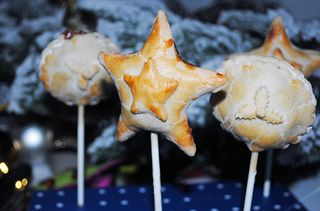 Maybe Father Christmas would rather take his mince pies to go? These pies on a stick are so much fun to make - and eat! He can take them with him up the chimney and off onto his sleigh to share with his friends and family when he gets back to Lapland (because everyone knows that's where Santa lives).
Get the recipe: Mince pie pops
Brandy snaps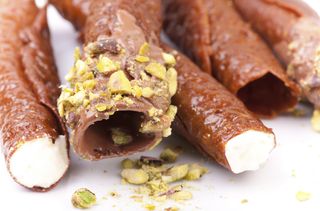 It's traditional to leave a glass of brandy out for Father Christmas so these easy brandy snaps are a tasty alternative, and will make sure he's safe to drive the sleigh afterwards! you can dip yours in chocolate and nuts, leave them plain or fill them with cream. Whichever method you choose one thing's for sure, Santa will leave your house feeling very happy.
Get the recipe: Brandy snaps
Creamy vanilla fudge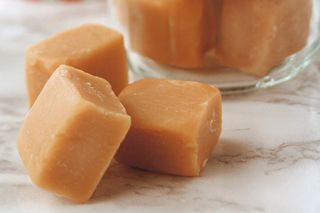 This fudge recipe makes a lovely food gift. So you can make up a big batch, with some festive flavours such as cranberry or brandy, give some to your friends and family and some to Santa - he deserves a present too! Wrap his up in a small bag and tie it with ribbon so that he can take it with him on his present-delivering rounds!
Get the recipe: Creamy vanilla fudge
Present tree decorations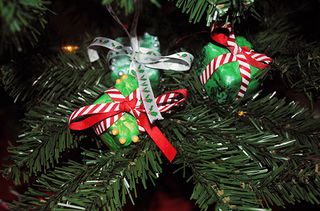 He may be leaving you all presents but who says Father Christmas can't get a present or two of his own? These fun tree decorations are so easy to make - and you can eat the whole thing (except for the ribbon!!). You could leave them hanging on the tree and write a note for Santa to tell him where his treats are.
Get the recipe: Present tree decorations
Eggnog recipe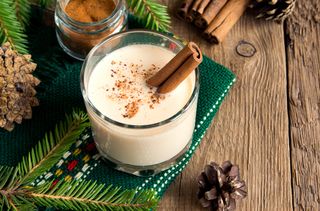 Father Christmas must get thirsty with all that work on Christmas Eve. You could leave him a glass of whisky, sherry or wine - or if you want to get in the festive spirit, make some homemade eggnog. This delicious creamy Christmas cocktail is a classic for a reason and we're almost certain it's one of Santa's favourites.
Get the recipe: Homemade eggnog
Chocolate cocktail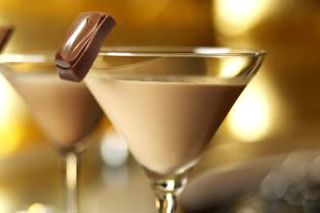 If Santa (or you) is not a fan of traditional festive drinks, you could make up one of our delicious Christmas cocktails, like this chocolate cocktail, for you all to enjoy once the kids are in bed. It's a bit like an adult milkshake and is the perfect thing to make sure Santa is feeling festive by the time he leaves your house!
Parenting advice, hot topics, best buys and family finance tips delivered straight to your inbox.
Trusted, informative, and empathetic – GoodTo is the ultimate online destination for mums. Established in 2007, our 15-year-strong archive of content includes more than 18,000 articles, 1,500 how-to videos, and 7,000 recipes.