Healthy baking: Your guide to making healthier bakes
Trying to be a little bit healthier, or on a certain kind of diet? Our healthy baking guide can help...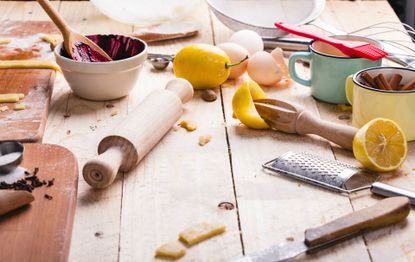 This handy, healthy baking guide shows you some clever tips, tricks and swaps to make your homemade cakes, biscuits, breads and buns all that little bit better for you. Whether you're trying to avoid gluten, sugar, eggs or dairy, or simply want some quick tricks for how to make healthier additions to your bakes, there are simple changes you can make to recipes without losing out on taste or texture.
Lots of our recommendations for healthy baking swaps are in volume rather than weight, so cups rather than grams, as it's easier to make a straight swap in this way rather than working out the different weights of ingredients. If you need help working your recipe out then you can use our simple cups to grams converter.
Healthy baking questions answered
Healthy sugar substitutes
More healthy sugar substitutes
One of the most common healthy baking swaps people want to make is finding a substitute for sugar in their homemade treats. Whether it's because you're trying to be that little bit better when it comes to what you eat, or you're looking out for the kids, reducing refined sugar in your diet helps keep your healthier.
However, even natural sweeteners - like maple syrup and honey - contain sugars so should be used in moderation too.
Honey It is said that honey is up to 50% sweeter than sugar. Because of this you can half the volume of honey to sugar when making a swap in most recipes, and reduce the other liquids in your method by around a tablespoon to compensate for the loss of a dry ingredient.
Stevia Substituting Stevia for sugar is an easy swap, as it comes in powdered form. It's a natural sweetener, made from the leaves of a Stevia plant and can be up to 300 times sweeter than your average sugar. This natural alternative to refined sugar actually contains no sugars of any kinds, zero carbohydrates and has a glycemic index of zero, which has made it pretty popular amongst dieters since 2011, when the EU passed a law to allow it to be used in food and drinks.
Stevia themselves don't offer concrete guidelines on how to substitute it for sugar, but recommend roughly swapping 1 cup of sugar for 1 teaspoon of Stevia in healthy baking recipes. To achieve the right texture you may need to decrease the liquids in your recipe too.
Fruit juice concentrates Fruit juice concentrates are now widely available from health food stores and from internet providers and can, in some cases, be substituted for refined sugars. Concentrated apple, orange or grape juice can all replace sugar and add another flavour dimension to recipes.
To replace sugar with fruit juice use one quarter of a cup of concentrated fruit juice for every cup of white sugar listed, while reducing the liquid ingredients by around three tablespoons.
Find out more about healthy sugar substitutes in our full guide, here
Coconut sugar Coconut sugar has become hugely popular recently, along with every other product of this tropical fruit (or nut, depending on how you categorise it!). Coconut sugar has a higher nutritional value when compared with sugar and is simple to swap into all sorts of recipes.
To substitute coconut sugar for white sugar you simply use the same quantities – simple!
Healthy wheat flour substitutes
If you have to avoid gluten for health reasons then not all is lost, you can still enjoy the same old baking favourites you once did with just a few clever wheat flour swaps. The hardest thing to get from the end result is the bake's right texture, as it's the gluten in most recipes that creates a cohesive mix.
Gluten free flour The easiest and most obvious choice for a flour substitute in baking is to pick up a bag of gluten-free flour. These are widely available now in shops and supermarkets, and combine a few different flours to closely mimic the end result of wheat flour.
There's no maths needed here either, simply directly swap the quantities of wheat flour for gluten free flour and continue making your bakes as normal.
Almond flour Swapping regular wheat flour with almond flour gives a denser bake, but one that stays moist for longer than your average cake. Despite this stickier texture, almond flour actually pulls more water to itself, so you may need to add a little more liquid.
Almond flour can also stick in the baking process, so make sure you well butter or grease your pans before popping your bake in the oven.
Coconut flour Coconut flour is really popular at the moment as a swap for wheat flour, but it can be tricky to balance as it is very absorbent, so needs more liquid. This mighty flour is rich in protein, fibre and fat which means it really fills you up fast, making it popular with dieters.
Brown rice flour To swap brown rice flour for wheat flour in a baking recipe you will need to add a couple of things to make up for the loss of gluten.
Roughly, when swapping brown rice flour for wheat flour you should use half of the quantity and add potato starch and corn flour. If your recipe calls for one cup of flour, add half a cup of brown rice flour, one-quarter cup of corn flour and one-quarter cup of rice flour.
Healthy butter substitutes
Replacing butter in bakes can help cut down on fat and calories, and means those following a dairy-free diet can indulge in all the usual home-baked treats by using some of the options listed below. The same smooth texture can be achieved with dairy-free alternatives like oils and spreads.
Coconut oil Coconut oil provides a dairy-free alternative to butter, while adding a subtle nuttiness to home-baking. It's relatively easy to source now in supermarkets, but is pricier than butter and still fairy high in fat - although some people believe it's healthier thanks to it potentially being easier to digest than butter.
Quark Quark is the latest dairy product to gather a huge following thanks to its low fat, high-protein content. This lovely stuff can be used in the place of all sorts of fattier ingredients in cooking and baking to achieve smooth, creamy results.
Find out more about Quark and what to use it for in our detailed guide
Olive oil Olive oil has long been used in Mediterranean baking, and there's a good reason for it. This natural plant-based oil gives a wonderfully rich flavour and silky texture when used in place of butter.
Again, for butter it's back to cup measurements, which you can convert using our easy cups to grams tool. But roughly you reduce the quantity of olive oil compared to the required quantity of butter in a recipe. For every cup of butter used you will need around three quarters of a cup of olive oil to get the same result.
Soy butter Soy butter is simple to substitute for regular butter in baking, as it creates a very similar final product. There's no conversion necessary, simply sub in the same amount of soy butter as you would regular butter.
Healthy egg substitutes
Eggs aren't necessarily an 'unhealthy' baking addition, we know, but for some they're a no go for dietary reasons, and for others… well, others might have just forgotten to pick up eggs at the shops and need a quick fix. There are a few different things you can use to bind your baking mixtures, and here are some of our favourite swaps for egg free baking.
Apple sauce A homemade apple sauce can be sweetened with apple juice, so needs no refined sugar. For every egg your recipe needs you can swap in 3 tablespoons of apple sauce. If you're using a ready-made apple sauce then just remember it may contain additional sugar – so you might need to reduce the sweet ingredients elsewhere in your bake.
Banana Replacing an egg basically boils down to creating a binding agent in any bake, and the sticky texture of mashed banana is perfect for this. You'll need roughly half a banana per egg listed in your recipe. Simply mash it up and mix it in – and you'll also be adding to your five a day count for an extra bonus.
Vegetable oil Something most people have in their store cupboard is a bottle of oil, so this is a great trick to remember when you're in a squeeze. Because of its light flavour vegetable oil works well, although olive oil or sunflower can also be used. It's worth keeping in mind that this only really works for recipes that use one egg, as replacing more than one egg with oil can lead to a greasy finished bake. To replace one egg use 3 tablespoons of your chosen oil.
Healthy baking additions
If you're looking for a few additions to pep up your bakes to make them just a smidge better for you, then we have good news - there are ingredients that can help make your recipes healthier. A handful here or a sprinkle there can boost the nutritional value and leave you feel pretty pleased with yourself!
Oats Throwing a handful of oats into your healthy baking mixture will give you a good additional hit of dietary fiber as well as giving you a hit of magnesium and zinc. Oats will however increase the quantity of your dry ingredients, so you may need to add a splash of milk per cup of oats you use, just to keep the overall texture as close as possible to the original recipe. If that sounds too complicated then a good scattering over the top of healthy cookies, muffins or banana bread is also a quick and easy way to get some additional fiber.
Flaxseeds Some studies have reported that flaxseeds can help lower cholesterol thanks to their high levels of Omega-3. These little seeds are high in fiber too, so it couldn't hurt to add a sprinkling here or there. Stir a tablespoon through your mixture before you bake it, or use them as a healthy alternative to sprinkles once your treats are out of the oven.
Vegetables Hiding a little veg in your baking is a great way to boost your family's five a day intake. A couple of our favourite ways to do this are to either make a carrot cake packed with sweet carrots and heady spices; or by whipping up a courgette cake that's moist and moreish.
Dried fruit For another easy way to make your baking a little healthier, and to up your fruit intake, you can scatter through dried fruits. Dried apricots, for instance, are packed with Vitamin A, which helps keep your immune system healthy; while raisins are a great source of potassium, which can help to boost your nervous system.
Healthy icing ideas
When it comes to decorating cakes and bakes, it can be tempting to go heavy on the icing - everyone knows it's the best bit after all! Although it's easier said than done, for healthier baking we'd recommend limiting the amount of topping you use. If you can't sacrifice your favourite fondant or buttercream then just use less. Opt for shallow swirls of icing instead of towering peaks and you'll already be well on your way to cutting down the sugar you're consuming. If you fancy taking things one step further then these are some delicious but nutritious icing swaps.
Cream cheese Cream cheese makes a lovely slightly salty icing, for that delicious balance between sweet and savoury. You can colour it into beautiful pastel shades (like in our raw apple ring doughnuts recipe) and flavour it with anything form lemon zest to vanilla essence. If you like your icing sweet then try adding a pinch of Stevia.
Dark chocolate There are many reasons why chocolate is good for you we like to think (beside just giving us a good hit of endorphins), but the main benefit is it being a really powerful source of antioxidants. Instead of using a sugary frosting, try using a low-sugar dark chocolate. Simply melt and spread on top before adding sprinkles, buts or dried fruit pieces. If you can't sacrifice a swirl of something sweet then you can easily turn dark chocolate into an icing using around 5 tablespoons of coconut oil to every 200g of chocolate. Melt these two ingredients together with any flavourings you like - we think vanilla or orange oil both taste great - and leave to cool in the fridge. Once cold use a whisk to whip it up into a light frosting and spread over your bakes.
Peanut butter Peanut butter is high in protein, so helps keep you feeling full, and also contains plenty of potassium. Pick a sugar-free low-salt version for the healthiest icing. To make it easy to spread thin it with a little water and then pipe onto your homebaked treats - we especially like this on top of banana bread or Weetabix chocolate brownies.
Do you have any top healthy baking tips that we've missed from our guide? Let us know in the comments below!
Rosie is an experienced food and drinks journalist who has spent over a decade writing about restaurants, cookery, and foodie products. Previously Content Editor at Goodto.com and Digital Food Editor on Woman&Home, Rosie is well used to covering everything from food news through to taste tests. Now, as well as heading up the team at SquareMeal - the UK's leading guide to restaurants and bars - she also runs a wedding floristry business in Scotland called Lavender and Rose.