Healthy lunchbox challenge: How to give your child's packed lunch a 'school-approved' makeover
More and more schools are beginning to ban foods in our child's packed lunches. From chocolate to crisps to foods containing nuts, we're becoming very limited in what we feed our children come lunch time. We gave our mummy blogger Anneliese takes on the challenge of transforming her child's lunch box into a healthy, low-sugar, school-approved lunch. Find out how she got on…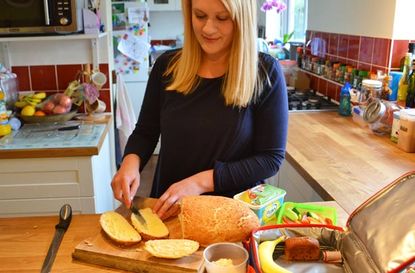 GoodTo newsletter
Sign up to the GoodTo Newsletter. You can unsubscribe at any time. For more information about how to do this, and how we hold your data, please see our privacy policy
Thank you for signing up to . You will receive a verification email shortly.
There was a problem. Please refresh the page and try again.
More and more schools are beginning to ban foods in our child's packed lunches. From chocolate to crisps to foods containing nuts, we're becoming very limited in what we feed our children come lunch time.
We gave our mummy blogger Anneliese the challenge of transforming her child's lunch box into a healthy, low-sugar, school-approved lunch. Find out how she got on…
What's it all about?
Like any mother I worry about my children. I worry a lot! Most of my concerns stem back to what they eat. Is a sudden bout of hyperactivity due to too much sugar? Are they lolling on the sofa because they didn't reach their 5-a-day?
When I think back to my own school days I remember gorging on chips and cream buns from the canteen. I can't recall ever seeing a salad leaf or a piece of fruit and, if I did, I doubt I ate them! However, 10 years ago, Jamie Oliver revolutionised school meals and they are now something of a culinary feast. Children are treated to nutritious foods such as sweet potato mash, salads, cottage pie and veggie packed chilli. Chips may still feature but are no longer a daily occurrence. The meals now have high standards to reach, a lot of thought goes into each menu and plenty of vitamins and nutrients are served up in each plateful.
Last September universal free school meals were introduced to all Key Stage one children. This has saved a lot of time and money for so many families. Most children seem really to enjoy the variety that a school meal offers, but unfortunately a school meal doesn't work for every child. My 4-year old gave them a try for a few weeks but was not keen. He preferred to have his cooked meal in the evening, at home. Also, on my part, I didn't know how much he was eating and what was left on the plate. At least with a packed lunch I could see if anything came back untouched. It was decided that he would stick to packed lunches and forget the school meals - at least for the time being.
However, I was shocked to discover that, according to 'The School Food Plan (opens in new tab)', only 1% of packed lunches are considered to be as healthy as a school dinner. The Children's Food Trust (opens in new tab) agrees, stating that, 'on average, children bringing a packed lunch consume more meat pies and pasties, sugary drinks and snacks high in fat and salt at lunchtime, than pupils having school meals'. I have heard some horror stories from friends and family, such as a child turning up at school with just a packet of biscuits for lunch, but I would never have believed that a typical packed lunch could be considered LESS healthy than a school meal. In fact I'm not sure I can believe it!
The lunchbox rules
Schools have their own polices of what is allowed in a packed lunch but the general rules are - no chocolate, sweets, crisps, cake/biscuits or fizzy/sugary drinks. So, basically, no processed sugars! This is of course a good thing but that only brings more worry. What CAN you put in? Will you get told off by the 'lunchbox police'?! I also find it a contradiction not to allow cakes or biscuits when most school meals offer a sweet dessert!!
It can be a bit of a struggle to think up a well-rounded lunch, 5 days per week, especially when you read guidelines (opens in new tab) from the government such as that a portion of dairy should be included every day. I myself don't include dairy every day but that's because I give my son a yogurt after his evening meal, he often has cheese and drinks one or two cups of milk per day. Surely we can use our own common sense when it comes to filling our child's lunchboxes?!
Of course, when you make a packed lunch 5 days per week for either pre-school or school, there is the pressure to keep things exciting. In the past I spent too long searching online and in books for exciting packed lunch ideas to keep the boredom at bay. My mouth dropped open when I saw images of octopuses made out of hotdogs and spaghetti or a detailed cucumber train chuffing along a breadstick track. I was left wondering how long it must take to create such fantastic creations and how it will stay together once transported to school in a lunchbox! Surely there must be a middle ground between this amazing food art and a boring soggy sandwich?!
So, what to put in it?
Of course a simple sandwich is the simplest lunchbox filler. However, not all children will eat them. When my son was at pre-school he used to hate sandwiches but, thankfully, he has grown to love them, just like his mother! Now, his favourite fillings are egg and cress, cheese and cucumber, or Marmite. He is also a fan of hummus so I often put a little pot in his lunchbox along with strips of pitta bread and carrot, cucumber and celery sticks. Instead of a cake, I might add a malt loaf bar, a carton of juice with a piece of fruit such as grapes, apple or banana. It's pretty healthy. However, the carton of juice is, of course, sugary although we try to opt for the pure fruit juice. After several leaks from various water bottles we found it easier to include a carton of drink, although this does make it more expensive!
The time it takes to make a packed lunch can be off-putting but it needn't take ages to prepare. I try to just stick to what we normally have for lunch at home. Nothing fancy! I try to lay out as much as I can the night before, so that there is less to do in the hectic rush to school. Also, most children like to graze throughout the day, so there's no need to cram the lunchbox full of food, otherwise most will be wasted - unless you have a teenager on your hands!!
Healthy homemade packed lunch alternatives
Sometimes the best way to get around these rules and regulations is by rolling up your sleeves and making stuff from scratch. Here are a few of my favourite things to make at home including malt loaf, pitta crisps and more...
Get the recipe: Low-sugar malt loaf bars (opens in new tab) (opens in new tab)
Get the recipe: Homemade pitta crisps (opens in new tab)
Get the recipe: Homemade Fruit Winders (opens in new tab)
(opens in new tab)Get the recipe: Fruit muesli squares (opens in new tab)
What do you put in your lunchboxes? Share any healthy ideas below - we'd love to hear them!
Author, writer and Mum of three, Anneliese Giggins has been creating recipes for Goodto.com for the past 9 years. She has also created food-related content for household names such as Daily Mail, Daily Express and Goodto.com. Her most successful to date was how to feed a family of 4 on £20 a week.