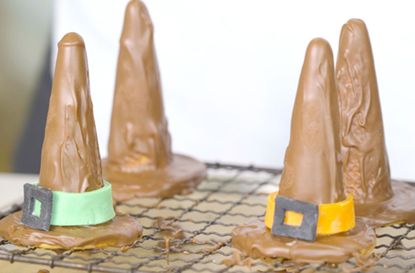 (Image credit: Future)
Whip up these wickedly tasty witch's hat cookies in a quick 20 minutes.
These delicious biscuits are some of our favourite Halloween cookies with a difference. Covered in milk chocolate and decorated with colourful fondant, they're full of sweet flavour. And they're so simple to make, using ice cream cones and rich tea biscuits plus a little bit of decoration and spooky inspiration.
Watch how to make witch's hat cookies:
Ingredients
To make these spooky witches hat biscuits you will need:
6 rich tea biscuits
6 ice cream cones
100g milk chocolate
ready-to-roll green, orange and black fondant
icing sugar and water, for sticking
Step 1
Using scissors, cut the end part of the ice cream cone off and trim until flat. Make the ends of the cone are flat and sit level with the biscuits, so that they will stand up later...


Step 2
Melt the chocolate in the microwave on a low heat stirring every 30 seconds or until melted. Stir and cool a little. Dip the cones into the chocolate so that they will stick to the biscuits, which will become the rim of the hat.


Step 3
Place a cone on the centre of each biscuit and leave to set.


Step 4
Using a teaspoon, drizzle the chocolate over the ice cream cone and biscuits until completely covered. Move the biscuits onto a greaseproof paper-covered board and pop into the fridge to set.


Step 5
Meanwhile, make the belts for the hat. Roll out some orange and green ready-to-roll icing. Cut into strips. Roll out the black fondant and cut out small rectangular shapes to sit on top of each belt, in a buckle shape.


Step 6
Once the chocolate has set, take out of the fridge and attach the belts to the hat using the icing sugar mix. Cut off any excess fondant with a knife and press at the back to seal.

Step 7
Use the icing sugar mix to stick the black buckle onto the coloured belts.




Step 8
Your witch's hat biscuits are ready to be served!


Top tips for making Witch's hat cookies:
You could turn these witch's hat cookies into a fun game by filling the cones with sweeties so there's a surprise on the inside - which ones will contain a trick or will they all contain treats..?
You might also like...
Anna Bailey is the editor of GoodTo. She joined the team in June 2018 but has been a lifestyle writer and online editor for more than 14 years. Anna graduated from Bournemouth University in 2004 with a degree in Multimedia Journalism and went on to gain her NCTJ and NCE journalism qualifications. She began her career in local journalism, working as a reporter for the Basingstoke Gazette in Hampshire. As Lifestyle Editor for ITV.com she managed the websites for the broadcaster's best-loved shows including This Morning, Loose Women, Coronation Street, Emmerdale, Coleen's Real Women, and Britain's Best Dish. Before joining Goodto.com she was also a Features Editor at MSN UK and Digital Lifestyle Editor for the broadcaster UKTV. She's also contributed to The Mirror, The Sun, LoveFood, LoveExploring, and TBSeen.