Supermarket products that are shrinking... but staying the SAME price!
Storecupboard staples including teabags, washing powder and bread are getting smaller without us realising - and we're still forking out the same amount of cash for them!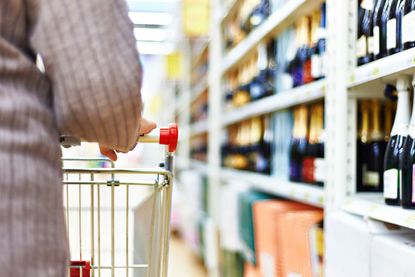 (Image credit: Getty Images/iStockphoto)
Goodto Newsletter
Parenting advice, hot topics, best buys and family finance tips delivered straight to your inbox.
Thank you for signing up to GoodTo. You will receive a verification email shortly.
There was a problem. Please refresh the page and try again.
The weekly shop is one of the biggest drains on family resources - and it seems to be getting even worse...
Shrinkflation is real.
In the times of increasing train fares, fluctuating fuel prices and expensive carrier bags (although the latter is for a good cause so we'll allow that one), shrinkflation has started to hit more than just our beloved Cadbury's Mini Eggs at Easter. It's an issue that slyly goes on all year round.
Read more: Packets of Cadbury's are shrinking - but you might be surprised about the price
From teabags to washing powder, the cost of the daily essentials that we pile into our trolleys really adds up.
And when the prices slowly creep up while the quantities gradually decrease, the price is set to add up even more.
And it's not just household essentials that are being hit by shrinkflation.
Some of our favourite retro chocolate bars have also fallen victim to the cut and we can't deal.
So if you feel like your purchases don't go as far as they used to, this is probably the reason why...
Shrinkflation: 23 of the hardest hit products
Heinz Salad Cream
It might not be the healthiest of salad dressings, but it is an indulgent British classic.
However, it seems as though those who load this onto their leaves at lunchtime are in for a higher shopping bill, as bottles of condiment have shrunk by a whopping nine per cent!
The iconic squeezy bottles, which previously held 655g of the creamy sauce, now contain 50g less at only 605g.
And to make matters even worse, the price has been hiked up at the same time.
For 50g less product customers will now have to pay 50p more in price, as the bottles have increased from £2 for £2.50.
This is not a world we want to live in!
Häagen-Dazs
Bad news for Häagen-Dazs fans! This classic ice cream tub is set to be reduced in size. The smaller tubs will be staying at the same price as the previous family-sized tubs instead at a hefty £5.35 - yikes!
'Like many businesses we have been affected by rising commodity prices. Our commitment to only using premium ingredients has left us susceptible to price increases,' said a Häagen-Dazs spokesperson.
'We recognise shoppers are under pressure financially and haven't taken this decision lightly.'
Percy Pigs
They turned 25 years old this year, but looks like their age is not the only thing going up.
According to The Sun, M&S have quietly upped the price of our beloved pig-shaped sweets by 10 per cent, but the size of the packets has stayed the same.
While before you could get a 170g bag for £1.50, the same bag will now cost you £1.65 - so a whole 15p more. Devastating...
Jaffa cakes
Jaffa cake fans, if you thought deciding whether your favourite treat is a biscuit or cake, think again.
McVitie's have done the impossible and cut the number of biscuits in their standard boxes - instead of the usual 12 we're accustomed to, you will now only 10.
And the worst part? You'll still pay the same price as you would for a 12-pack, which means there's been a increase of around 17 per cent.
Doritos
Bad news if your snacks of choice include Doritos - the tortilla chips are the latest victims of 'shrinkflation'.
A large bag of Doritos is now 10% smaller, at 180g, while prices remained the same, at £1.99. The £1 'grab bag' has also shrunk by nearly 12%, but remains at the same price.
Coco Pops
If you're partial to a bowl of Coco Pops in the morning, don't be surprised if you get less servings from one box.
A big box of Coco Pops has shrunk by 80g, to 720g, but it's being sold for the same price of £3.75. A smaller box is now also 40g smaller, for the same price of £2.69.
Maltesers and M&Ms
If you're a fan of Maltesers and M&Ms, brace yourself for some bad news - the company that manufacturers them has announced that it will shrink the size of both products in a bid to boost profit margins.
Mars has revealed that sharing packs of Maltesers and M&Ms will be up to 15 percent smaller, with prices remaining the same at £1.50. Maltesers sharing packs now weigh 93g, while a pack of M&Ms have shrunk by 25g.
Cadbury Freddo bars
Okay, so Freddos aren't actually getting smaller, but the price has risen so technically you'll be getting less chocolate for your money.
If you're a Freddo fan then brace yourselves, because they will now cost you 30p!
The decision has come from food conglomerate Mondelēz, who decided to raise the price by 20 per cent in order to 'keep favourite brands on the shelf'. Damn shrinkflation.
Of course, it's not the first time the price of a Freddo bar has caused controversy. Back in 2000, the treat would have cost you just 10p before rising to 17p in 2010. In 2015 it was increased again to 25p. Remember the time you could get five Freddos for 50p? It's just not the same any more.
The chocolate has also got lighter in recent years. The treat originally weighed 17g, before growing to 20g in 2007. However, in 2011 it shrunk back to the much lower weight 18g.
Birds Eye fish finger packs
Bad news if you're a fish finger sandwich fan! The popular fish finger brand Birds Eye has decreased the number of fish fingers you get from 12 to 10, which means consumers will now get two less for the same price - £2.50.
Nomad Foods, the company who owns Birds Eye, had warned consumers back in November that it could be forced to put up prices to keep up with rising costs.
Toblerone
Take a very good look at this classic Toblerone, because you won't be seeing them in the shops for much longer. No, they're not being discontinued, but they have been given a brand new, very spacious design, as well as a reduced weight, and die-hard fans of the triangular choc are kicking OFF.
Bars that used to be 400g will now weigh 360g, and the 170g bars are now 150g. Manufacturers Mondalez released a statement addressing the changes on Facebook, saying that they were necessary to keep the cost of the product down - but that hasn't stopped people questioning why they didn't just chop a triangle off the end, rather than altering the bar's iconic shape completely...
https://www.facebook.com/Toblerone/posts/1308853319149448
Terry's Chocolate Orange
This is one shrinkflation victim we just can't deal with.
It's with heavy hearts that we have to tell you that the owners of Terry's Chocolate Orange have reduced the size of this delicious treat by 10% over recent months.
The stocking filler favourite used to weigh in at 175g but has more recently been produced at just 157g. And if you think you'll be saving some pennies thanks to the smaller size you'll be disappointed, too. The chocolate is still being sold at the same price in the big supermarkets. Fans are so upset by the news that a select few have started a Facebook group to campaign against the changes - now that's what we call commitment.
Cadbury's Roses and Heroes
Not only are Cadbury's Roses shrinking, Cadbury's Heroes are shrinking too. The duo will be staying the same price at £9.19 per tub but, Heroes will see 85g reduction and Roses will shrink from 780g to 729g. Tut, tut, tut!
Cadbury's chocolate fingers
Cadbury's are taking two chocolate fingers away from the pack - that's 11g less in a pack! And the price? Well, it's gone up from £1 to £1.50 in the last year according to Sainsbury's but down 80p at Tesco.
Aunt Bessie's Homestyle chips
Aunt Bessie's frozen chips used to come in a 750g bag, but now you'll only get 700g for your £1.65 - a reduction of 7% (or one respectable serving of hot, crispy fries).
Bird's Eye Select mixed vegetables
Similarly, Bird's Eye Select mixed vegetables have shrunk by 8%, from 750g to 690g - but supermarkets like Asda, Morrisons and Sainsbury's have kept the price the same.
Cif and Domestos cleaning sprays
Bottles of Cif and Domestos cleaning product are down 7% too, from 750ml to 700ml. Well, we suppose at least that's one excuse not to scrub the bathroom today... every cloud?
Hovis Best of Both bread
Fancy some toast? Better have just the one slice if you're a Hovis fan - their Best of Both loaves have been reduced by 6%, despite remaining at the same price point.
Surf Tropical Lily and Ylang Ylang washing powder
Shrinkflation has hit even the most essential of household items.
You'll now get two fewer washes out of this box of washing powder - 23 instead of 25 - but you'll still pay £5 for it!
Philadelphia Light cream cheese
The size of a tub of light Philly has gone down 10%, from 200g to 180g, but supermarkets actually bumped up the price, taking it from £1.84 to £1.87.
Tetley Blend of Both tea bags
Yep, even the humble cuppa isn't exempt from shrinkflation - there used to be 80 bags in this box, but now you'll get 75, for the same price!
'Products are losing 50g here and a few centimetres there, which is all adding up to a more expensive shop without you knowing why,' the watchdog explained in the report.
Commenting on the findings, Which? executive director Richard Lloyd said, 'Shrinking products can be a sneaky way of putting up costs for consumers because pack sizes shrink but the prices don't.'
'It's now time for action on dodgy pricing practices that stops people from easily comparing products to find the cheapest.'
What do you think? Would you be put off buying your favourite products if they reduced the pack size? Let us know over on our Facebook page!
Parenting advice, hot topics, best buys and family finance tips delivered straight to your inbox.
Trusted, informative, and empathetic – GoodTo is the ultimate online destination for mums. Established in 2007, our 15-year-strong archive of content includes more than 18,000 articles, 1,500 how-to videos, and 7,000 recipes.