Ras el hanout: What is Ras el hanout and how do you to cook with it?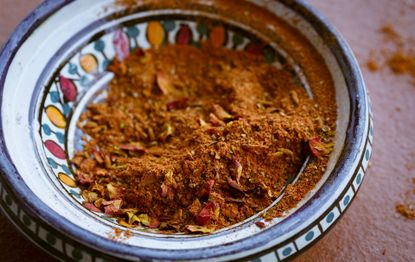 One of the most complex and satisfying spice medleys in the world, ras el hanout is largely used in North African and Middle Eastern cooking.
There's no absolute ras el hanout mix, it varies from shop to brand to chef, though it usually contains a range of all spice, black peppercorns, cardamom, cayenne, chilli flakes, cinnamon, coriander seeds, cumin, cloves, cinnamon, dried cumin, dried ginger, fenugreek, mace, nutmeg and paprika. Fennel seeds and dried rose petals are also often included.
Where does ras el hanout come from?
The exotic sounding ras el hanout is a spice mix from Algeria, Morocco and Tunisia. It's regarded as integral a spice in North African cooking and Moroccan recipes (opens in new tab), in a similar way as garam masala is used in Indian cuisine.
How you pronounce ras el hanout
Translated from Arabic, ras el hanout means 'head of the shop' and is traditionally a combination of the best spices the seller can offer. It's pronounced very similarly to how it reads – ras el hanoot. h
How to cook with ras el hanout
Even though it's made up of lots of spices it's generally not hot. Use it as a rub on meat or fish, to flavour rice, couscous, roasted vegetables, stews and tagines, or stir some into yoghurt to use as a dressing, dip or condiment. You can even sprinkle into cookie or cake mix to give your desserts added depth.
Ras el hanout recipes
Ras el hanout is a fragrant dry spice blend that provides a warming, fragrant element to dishes. Here are just a few of our favourite rar el hanout recipes.
A spiced dish of slow-cooked meatballs, chickpeas, root veg and apricots that's served with herby couscous.
This vegetarian dish salad recipe is easy to make, packed with delicious flavour and ready in just 15 minutes.
A piquant take on classic coleslaw with chillies and Tabasco.
This recipe is ideal if you have any lamb leftover from your Sunday roast or BBQ? Transform joints and cuts into a wonderful spiced tagine, which comes in at just 420 calories a serving
Combine roasted root vegetable, with rocket and pomegranate to make a healthy lunch or delicious side salad.
Freelance Lifestyle Writer
Debra Waters is an experienced online editor and lifestyle writer with a focus on health, wellbeing, beauty, food and parenting. She currently writes for Goodto and Woman&Home, and print publications Woman, Woman's Own and Woman's Weekly. Previously, Debra was digital food editor at delicious magazine and MSN. She's written for M&S Food, Great British Chefs, loveFOOD, What to Expect, Everyday Health and Time Out, and has had articles published in The Telegraph and The Big Issue.